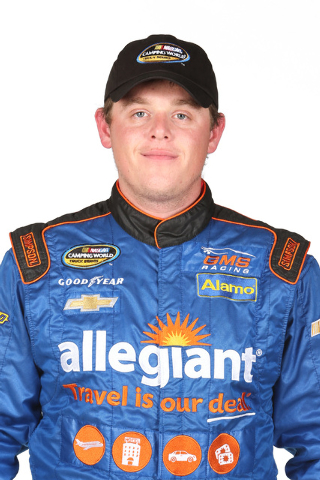 Since 1999, Allegiant Air owner Maurice Gallagher Jr. has grown the Las Vegas-based airline from virtually nothing to $1 billion in revenue.
Gallagher's son, Spencer, has made a rapid rise of his own in another form of transportation.
Despite not racing cars full time until the relatively advanced age of 19, the Las Vegan has quickly climbed the ranks, making eight starts in the NASCAR Camping World Truck Series in the past two years.
The Palo Verde High School graduate will start his ninth Truck race today, when he'll make his Las Vegas Motor Speedway debut in the Rhino Linings 350 (7 p.m., FS1, Channel 329).
"For every kid that's ever turned a lap on The Bullring (at LVMS) or a little local short track, this is the dream," Gallagher, 24, said at a news conference Friday. "You wanna go out and perform in front of your home crowd on the big track with the big boys, so it's a dream come true for me."
While Gallagher has competed in several classes at The Bullring, a 0.375-mile paved oval, he's never taken a spin on the 1.5-mile superspeedway at LVMS.
"My first lap in practice (today) is gonna be my first lap on the track," he said. "I'm really looking forward to getting out there."
Gallagher, who has made a successful jump from the minor league Automobile Racing Club of America series, placed a career-high 11th in a Truck race in Iowa in July and has high hopes for his homecoming.
"I feel like over the last three Truck races that I've run, I've learned as much about how to handle things on the big track as I have in my last 20 ARCA races," he said. "I'm actually really looking forward to getting out and seeing what I can do here because I think this is going to be the kind of track that I get along with.
"I've always liked the fast, wide, bumpy racetracks because you can race everywhere on it. I'm not trying to jinx myself, but I think we could have something here."
Gallagher first became enamored with the sport while watching one of his father's business partners race Legends Cars at LVMS. He saw the sport as a hobby until 2009, when former NASCAR driver T.J. Clark took him under his wing and encouraged him to seriously pursue a car racing career.
"I started out late. They just kind of threw me in the deep end of the pool and see what happens," Gallagher said. "My entire career has been a progression of sink or swim, man, and I haven't sunk yet."
While Gallagher didn't turn his first lap on an oval until he was 19, 18-year-old Erik Jones — who last year became the youngest person to win a NASCAR race (a mark broken recently by 16-year-old Cole Custer) — started racing at age 7.
Gallagher, who drives the No. 23 Allegiant Travel Chevrolet, said his father — who played high school baseball in Chicago with former Cubs star Dave Kingman — has been "a role model and a half."
"You're talking about a guy who knows how to take nothing and make it into something," Gallagher said. "He started at ground zero with Allegiant and made it into what it is today."
Likewise, despite his late start in racing, Gallagher has his sights set squarely on NASCAR's top series.
"It's (Sprint) Cup or bust for me," he said.
■ NOTES — Gallagher is the only Las Vegas driver in the race, but Sparks native T.J. Bell also is in the field of 36 drivers and Las Vegas native Kyle Busch has two trucks entered that will be driven by Jones and Darrell Wallace Jr. … Defending champion Timothy Peters, the series points leader, also will compete in the 219-mile race, along with 2011 winner Ron Hornaday Jr. and 2009 winner Johnny Sauter. … A free driver autograph session is from 2 p.m. to 2:45 today in the Neon Garage.
Contact reporter Todd Dewey at tdewey@reviewjournal.com or 702-383-0354. Follow him on Twitter: @tdewey33.