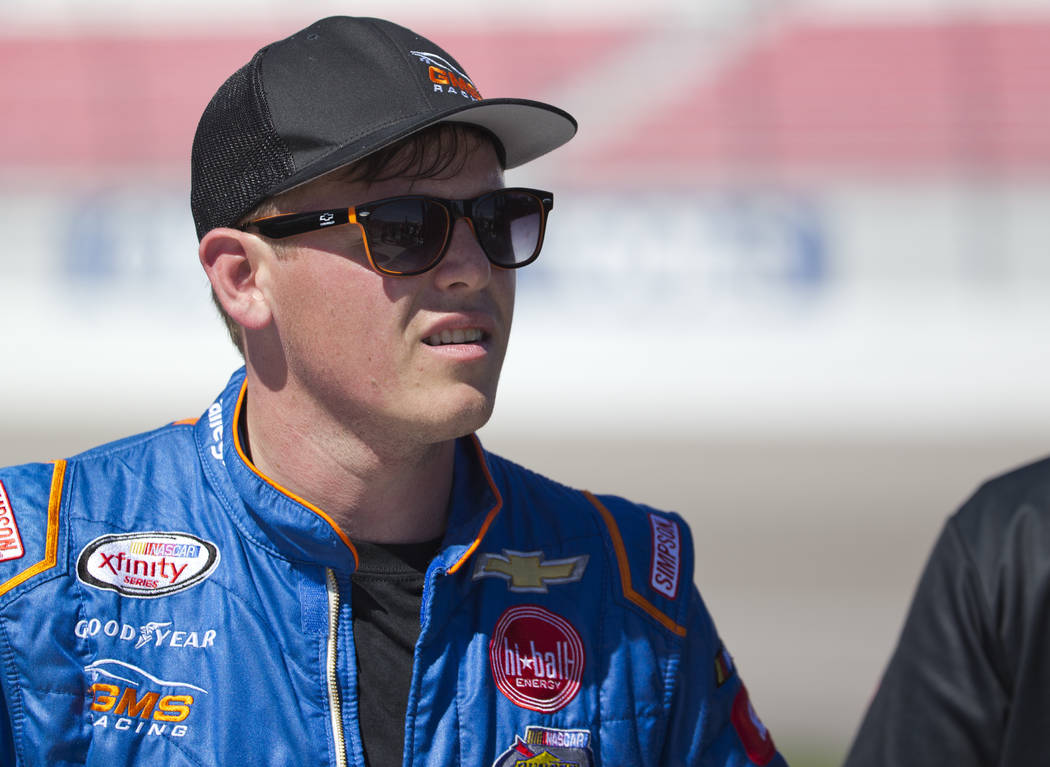 People in auto racing are used to dealing with tragedy.
It's an all too regular occurrence, one of speed sport's harsh realities. But people in auto racing know of the inherent risks when they sign up.
"This was something different," Spencer Gallagher said.
The NASCAR Xfinity Series driver was speaking of the unspeakable tragedy, of 58 concert goers being slaughtered by a madman at Sunday's Route 91 Harvest music festival, and nearly 500 more being injured by his bullets.
It was our own Day of Infamy, an hour so grim and gruesome that we'll never forget where we were and what we were doing when the madman went into the bell tower, or our version of it.
Spencer Gallagher was sleeping. He said it sheepishly, as if he was a little embarrassed to be in repose when so many in his hometown were under siege. But it was around 1 a.m. in Charlotte, which is where most NASCAR drivers lay their head on the pillow during racing season.
When he awoke and heard the awful news, Gallagher first thought of his girlfriend, Marina. Was she safe? The driver said his girl works for the same company that promoted the Route 91 festival, that she was back home, that she had tickets for the show.
Marina did not use those tickets. She was safe.
Spencer Gallagher's second thought: What can I do to help the victims?
He put up a Twitter post from Allegiant, his sponsor and his father Maury's Las Vegas-based airline, urging victims and family members to contact Allegiant for assistance in their travel needs.
He reached out to the other Las Vegans who make their livings driving in NASCAR: Kyle Busch, Kurt Busch, Brendan Gaughan, Noah Gragson. They agreed to print up #VegasStrong T-shirts and stickers which will be available for purchase at driversforvegas.com early next week. All proceeds will go to the shooting victims.
"Although I moved to North Carolina to pursue my racing career, Las Vegas will always be my home," said Gragson, a rookie in the Truck Series. "When I heard about this horrible tragedy, not only did I think about my family and friends who still live there, but all of the visitors who make our city one of the best in the world.
"When Spencer called me with this idea, I was all in to help do anything to try to heal our community."
If you have friends or loved ones that have been touched by this horrible day please visit. We are here to help ❤️ #vegasstrong https://t.co/86rtqEQsti

— Spencer Gallagher (@23SpeedRacer) October 2, 2017
Busch whacked
Three weeks ago it was written here that Kurt Busch was on a roll heading into NASCAR's playoffs, and probably should not be counted out of them.
Well, you can officially count him out.
The 2004 Cup Series champion and winner of this year's Daytona 500 was eliminated from championship contention after the first three-race playoff segment. Busch will join Ryan Newman, Austin Dillon and Kasey Kahne in trying to stay out of the way of the remaining title contenders when the Round of 12 begins Sunday at Charlotte Motor Speedway.
"Devastated for all you fans," the 39-year-old Las Vegas driver wrote on his Twitter account after finishing 20th at Dover, Delaware, on Sunday. "We didn't execute effectively in the playoffs. Will work hard and push for results in the remaining races."
Who I think will be eliminated from playoffs today:
– Kurt Busch
– Austin Dillon
– Ryan Newman
– Cleveland Browns#NASCAR

— nascarcasm (@nascarcasm) October 1, 2017
At the Bullring
The Pac-12 is the Conference of Champions, according to Bill Walton and others. On Saturday night, the Las Vegas Motor Speedway Bullring will be the track of champions as eight drivers will be crowned as such during the last night of 2017 competition.
Championships in NASCAR Super Late Models, NASCAR Super Stocks, NASCAR Bombers, USLCI Legends, USLCI Thunder Cars, USLCI Bandolero Outlaws, USLCI Bandolero Bandits and Skid Plate Cars will be determined on the 3/8ths mile paved oval beginning at 7 p.m.
Hot dogs and Coca-Cola products cost only $2, making the Bullring one of Southern Nevada's most fan friendly sports venues. For tickets, call 702-644-4444 or visit LVMS.com.
A message from LVMS President Chris Powell. #VegasStrong pic.twitter.com/ygraIVYa4n

— Las Vegas Speedway (@LVMotorSpeedway) October 3, 2017
Contact Ron Kantowski at rkantowski@reviewjournal.com or 702-383-0352. Follow @ronkantowski on Twitter.
Schedule
NASCAR Monster Cup
What: Bank of America 500.
When: Friday, practice, 10:30 a.m. (NBCSN), qualifying, 4:20 p.m. (NBCSN). Saturday, practice, 8 a.m. (NBCSN), practice, 10:30 a.m. (NBCSN). Sunday, race, 11 a.m. (KSNV-3).
Where: Charlotte Motor Speedway (oval, 1.5 miles), Charlotte, N.C.
Distance: 501 miles (334 laps).
Last year: Jimmie Johnson won on his way to a series championship.
Last race: Kyle Busch notched his second consecutive playoff victory.
Next race: Alabama 500, Oct. 15, Talladega Superspeedway, Talladega, Ala.
NASCAR Xfinity
What: Drive For The Cure 300.
When: Friday, practice, noon (NBCSN), practice, 3 p.m. (NBCSN). Saturday, qualifying 9:05 a.m. (NBCSN), race, noon (NBCSN).
Where: Charlotte Motor Speedway (oval, 1.5 miles), Charlotte, N.C.
Distance: 300 miles (200 laps).
Last year: Joey Logano took first after starting third.
Last race: Ryan Blaney secured a crucial playoff win.
Next race: Kansas Lottery 300, Oct. 14, Kansas Speedway, Kansas City, Kan.
NASCAR Camping World Truck
What: No race this weekend.
Last race: Ben Rhodes captured his first career win, at Las Vegas Motor Speedway.
Next race: Fred's 250, Oct. 14, Talladega Motor Speedway, Talladega, Ala.
Formula One
What: Japan Grand Prix.
When: Friday, qualifying, 11 p.m. Saturday, race, 10 p.m.
Where: Suzuka International Racing Course (circuit, 3.6 miles), Suzuka, Japan.
Distance: 191.1 miles (53 laps).
Last year: Nico Rosberg won from the pole, his last victory in a championship season.
Last race: Max Verstappan took first in Malaysia.
Next race: United States Grand Prix, Oct. 22, Circuit of the Americas, Austin, Texas.
NHRA
What: No race this weekend.
Last race: Steve Torrence (Top Fuel), Ron Capps (Funny Car), Greg Anderson (Pro Stock) and L.E. Tonglet (Pro Stock Motorcycle) won at Gateway.
Next race: AAA Texas Fall Nationals, Oct. 12-15, Texas Motorplex, Ennis, Texas.