Las Vegas' Riley Herbst named to NASCAR Next list for promising young drivers
Updated May 19, 2017 - 9:36 am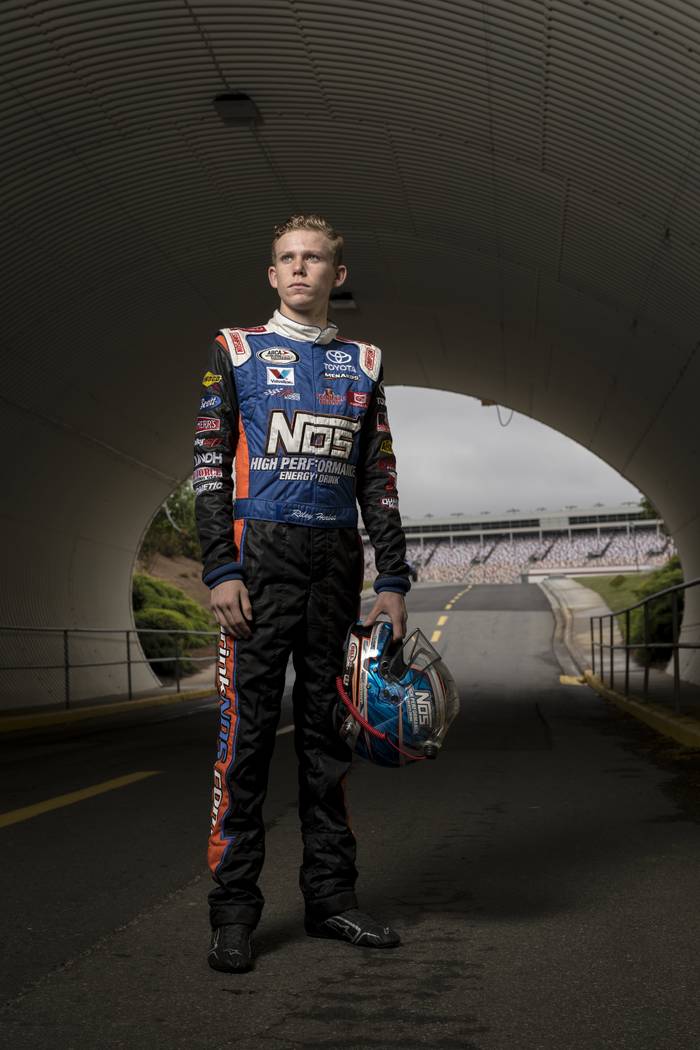 It was only recently that he turned 18, but the precociousness of youth hasn't prevented Riley Herbst from making lots of noise in the high-speed world of big-time stock car racing.
High speed is putting it mildly at Talladega Superspeedway, where two weeks ago the Las Vegas youngster was involved in a 200 mph fender-banging duel for the win of an ARCA race. After briefly putting the nose of his No. 18 Joe Gibbs Racing Toyota out front on the final lap, Herbst got shuffled to the slower, outside groove and settled for eighth at the checkered flag.
It still was an excellent result for one so young, and it came on Cup Series weekend with lots of team owners watching.
Then on Tuesday, the son of local off-road racing star Troy Herbst was the latest Las Vegas speed merchant to be named NASCAR Next, an annual list that identifies young drivers on a fast track to the Cup Series.
"It's cool, this is really going to help my career, another steppingstone toward my goal," the third-generation driver said shortly before NASCAR made the announcement.
Herbst is the third Las Vegan to be selected NASCAR Next since the advent of the program in 2011. Noah Gragson, who drives a Toyota for fellow Las Vegan Kyle Busch in the Truck Series, was recognized last year. Dylan Kwasniewski, whose career has stalled, was recognized in 2011, '12 and '13.
Other NASCAR Next luminaries include Cup Series regulars Kyle Larson, Ryan Blaney, Daniel Suarez, Chase Elliott and Erik Jones.
The mission statement of NASCAR Next is to showcase promising young drivers and attract attention from media, fans and sponsors to foster their growth within the sport.
Engaging in 200 mph fender-banging duels with more experienced drivers on the final lap at Talladega has been known to speed up the process.
Schmidt finishes second
Sam Schmidt, the IndyCar team owner based in Henderson, finished second in his return to competitive auto racing last weekend.
Yes, there were only two cars on the track at Indianapolis Motor Speedway. The other one was driven by the great Mario Andretti. So finishing second by about a car length isn't such a bad result.
Schmidt, a quadriplegic as a result of a racing crash, and Andretti were driving specially prepared SAM cars — SAM standing for Semi Autonomous Motorcar — in a four-lap dash for charity on the IMS road course before the IndyCar Grand Prix. Andretti kissed Schmidt on the top of his head after beating him to the finish line.
"It was the most normal I've felt in 17 years," Schmidt said after doing a burnout, much to the delight of race fans.
Mario's post race reaction is PRICELESS! Sam vs. @MarioAndretti! #ArrowDriven @ArrowGlobal pic.twitter.com/JRBkZNmKlD

— Matt Archuleta (@indy44) May 13, 2017
White flag
■ He was coy about it after winning his fourth series championship at Sam Boyd Stadium two weeks ago, but Ryan Dungey made it official this week — he's retiring from Supercross on top. "One of the greats for sure," said fellow Supercross legend Ricky Carmichael. "All time, I rank him top 4 because of the titles he's earned. I think he leaves the sport in great shape, and he's going out on his terms — healthy and a champion. Good on ya', Dunge!"
We reflect on Ryan Dungey's career. https://t.co/lhBAoDpjGo

— Racer X (@racerxonline) May 16, 2017
■ As NASCAR takes a week off to probably wreck some more cars during its annual all-star race, the Busch brothers of Las Vegas are 1-for-22 in races that count in the standings. But Kurt won the big one at Daytona, and Kyle is seventh in season points and has won a few race stages, so perhaps there is nothing to fret about. Maybe it's like the Cubs hovering around .500 in May.
■ Racing returns to the Las Vegas Motor Speedway Bullring Saturday night with the Lucas Oil Modified Series topping the card. Qualifying for the General Tire 75 presented by Sunoco Fuel gets under way at 5 p.m., with racing at 7 p.m. The Spears Southwest Tour Series and USLCI Legends, Bandoleros and Thunder Cars also will compete.
■ With Las Vegas Motor Speedway adding a second Cup Series race weekend in 2018, there will be significant ticket discounts for fans planning to attend both NASCAR tripleheaders (Truck, Xfinity, Cup). Very significant discounts. Details to follow in Sunday's LV Insider column.
Contact Ron Kantowski at rkantowski@reviewjournal.com or 702-383-0352. Follow @ronkantowski on Twitter.
Pro schedule
NASCAR Monster Cup
What: All-Star race.
When: Friday, practice, 1o a.m. (FS1), practice, noon (FS1), practice, 3:05 p.m. (FS1), practice, 4:30 p.m. (FS1). Saturday, qualifying, 1:35 p.m. (FS1), race, 5 p.m. (FS1).
Where: Charlotte Motor Speedway (oval, 1.5 miles), Concord, North Carolina.
Distance: The race will feature three 20-lap stages with a 10-lap finale
Last year: Joey Logano.
Last week: Martin Truex Jr. won his second race of 2017 in Kansas.
Next race: Coca-Cola 600, May 28, Charlotte Motor Speedway.
NASCAR Xfinity
What: No race this weekend.
Last week: Aric Almirola won in Talladega from the 23rd spot, by far the lowest of any series winner this year.
Next race: Hisense 4K TV 300, May 27, Charlotte Motor Speedway, Charlotte, North Carolina.
NASCAR Camping World Truck
What: North Carolina Education Lottery 200.
When: Friday, qualifying, 1:45 p.m. (FS1), race, 5:30 p.m. (FS1).
Where: Charlotte Motor Speedway (oval, 1.5 miles), Concord, North Carolina.
Distance: 201 miles (134 laps).
Last year: Matt Crafton took first for the second race in a row.
Last week: Kyle Busch won in Kansas, breaking a three-race winning streak for drivers from the pole.
Next race: Bay Harbor 200, June 2, Dover International Speedway, Dover, Delaware.
IndyCar
What: No race this weekend.
Last race: Will Power held off Scott Dixon and Ryan Hunter-Reay to win the Indy Grand Prix.
Next race: Indianapolis 500, May 28, Indianapolis Motor Speedway, Indianapolis.
Formula One
What: No race this weekend.
Last race: Lewis Hamilton won for the second time this season in Spain.
Next race: Monaco Grand Prix, May 28, Monte Carlo, Monaco.
NHRA
What: Heartland Nationals.
When: Friday, qualifying, noon, qualifying, 3 p.m. Saturday, qualifying, 10 a.m., qualifying, 1 p.m.; Sunday, finals, 11:37 a.m.
Where: Heartland Park Topeka, Topeka, Kansas.
Last year: Doug Kalitta took first in Topeka.
Last race: Steve Torrence (Top Fuel), Ron Capps (Funny Car), Bo Butner (Pro Stock) and LE Tonglet (Pro Stock Motorcycle) won at the Southern Nationals.
Next race: New England Nationals, June 2-4, New England Dragway, Epping, New Hampshire.
The Associated Press