Las Vegas teenager Noah Gragson named to NASCAR Next list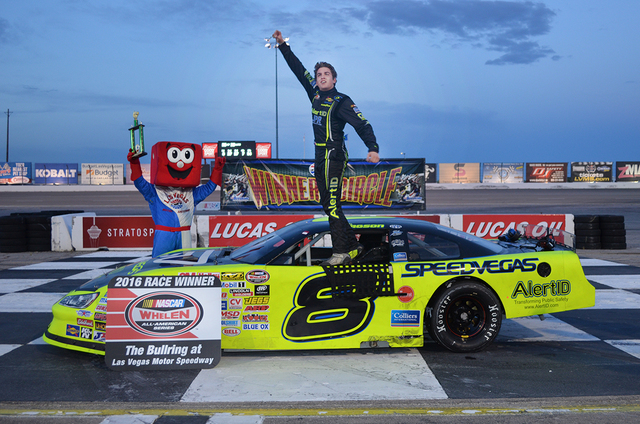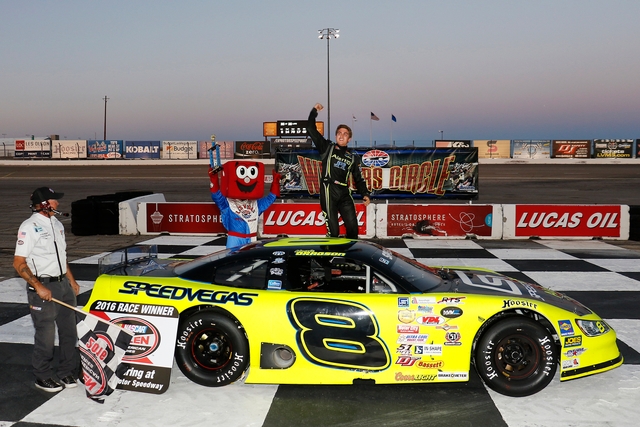 It was Daytona 500 week in February, and Noah Gragson was talking about how NASCAR wouldn't let him race on the big oval down there with the ARCA cars and drivers because he wasn't old enough.
He is only 17. Despite finishing fourth and holding his own in this offseason all-star late model race in Georgia — where Kyle Busch was last seen spinning off the track and into a watermelon patch — NASCAR said he was not to get behind the wheel at Daytona until he was at least 18.
Gragson said he briefly considered doctoring his birth certificate, that's how much he wanted to drive at Daytona.
But this was one week it was good to be only 17. Gragson's youth was a big reason the Las Vegas youngster was one of eight drivers to make NASCAR Next, an annual list that identifies potential stock racing stars of the future.
Another reason was his talent. The kid is pretty darn fast for his age.
He's pretty darn competitive, too.
"If I could race you to the front door, or a skateboard, or anything … I'm just really competitive," said Gragson, who still has rosy cheeks, for the official NASCAR Next video.
Gragson, who will turn 18 in July, mostly drives in the NASCAR K&N Pro Series, once known as NASCAR West. He won two races in 2015 and was named the circuit's Rookie of the Year.
"Coming out and winning in my third race took a lot of weight off my shoulders," said Gragson, who like Kurt and Kyle Busch came up through the Legends and Bandolero divisions at the Las Vegas Motor Speedway Bullring. "That's when I realized I might have a shot at doing this."
He's probably going to get a real good shot now. Since NASCAR Next was started in 2011, 27 of the 35 drivers who have been named to the list have gone on to compete in one of NASCAR's three national series — Sprint Cup, Xfinity and Truck series. Nearly a third of those have driven in Sprint Cup, with more surely to come.
The two youngsters battling for 2016 Sprint Cup Rookie of the Year honors — Chase Elliott and Ryan Blaney — are former NASCAR Next delegates.
"The NASCAR Next program has introduced current stars such as Kyle Larson, Chase Elliott and Ryan Blaney to the NASCAR fan, and we believe this year's class has the same potential," Jill Gregory, NASCAR senior vice president of marketing and industry services, said in a statement.
People from NASCAR say that every year about these young lions. But look for Noah Gragson to hop aboard some pretty fast skateboards in the next year or two and start racing guys to the front door.
Proud to announce that I'm a part of the 2016 #NASCARnext class! https://t.co/4Lyctz6YOz

— Noah Gragson (@NoahGragson) May 17, 2016
GREEN-WHITE-CHECKERED
• Saturday is Military & Veterans Appreciation Night (Presented by Lucas Oil) at the Las Vegas Motor Speedway Bullring. Here's the storyline according to the LVMS publicity people: "Six-time track champion Scott Gafforini (NASCAR Super Late Models), Sam Jacks (NASCAR Bombers), Michael Todd Glazier (USLCI Legends-Masters), Brian Williams (USLCI Legends-Semi-Pro), Chris Bosley (USLCI Thunder Cars), R.J. Smotherman (USLCI Bandolero Bandits) and Robert Smotherman (Skid plate cars) all widened their leads on Saturday. Peyton Saxton (NASCAR Grand American Modifieds) remains eight points clear of Shane Skaggs, while Cameron Morga (USLCI Legends-Pro) and Caden Carlin (USLCI Legends-Young Lions) saw their leads shrink a touch heading into this weekend's racing." The Lucas Oil Modifieds also will be zipping around the oval this weekend. Gates open at 5 p.m. A Budweiser costs only $3.
• Here are the final words (but apparently not the final actions) on Carl Edwards bumping Joe Gibbs Racing teammate Kyle Busch out of the way for the win at Richmond last month, via the Las Vegas leadfoot (and Tom Jensen of Fox Sports): "We talked about it again about what Joe's expectations are for all of us and how we should race each other. Essentially, it comes down to no team orders. Do what you feel like is right and you know, you better expect it on the back side." So if I were Carl Edwards, I would watch by back side.
• There will be only one woman (Pippa Mann) and no Las Vegas drivers, at least none that currently reside here, driving more than 230 mph this weekend in an attempt to win the coveted pole position for the much-celebrated 100th running of the Indianapolis 500. Alex Tagliani, who will drive a third car for the legendary A.J. Foyt, still lists Las Vegas as his hometown but said he is renting out his place in Summerlin.
Las Vegas Review-Journal sports columnist Ron Kantowski can be reached at rkantowski@reviewjournal.com or 702-383-0352. His motor sports notebook runs on Friday. Follow him on Twitter: @ronkantowski.