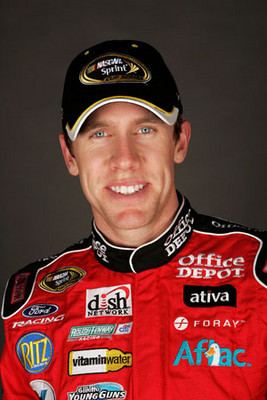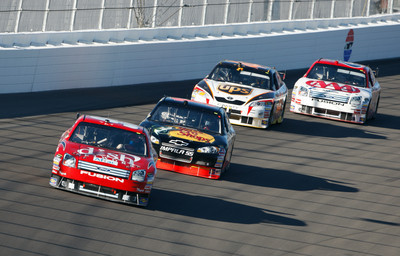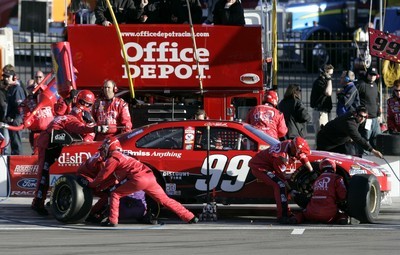 CHARLOTTE, N.C. — Carl Edwards used two straight wins to take the Sprint Cup points lead for the first time in his career.
On Wednesday, NASCAR said his Las Vegas victory was tainted and slammed Edwards and his Roush Fenway Racing team with its toughest penalty yet. Edwards was docked 100 points — knocking him out of first place — and stripped of the 10 bonus points he got for the win.
Edwards would have carried those bonus points into the Chase for the championship, assuming he's one of the 12 drivers to qualify for NASCAR's 10-race playoff.
"I'm not going to let this affect me," Edwards said. "All I am going to say is we're all going to keep doing what we can do and go as fast as we can. And I'm just going to keep doing what I'm doing."
In addition to Edwards' penalty, crew chief Bob Osborne was fined $100,000 and suspended six weeks, and Jack Roush was docked 100 owner points.
The penalties stem from a post-race inspection Sunday when NASCAR discovered the cover was off the oil tank in the race-winning No. 99 Ford.
Rival competitors circulated a photo by e-mail Tuesday of Edwards doing a celebratory backflip off his car, and the cover is clearly not attached to the oil tank. It's believed that by opening up the oil tank trunk, the air is able to circulate through the car and create as much as 10 percent more downforce.
NASCAR did not comment on the penalties, and Roush Fenway president Geoff Smith said the team had 10 days to decide if it will appeal.
Smith said the team thinks a bolt failed on the cover and that it wants to get the part back from NASCAR to inspect it before deciding if it will fight the penalty. Until the decision is made, Osborne will begin serving his suspension and engineer Chris Andrews will fill in as crew chief.
"We are not yet sure if we will be participating in a 16th century exercise in the judicial system," Smith said. "It's a tough business for any race team to have to pledge $100,000, 100 points and a six-race crew chief suspension as an indemnity payment to NASCAR against a promise forced from us by NASCAR that no bolt will ever fail its purpose under race conditions."
It is the second time in four years the Cup race winner at Las Vegas failed post-race inspection and was punished by NASCAR.
Officials determined after the race in 2005 cars driven by winner Jimmie Johnson and runner-up Kyle Busch — then Hendrick Motorsports teammates — had roof heights that were too low. Each driver and car owner lost 25 points.
Edwards declined immediate comment on his team's penalties. Earlier Wednesday, as he was awaiting word on his punishment, he said he wasn't concerned with whatever NASCAR handed down because "it's not going to change how I drive, so I'm not going to sweat it."
That probably changed after NASCAR's ruling, which is the toughest to date toward infractions on its Car of Tomorrow. Smith said the team thinks it is too severe, especially considering Michael Waltrip received nearly an identical penalty last year for having a fuel additive in his engine at Daytona.
Waltrip was docked 100 points, and his crew chief was fined $100,000 and suspended four races.
"So, you get 100 points for putting rocket fuel in your car, and then you get 100 points for a bolt coming too loose?" Smith asked. "There seems to be a little inconsistency here, and we're being penalized for something we aren't even sure gave an added performance to the car."
NASCAR has shown a strict intolerance toward any modifications to the car it spent years developing and began using full time this season. The punishment was expected to be tough based on recent precedent: NASCAR suspended five Nationwide Series crew chiefs two weeks ago because their oil tank covers were simply loose.
Some of those teams have appealed, and the National Stock Car Racing Commission this week overturned one of the penalties and amended several others. But Edwards' cover was actually off the tank, which is a far bigger grievance with less room for reasonable explanation than a loose cover.
Because NASCAR does not typically strip teams of victories, the penalty did the closest thing to it. Under a tweak made last season to the Chase format, drivers get 10 bonus points for every victory earned during the 26-race "regular season."
Those points are used to seed the 12-man field for the Chase. Before Wednesday's announcement, Edwards had earned 20 points. With the 100-point penalty, he dropped from the top of the standings to seventh.
Review-Journal sportswriter Jeff Wolf contributed to this report.