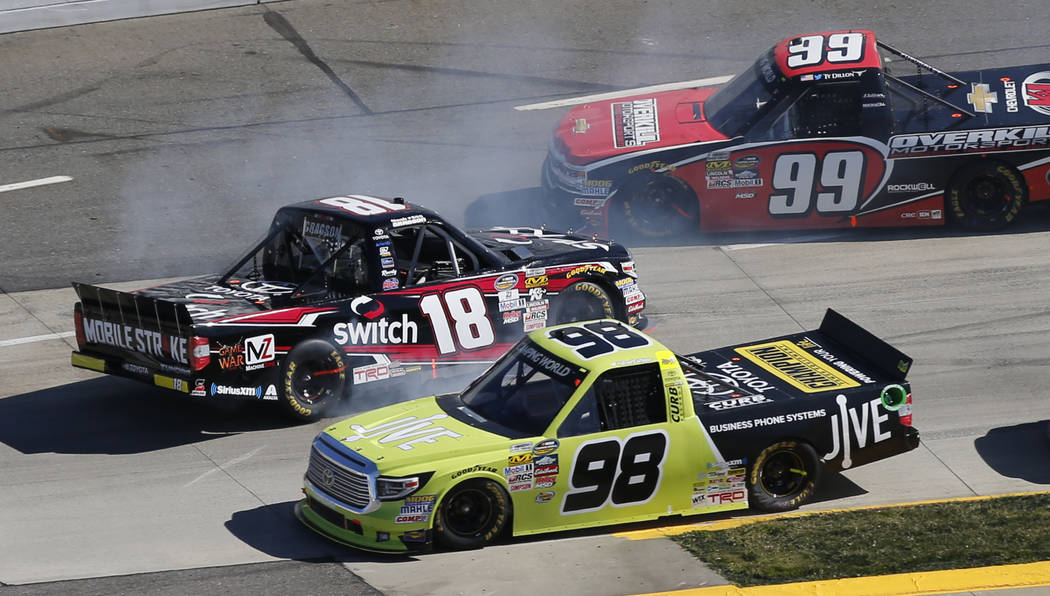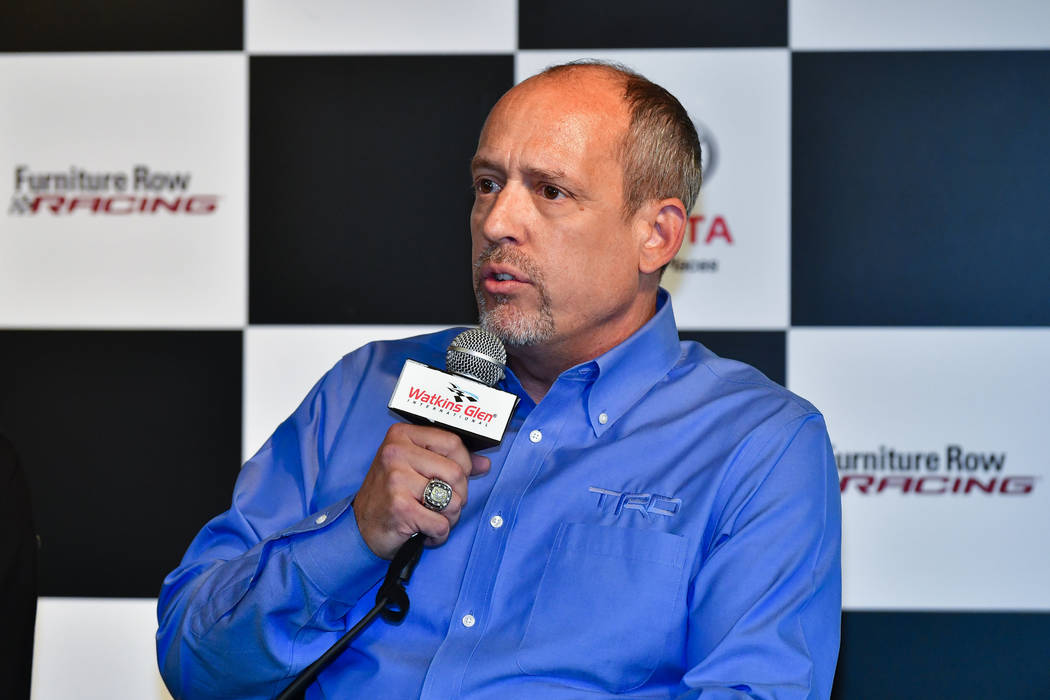 During the recent NHRA weekend at Las Vegas Motor Speedway, assorted gearheads were gathered around a TV in the scoring tower watching NASCAR trucks run in circles at Martinsville, Virginia.
The one wearing a red Toyota golf shirt spoke complimentary words when Noah Gragson, the local youngster who drives a Tundra for fellow Las Vegan Kyle Busch, pulled into third place en route to finishing fourth — the best showing of the teenager's fledgling career.
I think David Wilson also may have beamed with pride.
Wilson is president of Toyota Racing Development, which is as high as it gets in the administration building in Costa Mesa, California. He signs off on supporting young drivers such as Gragson through a Toyota driver development program that was started five years ago.
The program was designed to work as a major league baseball farm system does. Drivers are signed, supported, move up the ladder (or are released) at the appropriate time. The really promising ones eventually are called up to the Cup Series, stock car racing's big leagues.
When Carl Edwards unexpectedly announced his retirement during the offseason, Daniel Suarez of Mexico was promoted from the Xfinity Series to replace him in the No. 19 Toyota at Joe Gibbs Racing. Wilson also had signed off on bringing Suarez into the Toyota fold, so that bodes well for 18-year-old Gragson's NASCAR future — especially if he can continue to run up front when Mr. Big is watching on TV.
"Every story is different, but Noah grew up here in Las Vegas, running the same tracks the Busch brothers ran," Wilson said at the drags. "He definitely caught the eye of Kyle, and we, Toyota, are very invested in driver development. We're always on the lookout. There are certain people, certain drivers who have an eye for talent, and Kyle Busch is one of them."
Toyota has a full-time driving scout, but Wilson said Busch first approached him about Gragson.
"It's early," Wilson said. "Noah is a young man, but he's already impressing us. What he did in Martinsville is one data point, but that is a tough track for a rookie. He hung in there all day and ran top 5. That is an accomplishment all by itself."
Solid two day test at @iowaspeedway with my @KBMteam. Learned a lot with @MarcusRichmond_ and team for the future. Very valuable experience pic.twitter.com/7ZpUt85ZEx

— Noah Gragson (@NoahGragson) April 18, 2017
Distant Daytona
NASCAR doesn't race on Easter, so stat freaks were afforded time to come up with freaky stats during the respite.
To wit: Were you aware that Kurt Busch is a distant 15th in season points, the lowest the Daytona 500 winner has ranked after the first seven races of a season since Trevor Bayne in 2011?
Or that stage racing, which was designed, among other things, to produce more exciting competition over the course of a long season, has widened the gap between contenders and pretenders?
After the seventh race of 2016, pacesetter Kyle Busch had 259 points, while Austin Dillon was 10th, 61 points in arrears, and Ryan Blaney sat 20th, 115 points back. This year, Kyle Larson leads the Cup Series with 315 points; Kevin Harvick is 10th, 117 points behind — which is roughly where Blaney was last year in 20th place.
On the plus side, either people have gotten used to the uniforms of the Monster Energy girls by now or they have stopped complaining about them as much.
White flag
Racing drivers usually make blatant mention of sponsors after a race, but sometimes it can be difficult after a lousy finish. Nobody was smoother than Sterling Marlin, though. Check out this sublime homage to Coors Light after a disappointing run.
"We had the wrong gear, wrong springs, wrong shocks and wrong car. We had the right beer, but other than that, we got stomped."
Contact Ron Kantowski at rkantowski@reviewjournal.com or 702-383-0352. Follow @ronkantowski on Twitter.
Pro schedule
NASCAR Monster Cup
What: Food City 500.
When: Friday, practice, 8:30 a.m. (FS1), qualifying, 1:45 p.m. (FS1). Saturday, practice, 5:30 a.m. (FS1); practice, 8 a.m. (FS1). Sunday, race, 2 p.m. (KVVU-5).
Where: Bristol Motor Speedway (oval, 0.53 miles), Bristol, Tenn.
Distance: 266.6 miles (500 laps).
Last year: Carl Edwards won the first of two straight races. Edwards also took the pole.
Last race: Jimmie Johnson won his first race of 2017 after starting 24th.
Next race: Toyota Owners 400, April 30, Richmond International Raceway, Richmond, Va.
NASCAR Xfinity
What: Fitzgerald Glider Kits 300.
When: Friday, practice, 10 a.m. (FS1), practice, 12:30 p.m. (FS1). Saturday, qualifying, 6:35 a.m. (FS1), race, 10 a.m. (FS1).
Where: Bristol Motor Speedway (oval, 0.53 miles), Bristol, Tenn.
Distance: 159.9 miles (300 laps).
Last year: Erik Jones won for the first time in 2016 at Bristol.
Last race: Jones won from the front row in Texas.
Next race: Toyotacare 250, April 29, Richmond International Raceway, Richmond, Va.
NASCAR Camping World Truck
What: No race this week.
Last race: Chase Elliott opened April with a win at Martinsville.
Next race: Toyota Tundra 250, May 12, Kansas Motor Speedway, Kansas City, Kan.
IndyCar
What: Indy Grand Prix of Alabama.
When: Friday, practice, 8:45 a.m., practice 12:25 p.m. Saturday, practice, 9 a.m., qualifying, 1:30 p.m. (NBCSN). Sunday, race, noon (NBCSN).
Where: Barber Motorsports Park (road, 2.3 miles), Birmingham, Ala.
Distance: 207 miles (90 laps).
Last year: Simon Pagenaud took first for Team Penske from the pole.
Last race: James Hinchcliffe won at Long Beach in the second race of 2017.
Next race: Phoenix Grand Prix, April 29, Phoenix International Raceway, Avondale, Ariz.
Formula One
What: No race this week.
Last race: Sebastian Vettel won for the second time in three races last week in Bahrain.
Next race: Russian Grand Prix, April 30, Sochi Autodrom, Sochi, Russia.
NHRA
What: Spring Nationals.
When: Friday, practice, 3:45 p.m. Saturday, practice, 10:15 a.m., 12:45 p.m. Sunday, finals, 12:25 p.m.
Where: Royal Purple Raceway, Baytown, Texas.
Last year: Doug Kalitta won in Texas for the second year in a row.
Last race: Antron Brown (Top Fuel), Tommy Johnson Jr. (Funny Car) and Tanner Gray (Pro Stock) won at Las Vegas Motor Speedway on April 2.
Next race: Four Wide Nationals, April 30, zMax Dragway, Concord, N.C.
— The Associated Press