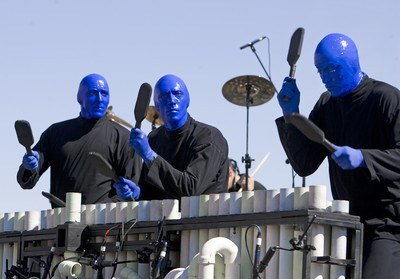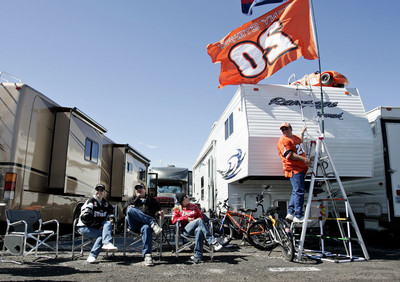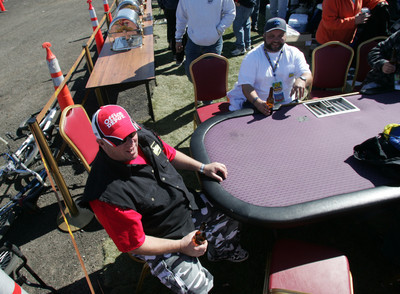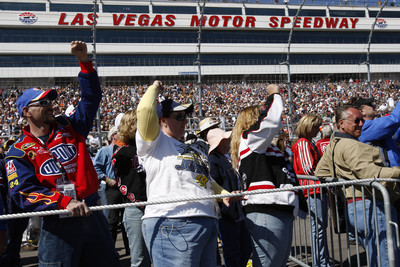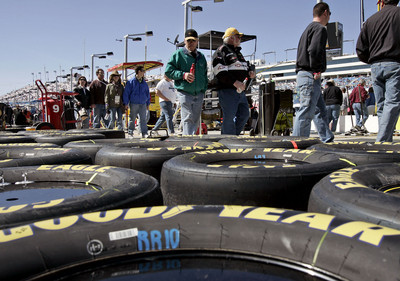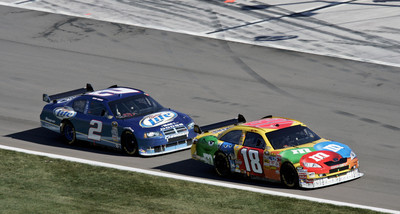 Scan the dinner menu offered by Mario Gesualdo and one might be convinced he was a threat to Emeril Lagasse's five-star restaurants along the Strip: lobster tail, stone crab and filet mignon.
But check out Gesualdo's surroundings, and it is clear Emeril has nothing to worry about: a recreational vehicle and blue plastic coolers packed with ice and canned beer.
Gesualdo was one of thousands of NASCAR fans who set up infield camps for Sunday's UAW-Dodge 400 at Las Vegas Motor Speedway. But his was the campsite that was getting all of the off-track attention.
After spending seven years studying how race fans set up camp, Gesualdo did it right. So right, he claims he had about 1,000 fellow campers dine or drink at his site over the week.
"I don't even know those people," he said, motioning toward a gathering of race enthusiasts drinking in his roped-off area.
On the track, Carl Edwards raced to his second win in six days and celebrated his triumph with his trademark back flip. The victory moved Edwards to the top of the Sprint Cup points standings, a first in his career.
But for Gesualdo and his fellow campers, what happened in the infield of what was called the state's fourth-largest city seemed to be just as important as what happened on the track itself.
For his RV camp, Gesualdo hauled in sod for a front yard, erected a poker table and offered a buffetlike spread complete with covered silver chaffing dishes.
Gesualdo used to own Mario's Clean and Shine. Back then, he picked up after more than 100,000 fans at the racetrack for seven years. But in doing so, he gathered ideas from other campers that helped make his own campsite a hit.
"I took all their ideas and put them into one," he said of his first time camping out as a race fan.
Still, there is room for improvement. Next year he plans to add a hot tub, a pingpong table for rounds of beer pong, palm trees and more grass, he said.
Anyone who thought NASCAR fans toss burgers and dogs on the barbecue would have been proven wrong if they visited the infield campsites that cost about $5,000 for the week for a single space.
Just around the corner from Gesualdo, Dean Mills was cooking up his own gourmet meals. Saturday night's menu included crawfish and crab legs.
Mills and about 30 buddies formed a horseshoe-shaped camp with their RVs. Just an hour before the race, they were engaged in a pool competition on a surface that also converts into a pingpong table.
They were in no hurry to scramble into the grandstands. They would rather climb atop their coaches and drink their own beer rather than fork out the $7 charged at the track.
"There is no better way to do it," said Mills, who took advantage of the speedway's change in policy that allows campers to arrive the Monday before the race rather than Wednesday.
"These are the best seats in the house right here," said Mills' friend Alan Wharton.
Like speedway officials who have worked to better accommodate fans at the 11-year-old facility year after year, fans have also fine-tuned their routine.
The heliport next to the speedway was described by one security officer as a "ballerina of helicopters."
Shortly before 10 a.m. — three hours before race time — one helicopter was landing and taking off every minute.
For three years, San Diego resident Tina Haseltine and brother Mark Schacht, who travels from Minnesota for the race, have struggled with four-hour commutes to the facility, which sits less than 20 miles from the Strip.
For the past seven years, they have opted for a 10-minute lift from a helicopter. They said the cost of $450 a person is well worth it.
"This is the way to go," she said as she made the short trek from the helipad to the racetrack.
Jonelle Mahon found her own way to beat traffic headaches: Like most of the infield guests she plans to leave this morning.
And like most campers on the infield, she spent Saturday and Sunday morning battling gusting winds that whipped race flags and tossed around lawn furniture.
"You learn to take down flags, so you don't have to hunt them down later," Mahon said.
Another important lesson? Bring clothes for every season.
"Two years ago, it snowed," she said.
Steve Pruitt, a dealer at Caesars Palace, also absorbed valuable lessons during his three years attending the race.
"First, you bring 100 pounds of ice, and then when your friends come in, more ice," he said, pointing to five coolers that each had a different brand of beer. "Second, be friendly to security."
"NASCAR fans are the friendliest, and it's the best tailgate party in sports," Pruitt's friend Mark Hale said.
"If you get obnoxious at someone's camp, they'll tell you to leave, but they will always invite you back for breakfast."
Fans might have learned more than speedway officials. About an hour before Sunday's race, hundreds of angry race-goers were in a line that snaked around the Neon Garage, trying to get through the tunnel to the grandstands.
"It's just not organized," said Las Vegas resident Viv Fasulo, who had been in line for 45 minutes and was nowhere near the tunnel.
"For $600, you want to see the race, you don't want to stand in line. If they keep this up, I won't come back."
The Associated Press contributed to this story. Contact reporter Adrienne Packer at apacker@reviewjournal.com or (702) 384-8710.
ON THE WEB
Carl Edwards on Victory Lane NASCAR slideshow • More NASCAR Videos and slideshows