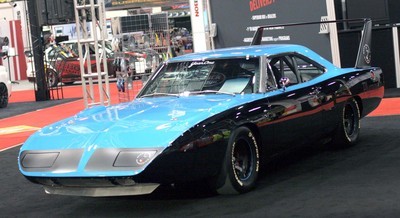 The life of a TV host is certainly a hectic one, filled with plenty of travel and behind-the-scenes activity that you just don't get to see when you're watching the polished product from your living room chair.
And when it comes to behind-the-scenes action, it just doesn't get more hectic than the world's largest collector-car buy-and-sell event, the Barrett-Jackson auction in Scottsdale, Ariz. I've hosted a couple of TV shows from the auction, and the hustle and bustle is out of this world. At Ground Zero, it's like another planet altogether.
Some of the most interesting of the hundreds of featured vehicles up for grabs were those that were auctioned off for charity. In fact, to me, the most beautiful thing about Barrett-Jackson is the philanthropic aspect of it. Last year, more than $5 million in vehicle sales was donated to charity.
This year, arguably the biggest draw was the auctioning of the Plymouth Superbird project for the Darryll Gwynn Foundation.
A year ago, former wrestler, TV personality and automotive enthusiast Bill Goldberg commissioned a beat up Plymouth Satellite (that was donated by one of his close friends) to be transformed into a Plymouth Superbird and auctioned off to benefit the Darryll Gwynn Foundation.
With the help of Kevin King and restoration parts company Year One, NASCAR legend Richard Petty, NASCAR driver Tony Stewart and many other drivers, athletes, celebrities and auto enthusiasts with hearts for the cause, this car was overhauled on PowerBlock (the series of shows I host for Spike) into a gorgeous and powerful machine, closely emulating the 1970 model made famous by Richard Petty in NASCAR racing.
At Barrett-Jackson, I had the honor of riding onto the stage in the Superbird with "The King" Richard Petty, where we joined the large crew of generous givers who backed the project.
We were all hoping and praying that the car would garner a strong dollar amount to support Gwynn's foundation. The former National Hot Rod Association Top Fuel champion suffered a near-fatal crash many years ago, which left him paralyzed. Discovering a shortage of wheelchairs for handicapped children, Gwynn established a foundation to change all that.
Barrett-Jackson is always exciting, particularly on the Saturday night of the event when the enormous tent is completely filled, the crowd is bustling and many of the auction highlights are airing for millions of TV viewers to see (on Speed TV, in this case). But this night was especially electric and emotional.
With Goldberg, Petty and auction founder Craig Jackson enthusiastically speaking from the podium while a packed audience of thousands looked on with Speed's TV cameras rolling, the bidding began. The crowd went wild as the bidding immediately blew past $100,000.
When the hammer came down, the Superbird had fetched just short of $700,000. After the car left the block and Gwynn, Petty, Goldberg and Jackson were being interviewed, someone yelled out and asked to buy Petty's signature cowboy hat for $5,000. I don't know about you, but I can't recall ever seeing Richard Petty without his trademark hat.
Guess what. "You just bought yourself a hat!" Petty said. We all broke out into tears. It was incredibly touching to see the look of appreciation on Gwynn's face, the expression of a young boy looking cool in his customized wheelchair that had been given to him by the foundation and certainly to see a man as big and tough as Bill Goldberg brought to tears.
I'm so proud of my friends and everyone who contributed to this project and I am grateful to be a part of the automotive world where the passion for charity is as big as the passion for cars, where people are generous and hearts are huge.
Among her numerous accomplishments, Courtney Hansen is the author of her own book entitled the "Garage Girl's Guide," the host of Spike TV's "PowerBlock," the former host of TLC's "Overhaulin'" and a writer with Wheelbase Communications. You can e-mail her by logging on to www.wheelbase.ws/mailbag.html.