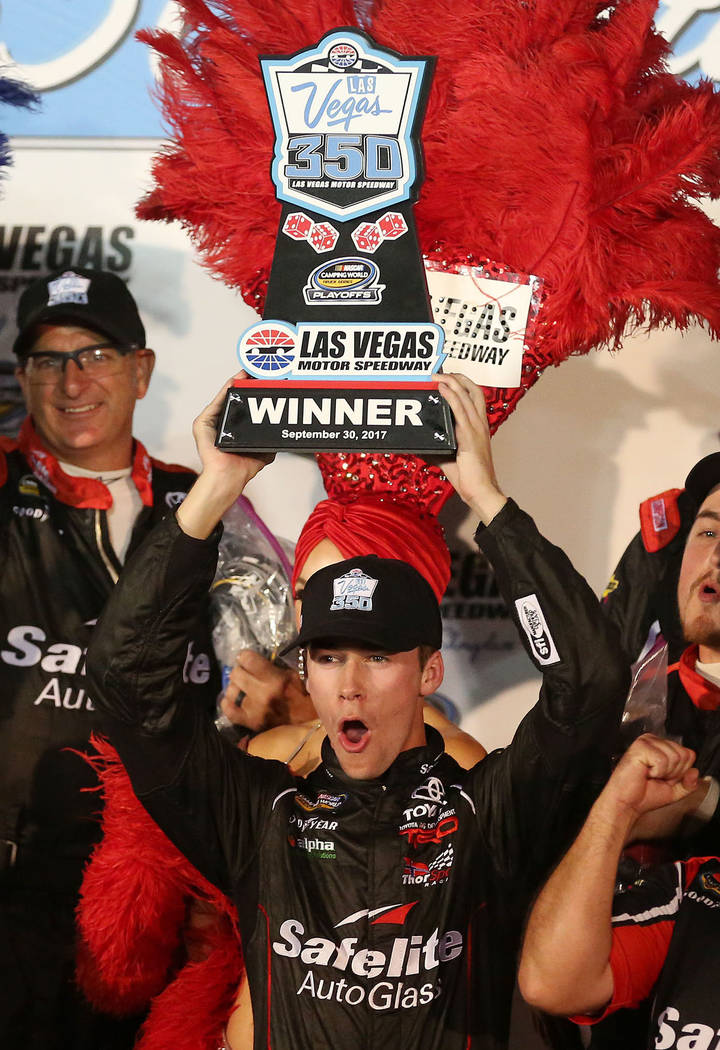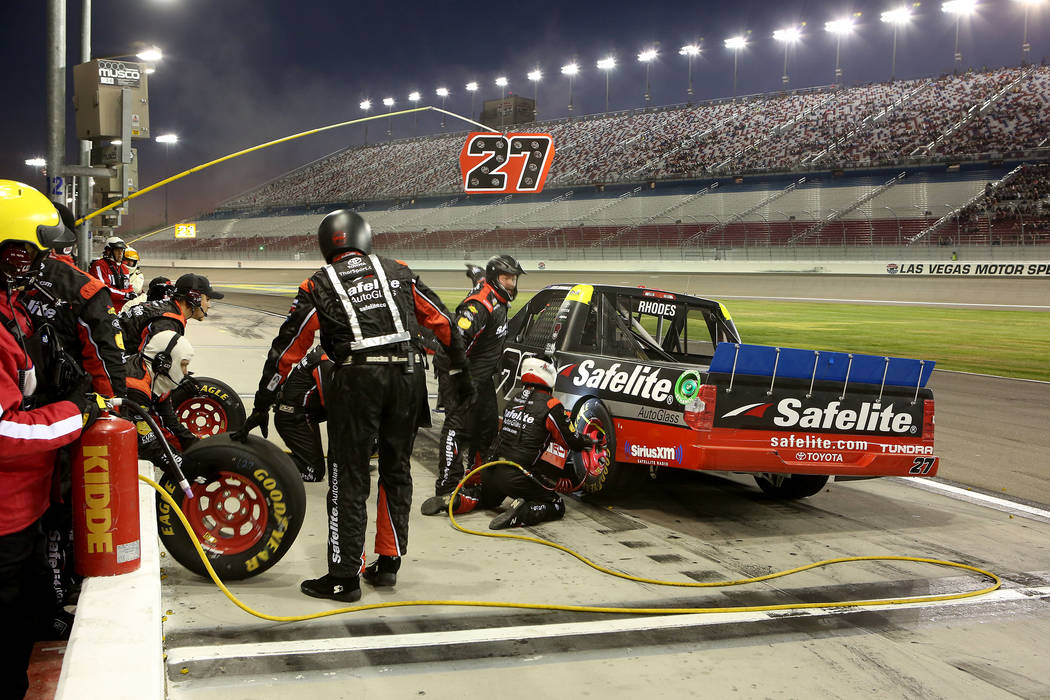 It didn't start well for Ben Rhodes on Saturday night at Las Vegas Motor Speedway.
It couldn't have finished any better.
The 20-year-old Kentucky driver charged from third to first on the last restart with seven laps to go, then nearly drove into the infield grass to hold off Christopher Bell at the finish line to win the Las Vegas 350, Round 2 of the NASCAR Truck Series playoffs.
"I used every play in my playbook," Rhodes said of keeping championship leader Bell in his mirrors en route to his first career victory. "That was the most nervous thing I've ever done in my life."
Rhodes clinched a berth in the second round of the playoffs, joining Bell, who won the playoff opener at New Hampshire.
The former's race almost ended just after it began. Rhodes drifted up the track and collided with Justin Haley after the green flag on Lap 1 before getting squared away and driving off.
"Uncontrollable screaming on the radio," the peachy-cheeked Rhodes said after unbuckling from the No. 27 Thor Sport Toyota. "Biggest high in my life. I didn't know if it would ever come and here we are in Victory Lane."
It was the first Truck Series victory in 45 starts for Rhodes, who led twice for 20 laps.
With five wins in 18 starts, Bell wasn't too upset after settling for second. He again was dominant, leading three times for 64 laps in his No. 4 Kyle Busch Motorsports Toyota, both race highs.
"That was some intense racing right there," the 22-year-old Oklahoman said of his furious attempt to overtake Rhodes at the line.
Chase Briscoe, Austin Cindric and Kaz Grala rounded out the top five in an exciting race that featured 11 lead changes among seven drivers. Rhodes' margin of victory was a blink-of-the-eye 0.066 seconds.
Noah Gragson, the only Las Vegas driver in the 29-truck field, finished 13th and two laps off the pace. But with 60 laps remaining, the 19-year-old rookie was leading. He stayed out during the second stage caution and had the No. 18 Switch Toyota out front for 12 laps before his old tires faded.
When Gragson pitted from eighth place, he was caught speeding on pit road. When he came in to serve that penalty, he was busted again.
"Easy, easy, easy," crew chief Marcus Richmond shouted on the in-car radio as the youngster pulled off the oval for his stop-and-go.
Too late.
"We had a fast Switch Tundra tonight, got up front and led some laps," Gragson said. "I made a mistake on pit road with the speeding penalties and I feel bad for my team that it happened."
Briscoe, who started third, won the first 35-lap stage. Rhodes held off a challenge from Bell to set the pace in the second stage, earn the second carryover playoff point and provide about 25,000 spectators with a preview of the hair-raising finish.
The only major incident occurred on the restart after the first stage. Race leader Briscoe appeared to get away slowly, triggering a seven-truck pileup on the front straight. Reigning series champ Johnny Sauter, who was running second and pushing hard on Briscoe, dropped several laps off the pace after pitting for repairs.
There were six caution periods with 32 laps run under the yellow flag.
Contact Ron Kantowski at rkantowski@reviewjournal.com or 702-383-0352. Follow @ronkantowski on Twitter.
Las Vegas 350 results
At Las Vegas Motor Speedway
Lap length: 1.5 miles
Start position in parentheses
1. (6) Ben Rhodes, Toyota, 146 laps, 55 points
2. (4) Christopher Bell, Toyota, 146, 52
3. (3) Chase Briscoe, Ford, 146, 49
4. (7) Austin Cindric, Ford, 146, 39
5. (14) Kaz Grala, Chevrolet, 146, 36
6. (12) Cody Coughlin, Toyota, 146, 31
7. (5) Matt Crafton, Toyota, 146, 42
8. (15) John Hunter Nemechek, Chevrolet, 146, 37
9. (10) Grant Enfinger, Toyota, 146, 29
10. (2) Johnny Sauter, Chevrolet, 145, 38
11. (20) Timothy Peters, Chevrolet, 145, 26
12. (1) Ryan Truex, Toyota, 145, 39
13. (13) Noah Gragson, Toyota, 144, 29
14. (16) Wendell Chavous, Chevrolet, 144, 23
15. (21) Jordan Anderson, Chevrolet, 143, 22
16. (23) Josh Reaume, Chevrolet, 142, 21
17. (22) Camden Murphy, Chevrolet, 141, 20
18. (27) Jennifer Jo Cobb, Chevrolet, 138, 19
19. (26) Norm Benning, Chevrolet, 129, 18
20. (17) Austin Wayne Self, Chevrolet, accident, 128, 17
21. (8) Justin Haley, Chevrolet, engine, 117, 16
22. (18) Travis Pastrana, Chevrolet, accident, 112, 15
23. (11) Stewart Friesen, Chevrolet, accident, 41, 16
24. (25) T.J. Bell, Chevrolet, overheating, 27, 13
25. (19) Matt Mills, Chevrolet, engine, 11, 12
26. (24) Joe Nemechek, Chevrolet, electrical, 9, 11
27. (28) Mike Senica, Chevrolet, transmission, 4, 10
28. (9) Myatt Snider, Toyota, accident, 0, 9
29. (29) Todd Peck, Chevrolet, engine, 0, 8
Race statistics
* Average speed of winner: 116.637 mph
* Time of race: 1 hour, 52 minutes, 39 seconds
* Margin of victory: 0.066 seconds
* Caution flags: six for 32 laps
* Lead changes: 11 among seven drivers
* Lap leaders: Truex 0, Briscoe 1-40, Bell 41-60, Rhodes 61-73, Gragson 74-78, Cindric 79, Gragson 80-86, Bell 87-124, JohNemechek 125-132, Bell 133-138, Truex 139, B.Rhodes 140-146
* Leaders summary (driver, times led, laps led): Bell, three times for 61 laps; Briscoe, one time for 39 laps; Rhodes, two times for 18 laps; Gragson, two times for 10 laps; Joh.Nemechek, one time for seven laps; Truex, two times for zero laps; Cindric, one time for zero laps
* Wins: Bell 5, Joh.Nemechek 2, Sauter 2, Cindric 1, Crafton 1, Grala 1, Rhodes 1
* Top 10 in points: 1. Bell, 2,152; 2. Rhodes, 2,105; 3. Crafton, 2,101; 4. Sauter, 2,098; 5. Briscoe, 2,084; 6. Cindric, 2,082; 7. Grala, 2,074; 8. Joh.Nemechek, 2,068; 9. Truex, 630; 10. Enfinger, 577
The Associated Press
NASCAR Driver Rating Formula
A maximum of 150 points can be attained in a race.
The formula combines the following categories: Wins, Finishes, Top-15 Finishes, Average Running Position While on Lead Lap, Average Speed Under Green, Fastest Lap, Led Most Laps, Lead-Lap Finish.