'Big 3' seeking a fourth title contender as NASCAR playoffs begin
Updated September 15, 2018 - 5:23 pm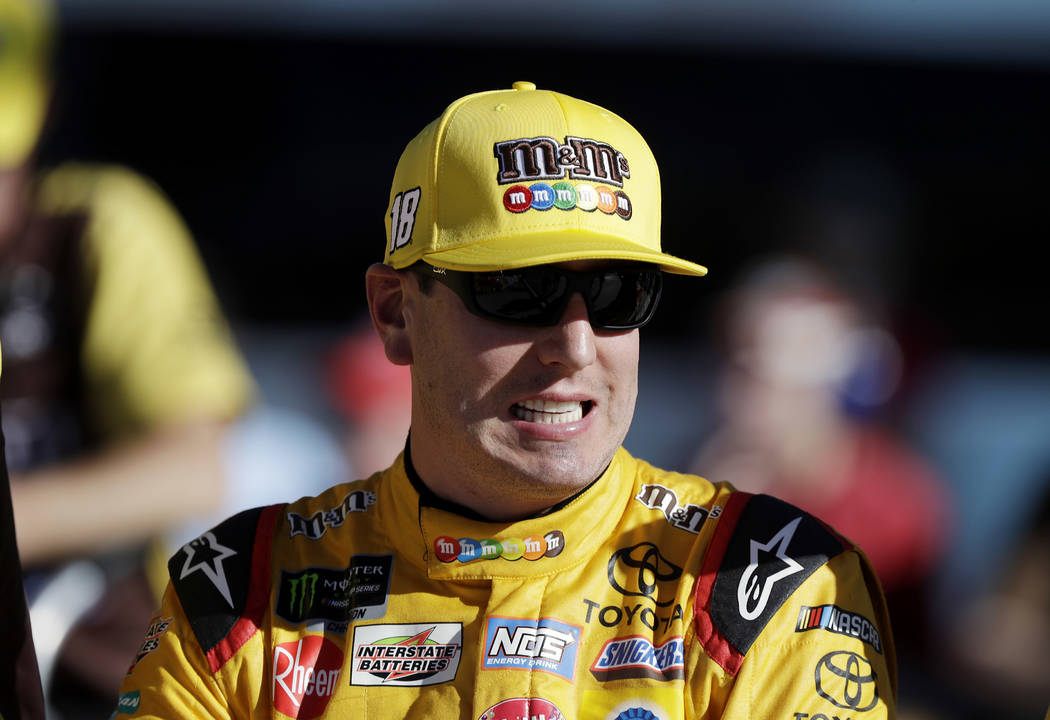 Daytona 500 winner Austin Dillon thinks he has figured out how to make Sunday's South Point 400 and the other NASCAR playoff races more compelling in light of the season-long dominance of Kyle Busch, Kevin Harvick and reigning Cup Series champion Martin Truex Jr. — stock car racing's so-called "Big 3."
"We should make a deal that if we just wreck the 'Big 3' the next several weeks, we're going to have a much better shot going to Homestead (for the final round)," Dillon said at the South Point showroom on media day. "We can, like, split the profits from the championship. It would go a long way."
The driver of the No. 3 Chevrolet was only being facetious.
One thinks.
With former series champions Busch, Harvick and Truex Jr. having won 17 of the 26 regular-season races, their stranglehold on the field will be the primary theme of Sunday's 267-lap jaunt around the 1.5-mile speed plant north of town.
Here are three other things to look for after gentlemen start engines:
Will "Big 3" become "Big 4?"
Unless NASCAR changes the rules between now and Nov. 18 (which is always possible, for this is NASCAR), there will be four drivers that will battle for the championship at Homestead, Florida, in a one-race, winner-take-all showdown. Not just three.
Is Brad Keselowski ready to go wheel to wheel with Busch, Harvick and Truex Jr. for the ultimate prize? What about Kyle Larson, who has been fast but lacks consistency? Or Kurt Busch, who has been consistent but not quite as fast?
Keselowski has raced to back-to-back victories at the Southern 500 and Brickyard 400 — two of stock car racing's marquee events — heading into Las Vegas, where he usually runs up front.
"The last two races have been a dream come true for me," said the 2012 series champion, whose recent success and six consecutive top 10s at LVMS could give the "Big 3" something to think about.
What about Jimmie?
It wasn't long ago that racing people thought it a foregone conclusion that seven-time series champion Jimmie Johnson would win No. 8 and supplant Richard Petty and Dale Earnhardt atop the legendary list of championship hot rod drivers, to use Rusty Wallace's term.
But the introspective California driver is mired in a 49-race losing streak that isn't all his fault — or any of his fault — given no Chevrolet driver is ranked higher than eighth (Chase Elliott) heading into the playoffs.
"Please do not wake the sleeping giant. Do not wake him up!" playoff rival Clint Bowyer said on media day, when relatively few questions were asked of Johnson.
That's right slick
With race-day temperatures expected to top 100 degrees, a slick track might make the cars harder to drive and could produce a more interesting than usual race at LVMS, one of the 1½-mile cookie-cutter tracks that most NASCAR fans detest.
"The high lanes are never utilized here, but I think you're going to see that," Kurt Busch said about track conditions serving as a wild card. "We'll keep our momentum up there, and we're going to have less downforce because of the thinner air and summertime temps.
"It's gonna change the way we approach this race. That's why I think we wanted it (the first playoff race) out here, to mess up the playoffs a little bit."
Contact Ron Kantowski at rkantowski@reviewjournal.com or 702-383-0352. Follow @ronkantowski on Twitter.
Race day
Who: NASCAR Monster Energy Cup
What: South Point 400
When: Noon Sunday
Where: Las Vegas Motor Speedway
Distance: 400.5 miles (267 laps)
TV: NBCSN
Pole: Erik Jones
Co-favorites: Kyle Busch and Kevin Harvick, 11-4