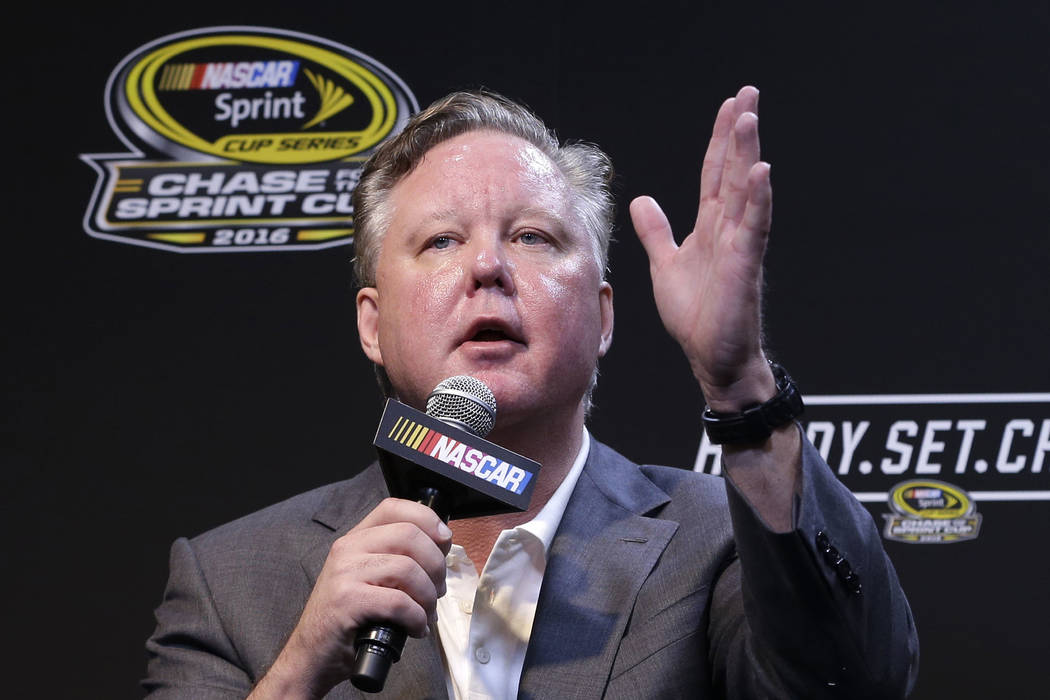 Martin Truex Jr. probably saw it coming first.
Then so did anybody watching last year's NASCAR Awards from Las Vegas on television.
Instead of presenting Truex Jr. with his championship ring, NASCAR CEO Brian France might as well have thrown it at him. It sort of looked like a broken play in football during which the quarterback has to lunge to complete an awkward handoff.
France left the stage at Wynn Las Vegas without shaking Truex Jr.'s hand or even acknowledging his presence.
The driver made a motion with his hand and sported a bemused expression that said, "What the heck was that?"
The optics were terrible for a major sports organization struggling to hang on as such under France's watch.
When France was charged with DWI and criminal possession of a controlled substance (oxycodone) in New York on Sunday, dots were connected.
The NASCAR chief's bizarre comportment in Las Vegas now had context.
There was a similar incident with retiring superstar Dale Earnhardt Jr. and other stumbles that night, part of a pattern of unusual behavior that has seen France virtually disappear from the racetrack and not make himself accessible to address major issues, such as reports that NASCAR may be for sale.
It would appear France needs help in confronting his demons, and perhaps now he may finally get it. But NASCAR needs help, too. So after its leader completes the Road to Recovery Program (or similar) that he ironically founded to help drivers and others in the sport confront addictions and missteps, it would be best were he not to return to a position of authority.
Another awkward turn or handoff might result in a fumble from which big-time stock car racing never recovers.
Via @NickBromberg, here's a GIF of the awkward ring moment from last night. Just really odd. France hands Truex the box and leaves. pic.twitter.com/5lybpaLsfj

— Jeff Gluck (@jeff_gluck) December 1, 2017
Awesome Bill's ride
This week he probably is answering to "Chase Elliott's dad" instead of the other way around. But when he drives in the Xfinity race at Road America on Aug. 25, NASCAR legend Bill Elliott will revert to being "Awesome Bill from Dawsonville" one last time.
The 62-year-old former Cup Series champion and two-time Daytona 500 winner insists it will be his last race in one of NASCAR's top three series.
He'll drive the No. 23 car normally assigned to Las Vegan Spencer Gallagher for the GMS Racing team headed by Gallagher's father, Maury.
Regardless of how Awesome Bill takes the the left- and right-hand turns in rural Wisconsin, GMS is sure to benefit from a ton of pre- and postrace publicity.
Elliott's last major race was the 2012 Daytona 500, in which he qualified fifth but was eliminated in a crash.
AUDIO: "I just want to see what it's like. Man these guys are good."

Yep, Bill Elliott will race @GMSRacingLLC @roadamerica in @NASCAR_Xfinity this month. Catch his FULL interview tomorrow at 11 AM ET on #DialedIn w/ @ClaireBLang: pic.twitter.com/eh0W8hrJjn

— SiriusXM NASCAR Radio (Ch. 90) (@SiriusXMNASCAR) August 5, 2018
DENSO returns to LVMS
DENSO Products and Services, which is mostly known for spark plugs, will return as title sponsor of the NHRA Four-Wide Nationals at The Strip at Las Vegas Motor Speedway in 2019.
The nation's top hot rodders will thank DENSO as well as their individual sponsors throughout the April 5-7 Four-Wide weekend.
The @NHRA announced Tuesday that @DENSOAutoParts has extended its title sponsorship of the DENSO Spark Plugs NHRA Four-Wide Nationals at The Strip at LVMS. Story: https://t.co/16WocDtUj6 pic.twitter.com/fWT4ibXsXh

— Las Vegas Motor Speedway (@LVMotorSpeedway) August 7, 2018
Happy 40th, Ku.
Kurt Busch, sometimes referred to as the 2004 NASCAR Cup Series champion but mostly referred to as Ku. Busch on the scrolling race ticker so as not to confuse him with younger brother Ky. Busch, turned 40 on Aug. 4.
Wife Ashley threw a birthday bash in which they dressed as characters from an F. Scott Fitzgerald novel. The racer's dinner jacket made him look the spitting image of Jay Gatsby or Pee-wee Herman, depending on whether you are a fan or not.
40 and fabulous. Ashley, you are my soulmate, I love you with all my heart. What an absolutely perfect party. Thank you! @MrsAshleyBusch pic.twitter.com/q6dsnfbdQ5

— Kurt Busch (@KurtBusch) August 8, 2018
Contact Ron Kantowski at rkantowski@reviewjournal.com or 702-383-0352. Follow @ronkantowski on Twitter.
Pro schedules
NASCAR Monster Cup
What: Consumer's Energy 400.
When: Friday, qualifying, 2:05 p.m. (NBCSN). Sunday, race, 11:30 a.m. (NBCSN).
Where: Michigan International Speedway, Brooklyn, Mich.
Defending champion: Kyle Larson.
NASCAR Xfinity
What: Rock N Roll Tequila 170.
When: Saturday, qualifying, 8:30 a.m.; race, noon (NBCSN).
Where: Mid-Ohio Sports Car Course, Lexington, Ohio.
Defending champion: Sam Hornish.
NASCAR Camping World Truck
What: Corrigan Oil 200.
When: Saturday, qualifying, 6:30 a.m. (FS1); race, 10 a.m. (FS1).
Where: Michigan International Speedway, Brooklyn, Mich.
Defending champion: Bubba Wallace.
The Associated Press