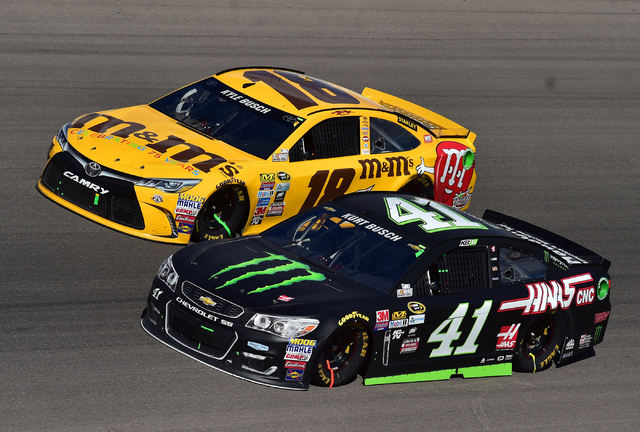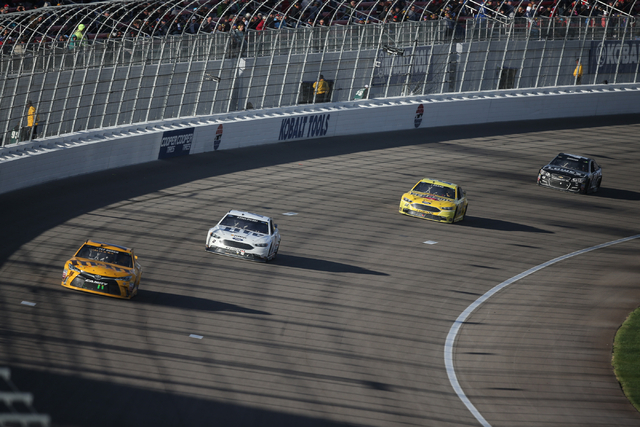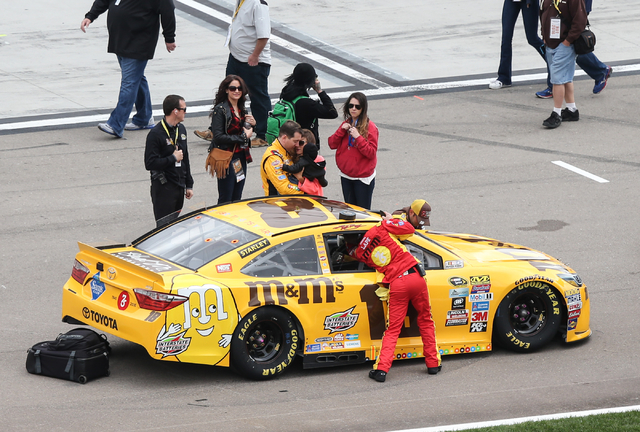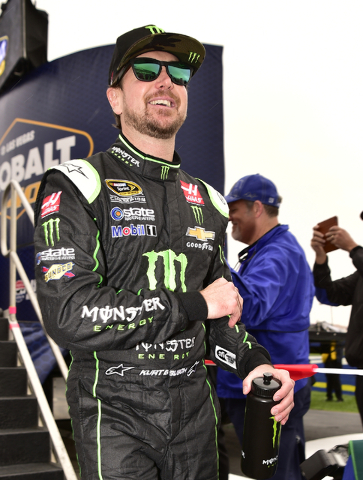 Neither Kurt nor Kyle Busch got to race in the Kobalt 400 NASCAR Sprint Cup race last season on their home track.
The Las Vegas natives each showed flashes of brilliance in their return Sunday before placing in the top 10.
Kurt Busch started from the pole position and led for the first 31 laps — and Kyle Busch led for 38 laps down the stretch — but neither could hold off a late charge by Brad Keselowski in the 267-lap race at Las Vegas Motor Speedway.
Keselowski, who led for only 18 laps, took the inside of Kyle Busch on the backstraight to grab the lead with six laps to go and hung on for his first victory of the season.
"As soon as I passed Joey (Logano), I focused in on (No.) 18 and watched him for a lap," Keselowski said of Kyle Busch. "When I saw his car sliding, I knew after that lap we could win the race."
Kyle Busch had been leading since the 224th lap, when he made an abrupt move outside, then inside. But his car steadily gave out, and he finished fourth behind Keselowski, Joey Logano and four-time Las Vegas champion Jimmie Johnson. Austin Dillon took fifth.
"I had a vibration," said Kyle Busch, who missed last season's Kobalt 400 because of a fractured right leg and broken left foot. "I didn't know if the tire was coming off. It got so tight. It was the tightest it's been all day. Definitely something wrong. …
"It's not a win, but we're doing what we need to do. We'll keep top five. When you do that, the wins will come."
Keselowski added: "When (Kyle Busch) made the move, I thought we were racing for second."
Kyle Busch nearly swept the weekend's races, as he was coming off a dominating win in Saturday's Xfinity Series in which he led 199 of 200 laps. He started 23rd on Sunday and first cracked the top three during the 102nd lap. But then came the car issues.
"(The car) was just vibrating really bad," said Kyle Busch, who leads the standings by seven points over Johnson. "I don't know why. It had a little bit of a shake, and it got worse as we got going toward the end of the race."
Kurt Busch, who was under a NASCAR-mandated indefinite suspension for domestic assault during last season's race, took control early, but quickly dropped to the back after receiving the day's first speeding penalty at pit row.
"We fought hard. Driver made a couple of mistakes on a restart and speeding on pit row," he said. "We just had to battle, battle, battle and never got into a good rhythm. We just felt like we were battling from behind."
Despite being involved in a multi-car wreck on the 225th lap, Kurt Busch fought back to finish ninth.
* TATE CHEERS ON HARVICK — One day after defeating Holly Holm by submission at UFC 196, new Ultimate Fighting Championship women's bantamweight champ Miesha Tate was at the speedway to support friend Kyle Harvick.
She told Fox Sports: "I'm glad I was able to make it here. I had so much going on this morning, but I did not want to miss this race for anything. Go Harvick! Team KHI (Management) all the way."
* LEAD CHANGES — There were 20 lead changes, 10 leaders and six cautions for 36 laps.
* INSPECTIONS — No cars failed postrace inspections. But cars driven by Keselowski, Logano and Kasey Kahne were taken back to the NASCAR garage for futher inspection.
* TOP ROOKIE — Ryan Blaney was the highest finishing rookie, taking sixth.
* TOP 10 — Runner-up Logano posted his fourth top-10 finish in eight races at LVMS. Johnson, who led for a race-high 76 laps and took third, posted his ninth top-10 finish in 15 races at the speedway.
Contact reporter Ashton Ferguson at aferguson@reviewjournal.com or 702-383-0430. Follow him on Twitter: @af_ferguson