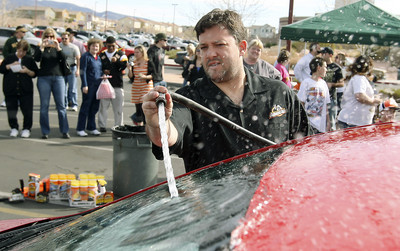 NASCAR champion Tony Stewart's first job out of high school 20 years ago was washing cars near his home in Indiana.
His early career decision offered flexible hours that freed him up to race whenever he wanted. The move proved as clever as the ones he lays down on a racetrack in his No. 14 Chevrolet.
Stewart didn't make much at the car wash, but he has earned NASCAR teams for which he has driven more than $70 million since 1999.
On a warm Thursday afternoon, Stewart put his car-washing experience to good use at Henderson's Coronado High School. The event was a racer's triple crown: He promoted a sponsor, met with fans and raised money for a good cause.
Through his Tony Stewart Foundation, Armor All car care products — one of Stewart's sponsors — presented a $10,000 check to the school for its general fund.
Stewart's foundation has raised several million dollars over the past few years. Other drivers also capitalize on their fame to help needy causes.
"When you become part of the NASCAR family you realize how much everyone in NASCAR cares about the communities where we race," Stewart, 37, said during a break between washing a Toyota and a giant truck that appeared to have been rolled in mud.
"Things like this show everyone we're real people — that we don't mind getting wet or dirty," he added, with pant legs soaked to mid-calf.
Athletes who make a living with balls and sticks are known to rest the day before major competitions. Usually, they'll stay away from exertion — and crowds.
That method of preparation, though, hasn't trickled down to NASCAR drivers.
Stewart wasn't the only star racer devoting part of Thursday to meeting fans, helping others and promoting this weekend's racing at Las Vegas Motor Speedway, which begins at noon today with practice and qualifying for the Shelby 427:
• Former Formula One driver Scott Speed, a California native, joined with several NASCAR Raybestos rookies in the afternoon at the ESPN Zone inside New York New York to reward 50 children from the Las Vegas Boys and Girls Clubs with a racers-prepared meal, souvenirs and an hour of play on video games.
• Greg Biffle and Elliott Sadler were among racers in the Sprint Cup series in the evening at Sam's Town Live to raise money for the Las Vegas chapter of Speedway Children's Charities with the 11th annual NASCAR Driver Auction. More than $100,000 was raised a year ago.
• Las Vegas native Kurt Busch, the 2004 Sprint Cup champion, hosted peers Jamie McMurray, Sam Hornish Jr., David Stremme, Kyle Busch, Denny Hamlin and Biffle in the "Sprint for the Kids" fundraiser for the Kurt Busch Foundation.
At the ESPN Zone, Speed teamed with Michael Annett, who will compete in Saturday's Sam's Town 300 Nationwide Series race, to win the Raybestos cook-off. They made meat sauce with elbow macaroni, garlic onions and mozzarella. It was picked the best by the kids.
"I cook pasta real good," said Speed, 25, a Cup rookie for the Red Bull Racing team. "That's what I eat after a bike ride in the afternoon. I can cook pasta with tomato sauce and salad.
"Kids judging this is really cool."
In 2005 and '06, Speed competed in Formula One — the world's most popular and richest series that races cars similar to those used in the Indianapolis 500 — before returning home to begin racing stock cars.
He went from racing in Monaco and Monza, Italy, and dining in the world's finest restaurants to racing in Talladega, Ala., and Darlington, S.C., where fried turkey legs rank as haute cuisine.
In Formula One, Speed says, he rarely was asked to make public appearances or promote sponsors.
"Formula One is more focused on the racing than pleasing sponsors or making appearances," he said. "There never were autograph sessions.
"It's a lot more fun in NASCAR because we get more interaction with the fans."
Cup driver Kasey Kahne found a unique way to spend some time Thursday. And he was thankful that he didn't need help from a foundation.
Kahne — all 5 feet 8 inches and 150 pounds — spent an hour with mixed martial arts stars Forrest Griffin and Wanderlei Silva to film a segment for Sunday's race, which will telecast on Fox (Ch. 5).
"I held back a little with Wanderlei," Kahne, 28, joked of the simulated fight he had with the Las Vegas-based Ultimate Fighting Championship combatant.
"Actually, he could have killed me at any time."
The encounters in the UFC Octagon might lead to a joint effort between a driver and the UFC to raise funds for injured American soldiers.
"It's easy as a race car driver to lose perspective if you have a bad weekend and it's like your whole world is collapsing," Speed said.
"All of us are really lucky to be doing what we do even when we have a bad day."
Jeff Wolf's motor sports column is published Friday. He can be reached at 383-0247 or jwolf@reviewjournal.com. Visit lvrj.com/motorsports for more NASCAR and racing news.
Tony Stewart at car wash
NASCAR DRIVER APPEARANCES
TODAY
7-9 p.m.: Jamie McMurray, Luxor
7:30-9 p.m.: Kurt Busch, Sierra Gold Tavern, 6515 S. Jones Blvd.
7:30 p.m.: Michael McDowell and Marcus Ambrose, Monte Carlo
7-8:30 p.m.: Robby Gordon, Lee's Discount Liquors, 4427 E. Sunset Road, Henderson
8-9:30 p.m.: Casey Mears, NASCAR Cafe, Sahara
SATURDAY
5 p.m.: Tony Stewart, Palazzo sports book bar; 325 wristbands will be distributed at 3 p.m.
7-8 p.m.: Kurt Busch, New York New York
RACE SCHEDULE
Today: 10:30, Sam's Town 300 Nationwide Series practice; noon, Shelby 427 Sprint Cup practice; 1:45, Sam's Town 300 final practice; 3:40 p.m., Shelby 427 qualifying
Saturday: 9 a.m., Sam's Town 300 qualifying; 10:40, Shelby 427 practice; 1:30 p.m., Sam's Town 300
Sunday: 1:30 p.m., Shelby 427
LAS VEGAS REVIEW-JOURNAL
JEREMY MAYFIELD
Five-time NASCAR Sprint Cup winner Jeremy Mayfield was without a team last year, but early last month he put together his own: Mayfield Motorsports.
After qualifying for the season's first two races, Mayfield will try to make it three straight during today's 3:30 p.m. qualifying for Sunday's Shelby 427 at Las Vegas Motor Speedway. Mayfield will provide daily race blogs at lvrj.com/motorsports. For more on Mayfield and his No. 41 All Sport Toyota, go to JeremyMayfield.com.