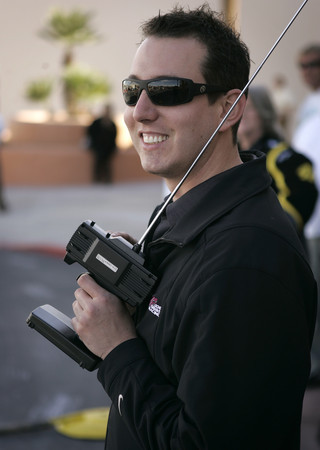 NASCAR star Kyle Busch started a new racing season Tuesday morning with a dominating victory.
The 24-year-old defending champion of the NASCAR Sprint Cup race at Las Vegas Motor Speedway lapped the field with his No. 18 race car emblazoned with sponsor M&M's decals at his original racetrack.
His competitive fires didn't flicker because he was directing a foot-long, remote-controlled model whizzing around a parking lot in front of HobbyTown USA on Sahara Avenue just west of Decatur Boulevard.
Winning is paramount regardless of the race car he's controlling.
The Durango High graduate was in Las Vegas for less than 24 hours to help promote the Feb. 28 Shelby American Sprint Cup race at the speedway. A day earlier, he will compete in the Sam's Town 300, a race in NASCAR's second-tier Nationwide Series in which he is the reigning season champion.
After his most recent win, he autographed the plastic car and presented it to Carol Kerekes, whose family has owned HobbyTown for 18 years.
The visit was special for Busch, who spent considerable time and money at the hobby store while growing up about a mile away. In his early teens, he worked there over a Christmas school break.
"HobbyTown was one of my first sponsors," he recalled. "I had their decal on my (amateur) Late Model car I raced at the speedway. They'd give me $125 each race to buy the four tires I'd need. That meant a lot to us back then."
Back in those days, Busch was one of the area's top young guns, but few could have expected him within a dozen years to become one of the best American racers. Last year, he won four races in the premier Cup series, nine in Nationwide and seven of the 15 he entered in the Camping World Truck Series. He has won $33 million during his six-year NASCAR career.
But his first racing exploits, with those of older brother Kurt, were at a HobbyTown parking lot.
"I used to ride my bike here every day," Kyle Busch said. "It's nice to be able to drive here. Coming here brings back many good memories."
The NASCAR season starts next week in Daytona Beach, Fla., but except for a few days off around Christmas, Busch has had little time away from the sport since the last race in November.
On Monday, he was test driving a Lexus for sponsor Toyota before flying to Las Vegas on Monday night. He toured several radio stations Tuesday morning to promote next month's races at Las Vegas Motor Speedway before revisiting his youth at HobbyTown. By noon, he was on a private jet to Dallas for meetings with Interstate Batteries, another of his sponsors at Joe Gibbs Racing.
He was eager to get back home to Charlotte, N.C., today to oversee his latest venture at Kyle Busch Motorsports. He became the youngest sole owner of a team in a national NASCAR series when he announced in December that he would field two teams in the truck series this year. He will share driving duties with Brian Ickler of San Diego in one truck and field another for Tayler Malsam of Seattle.
"It's been busy but fun, too," Busch said of his new ownership role.
His two-truck team has provided full-time jobs for between 35 and 40 people in an industry that has suffered hundreds of layoffs over the past year.
"It's really sad how many people — good, talented people — are out there without jobs. I wish I could have hired more."
He hopes to do that if he is able to add a third truck team by midyear.
And with his proven track record the odds of that happening are not remote.
Contact reporter Jeff Wolf at jwolf@reviewjournal.com or 702-383-0247.
Video of Kyle Busch