Crashes reveal full impact of drivers' danger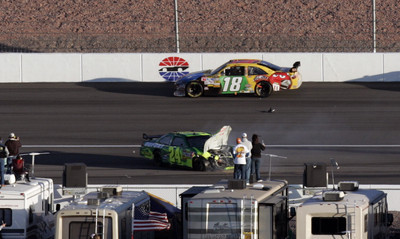 Editor's note: Review-Journal sportswriter Jon Gold attended his first NASCAR race weekend. The following is his first-person take on the racing phenomenon.
At the end of my very first NASCAR race, I would've loved to have seen the finish, to have watched Carl Edwards race his No. 99 just a hair faster than Dale Earnhardt Jr.'s No. 88.
I would've loved to have been in the grandstands with the fans, cheering the exciting conclusion of the UAW-Dodge 400 with 150,000 rabid maniacs. Or in the media center with all these veteran NASCAR scribes, pounding at their keyboards, frantically. Or in the pits, feeling the energy of grown men as they celebrated like children.
Instead, I stood at the Las Vegas Motor Speedway medical center, listening to the father of 8-month-old Ella Sofia Gordon thank God for his life.
Ella Gordon's daddy, Jeff, hit the back of Matt Kenseth's No. 17, slammed into the inner wall and spun three times, leaving the front of his famous No. 24 car torn to pieces.
"That's probably the hardest I've ever hit," Ella's Daddy said. "I couldn't have hit the wall at a worse angle — it really tore the thing up.
"I tell you what, several years ago those two cars hit the same way, I wouldn't be standing here right now."
After initial gasps, the media center fell silent. I couldn't breathe. I've never seen a crash like that, other than in video replays and colorful stories.
The sad thing is, many of these old-school NASCAR writers have seen much worse. They've seen flips and spins and deaths.
The drivers have, too.
"One lap you're going, next lap you're not," said Greg Biffle, who finished third behind Edwards and Earnhardt. "I came that close to busting my ass off of Turn 2, the same place they wrecked. The reality of it is, that stuff happens.
"We worry about getting hurt, but if we worried about that too much, we wouldn't be doing what we're doing."
And yet they still do. Gordon, the father, does. Biffle, the newlywed, does.
They go out week after week after week, 36 times a year, on a bad day driving twice as fast as the rest of the population around 20- to 30-degree turns.
Funny thing is, after a bad wreck, most drivers are more upset about the blown opportunity than the possibility of a skull fracture.
"You're in third or second, your adrenaline is high, you're right there — and all of a sudden you're frickin' wrecked," Biffle said. "It's all that hard work with three laps to go. It's like you wrote a whole story, been working on it for a month, and then the computer crashed. It's that much of a letdown."
Only on my worst day as a writer, if my computer crashes, I don't crash. I curse to the heavens and throw my tape recorder across the room and I rewrite my story.
On Sunday, though, I watched 11 cautions and six accidents.
And at once, I saw — I felt — the best and worst of NASCAR.
Contact reporter Jon Gold at jgold@reviewjournal.com or (702) 380-4587.
See Jon's videos Jon at the Neon Garage Meeting fans in the stands Jon interviews Kyle Petty At the infield RV park More NASCAR Videos and slideshows