Daytona finish buoys Earnhardt
February 24, 2010 - 12:00 am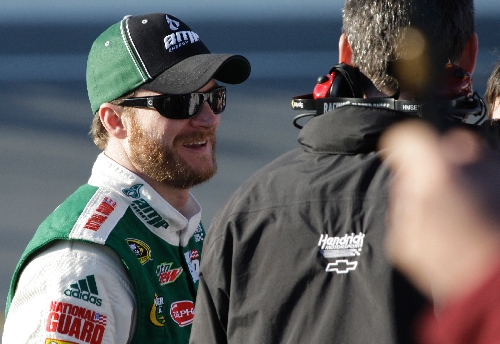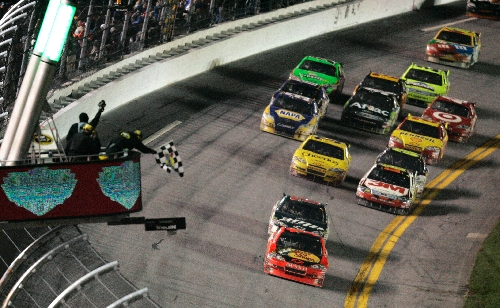 Dale Earnhardt Jr.'s runner-up finish in the season-opening Daytona 500 re-energized his legion of fans.
It was a welcome sight for supporters — Earnhardt charging from 10th to second on the final lap Feb. 14 — after NASCAR's most-popular driver endured the worst season of his 10-year Sprint Cup career in 2009.
"I got more text messages and phone calls about those last few laps than I did when I won the damn race," Earnhardt said last weekend at Auto Club Speedway in Fontana, Calif. "We had been battered and beaten up so much last year, by ourselves particularly. I didn't want to get too excited after that finish because it was Daytona and it was a track that I can typically run good."
Junior's bubble didn't completely burst Sunday in California, but it lost some air after a broken part led to a lengthy pit stop and a 32nd-place finish, 12 laps down.
"It was a tough day," he said. "I can't build the cars. I just drive them."
Earnhardt's winless streak — dating to June 2008 in his first season with Hendrick Motorsports — reached 59 races Sunday. He has one victory in his past 136 races after winning 17 times in his first 227 Cup starts and, before that, claiming Nationwide Series titles in 1998 and 1999.
He finished a career-low 25th in points last year, and crew chief Tony Eury Jr., Earnhardt's cousin, was fired midway through the season.
The disappointment was compounded by the dominance of his Hendrick Motorsports teammates, who captured the top three spots in the final standings and won 13 of 36 races.
Lance McGrew replaced Eury, and team owner Rick Hendrick made improving Earnhardt's car a priority coming into this season.
"We built a lot of new cars. We did a lot of hard work, Lance especially, during the offseason to put us in a position to bring better cars to this race and to Vegas," Earnhardt said. "Just give me a good car and I can run real good."
He proved that at Daytona, a performance that he hopes to repeat or improve on in Sunday's Shelby American at Las Vegas Motor Speedway, where he was runner-up in 2003 and 2008.
Teammate Jimmie Johnson, the four-time defending Cup champion, has won three times on LVMS's 1.5-mile tri-oval, and Hendrick's Jeff Gordon and Mark Martin each have won once.
"The track is a lot of fun," Earnhardt said. "They reconfigured the banking (before the 2007 race) and it's faster. It's a lot different than it used to be, and it's a pretty unique track."
Especially if it becomes the place where Earnhardt's losing streak stops.
Contact reporter Jeff Wolf at jwolf@reviewjournal.com or 702-383-0247.