Erik Jones wins South Point 400 pole on slick LVMS track
Updated September 14, 2018 - 6:45 pm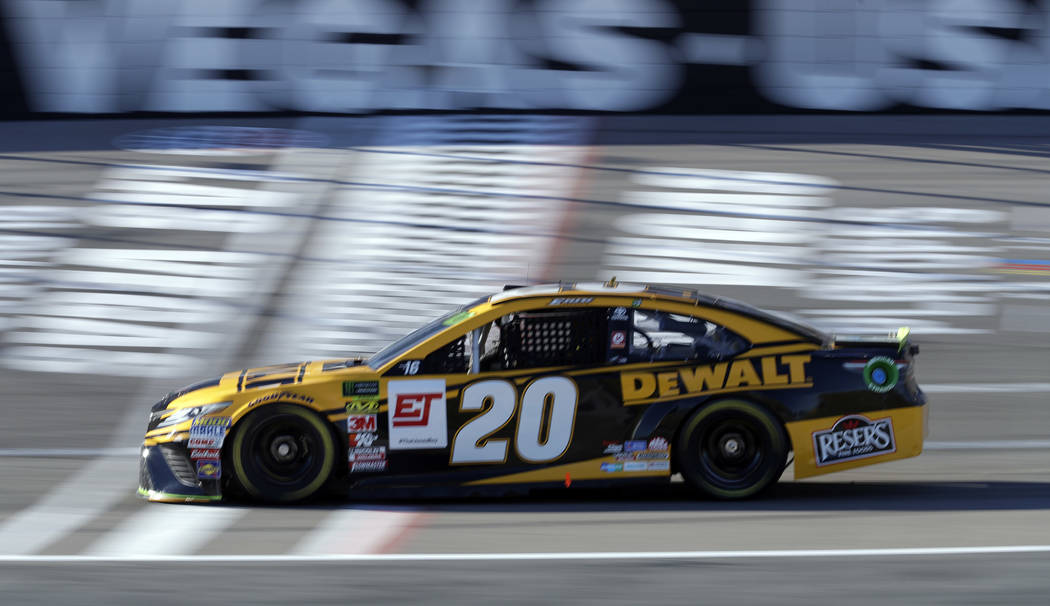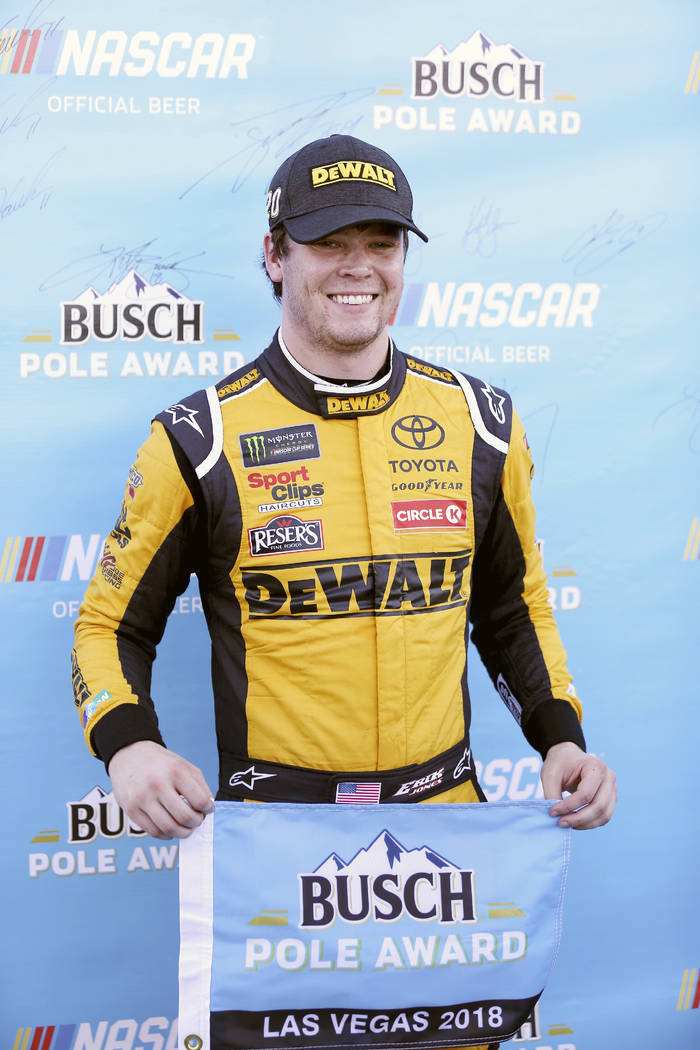 It was hot and slick during Friday's pole day qualifying for the inaugural South Point 400 at Las Vegas Motor Speedway with That Jones Boy, as it now reads on Erik Jones' race car, being the hottest and slickest of all.
The 22-year old driver became the youngest pole position winner in LVMS history by posting a fast speed of 188.121 mph in the No. 20 Joe Gibbs Toyota. Jones was a whisker quicker than Joey Logano (181.101), who will start Sunday's race on the outside of row 1.
"I think we've had good speed for a while," said Jones, who earned his second pole start in 66 career Cup Series races. "I would say this is the best speed we've unloaded with this year. It's a good time to do that, I guess."
Denny Hamlin and Las Vegas' Kyle Busch will start third and fourth with Kevin Harvick and Ryan Blaney rounding out the top six. Kurt Busch will start eighth, outside of Chase Elliott in the fourth row.
The fastest 11 cars were playoff qualifiers, with Jamie McMurray (12th) and Ricky Stenhouse Jr. (14th) being the only nonplayoff cars to crack the first nine rows. It's a trend that Logano expects to continue.
"Cars that are in the playoffs are the best cars in the field," said the driver of the No. 22 Team Penske Ford. "So you would expect them to qualify up front. They're gonna run up front and win a lot of races. It's going to be really odd to see a nonplayoff car win a race in these next 10 races. It shouldn't happen.
"You think about the effort the (playoff) teams will put in and if one (team) car is in, all the effort normally goes to the car that's in the playoffs. So it would be very surprising to see a nonplayoff car be very fast right now."
Ron Kantowski at rkantowski@reviewjournal.com or 702-383-0352. Follow @ronkantowski on Twitter.
South Point 400 Weekend schedule
Saturday
— Cup series: Practice, 10 a.m. and 12:30 p.m.
— Xfinity series: Qualifying, 11:10 a.m.; DC Solar 300 (200 laps), 2 p.m.
Sunday
— Cup series: Speedway Children's Charities track walk, 8:30 a.m.; South Point 400 (267 laps), noon
The Fast 6
Top qualifiers for Sunday South Point 400 NASCAR playoff race at Las Vegas Motor Speedway:
1. Erik Jones, Toyota, 188.121 mph
2. Joey Logano, Ford, 188.101
3. Denny Hamlin, Toyota, 187.624
4. Kyle Busch, Toyota, 187.402
5. Kevin Harvick, Ford, 187.396
6. Ryan Blaney, Ford, 187.084