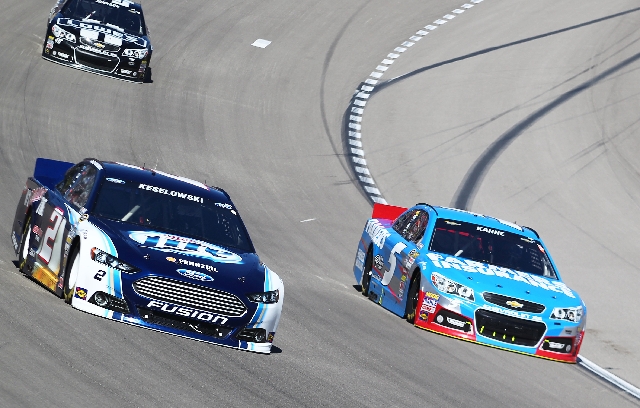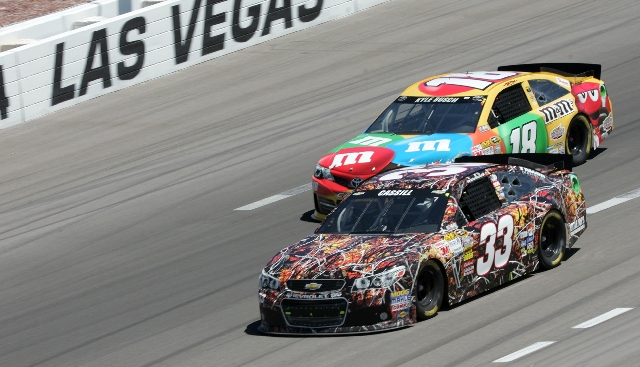 Whatever Kasey Kahne's thoughts might have been about NASCAR's new Generation-6 car before Sunday, he sounded a lot like its biggest supporter after his runner-up finish in the Kobalt Tools 400 at Las Vegas Motor Speedway.
While many Sprint Cup Series drivers sidestepped the issue in the wake of NASCAR fining Denny Hamlin $25,000 for his critical comments about the car last week, Kahne said he liked what he saw of the racing in the 267-lap event.
"My car worked good," Kahne said after posting his fifth top-10 finish in 10 races in Las Vegas. "I felt like I could pass, I could race underneath (other cars) — do things that maybe I wouldn't have been able to do in the past. First time on a mile-and-a-half (track) with this new Gen-6 … I had a lot of fun driving it."
Kahne's overwhelming support of the Gen-6 car also might have something to do with the fact he ran up front or battled for the lead for most of the race. After leading only 58 laps in his previous nine Sprint Cup races at LVMS, Kahne led a race-high 114 laps Sunday.
"I thought it was a heck of race," he said. "I got to race through traffic and battle for the lead four, five, six times. I felt really confident with my Chevy SS."
Much of the criticism of the Gen-6 car before Sunday centered on the difficulty some drivers had attempting to make passes — something that was not evident at LVMS. Statistics provided by NASCAR back up Kahne's opinion. The race featured an event-record 31 green-flag passes for the lead, the most in 16 Cup races at LVMS. There were 2,342 green-flag passes overall, while last year's event had 1,301 passes throughout the field.
Kahne wasn't alone in his opinion of the new car performance. Race winner Matt Kenseth, who gained his third victory at LVMS, said he liked what he saw.
"I thought it was really an entertaining race," Kenseth said. "I was watching Kyle (Busch) run up there and get the lead, and then Kasey would be better in the long runs and start working different grooves and go back by him. I thought it was interesting, and you had to pay a lot of attention all the time."
Kyle Busch, a Las Vegas native who finished fourth, was among the drivers who were less forthcoming in giving an opinion about the new car.
"It was really good," Busch said of his Joe Gibbs Racing Toyota. "We had a fast racecar. For about 10 laps, the thing was a rocket ship, and then it started getting so loose you could barely hold onto it. That's something we definitely need to build on and work on (as a team). I think it's definitely just getting used to this car. This is an entirely different racecar than what we've run here in the past."
The usually outspoken Brad Keselowski, who finished third and has three top-four finishes in three races this season, was uncharacteristically coy when asked if he would care to comment on the new car.
"No, I don't — I'm good," said the reigning Sprint Cup Series champion, who clearly has better things to do with his money than write checks to NASCAR.
Contract reporter Brian Hilderbrand at bhilderbrand@reviewjournal.com or 702-383-0294.