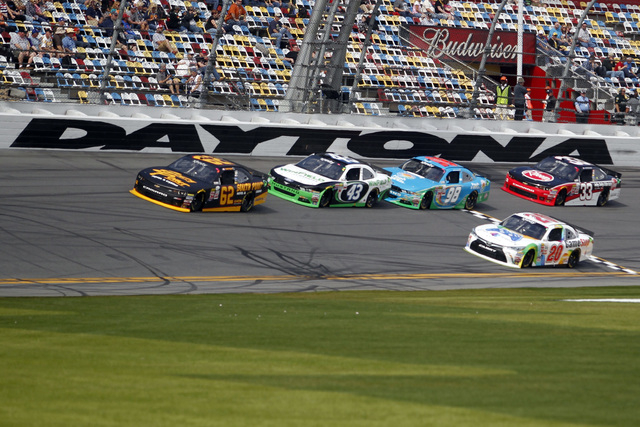 Las Vegas was the center of NASCAR's universe just a year ago, with four locals returning home to compete in the sport's two highest series.
No other city could claim so many drivers last year.
With NASCAR coming back to town this weekend, the scorecard looks considerably different.
Kurt Busch? Gone.
Kyle Busch? Gone.
Dylan Kwasniewski? Gone.
Brendan Gaughan? The one driver whose name is pronounced "gone" actually will compete at Las Vegas Motor Speedway in both the Sprint Cup Series Kobalt 400 on Sunday and the Xfinity Series (formerly Nationwide) Boyd Gaming 300 on Saturday.
He actually won't be alone among the locals. Las Vegas resident Jamie Little, a first-year Fox Sports pit road reporter, will work her first Sprint Cup race at Las Vegas after many years of handling just the Saturday event for ESPN.
Gaughan competed in last year's NASCAR weekend in the Nationwide race, but he signed a deal in February with a Cup startup team, Premium Motorsports. His priority, though, remains with the Richard Childress Racing Xfinity team.
He finished a career-best eighth in points last year, his first full season since 2010. Gaughan won races June 21 at Elkhart Lake, Wis., and Sept. 20 at Sparta, Ky. Those were the first career victories at that level for Gaughan, who has logged three full seasons in Nationwide/Xfinity.
"We were the winningest team last year at RCR, so that feels good," Gaughan said. "The boys are walking around with their heads high and feeling a little bit of confidence."
Last season proved Gaughan, now 39, could succeed at such a level. He had shown promise in the NASCAR Camping World Truck Series, winning six races in 2003 and placing fourth.
Consistency, though, was an issue. Gaughan finished no higher than 11th in the standings over the following five seasons and didn't record a victory.
In his one true shot at Cup, in 2004, he was 28th with one top-five finish and four in the top 10.
Gaughan also had trouble simply getting a ride in Nationwide, racing a combined 13 times in 2012 and 2013. But then Childress offered him a car last season, and Gaughan justified the team's faith in him.
"It felt good to get a monkey off your back," Gaughan said. "Getting the first win at Road America in the rain, everybody kind of went, 'Huh?' Then people think, 'Yeah, OK, it was kind of a novelty.' But then to do it in Kentucky the way we did really made the guys feel good, really made the guys get their chests pumped out.
"It felt really good to race at that level, and that's what I came to Richard Childress Racing to do, was race at that level. It's paying off in spades right now."
Now Gaughan is working to build on last season and put his No. 62 Chevrolet in contention for an Xfinity championship.
"We definitely want to be better than eighth place, especially when you're at Richard Childress Racing," Gaughan said. "You're expected to be a little better than that. You're expected to compete for championships."
Kwasniewski, 19, is waiting for his chance to show what he can do this season. He and Kyle Larson were expected to share the No. 42 HScott Motorsports Chevy, and Larson was behind the wheel for the first two races. But Brennan Poole will pilot the car this weekend, and funding is being sought to find Kwasniewski a ride.
In January, Kwasniewski said he was optimistic the arrangement would work and that he would improve as a driver, but sounded frustrated in a Feb. 21 tweet.
"Wish I was out there with all of the other @NASCAR_XFINITY drivers," he wrote. "Hopefully I will get a break soon."
"May be out of the car right now," Kwasniewski tweeted three days later in a more hopeful posting, "but training hard and working hard for when opportunity comes knocking!"
He has been considered one of racing's future stars, and is the only driver to win the NASCAR K&N Pro Series West and East championships. Kwasniewski made the step up to Nationwide last season, and it turned out to be quite a leap. He ended 11th in the standings with three top-10 finishes.
"I thought he did OK," Kyle Busch said. "Certainly, there were some trying times for him there. It was maybe not as successful as he wanted to be. The team he was with was pretty decent. You saw Kyle Larson run up front and be successful, but Kyle Larson is a rare talent.
"I think him sharing the ride with Kwasniewski this year and the relationship that Harry Scott and (Chip) Ganassi have developed should be good for him and Kyle, so hopefully all that works together and we can see more success from him this year."
Kyle Busch won't get to race for quite some time after breaking his right leg and left foot during the season-opening Xfinity race in Daytona Beach, Fla. No timetable has been established for when he will return.
His brother, Kurt, was suspended indefinitely by NASCAR after a Delaware family court commissioner ruled that he thought Busch had assaulted former girlfriend Patricia Driscoll. Kurt Busch's career is in jeopardy.
A year ago, four Las Vegans drove in NASCAR's top two series at LVMS.
It's a more lonely time a year later.
Contact Mark Anderson at manderson@reviewjournal.com or 702-387-2914. Follow him on Twitter: @markanderson65.