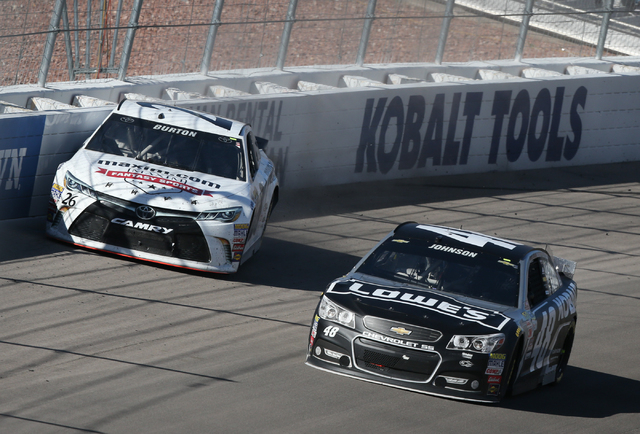 Jimmie Johnson had the best car early, leading half of the first 90 laps.
He has won four times at Las Vegas Motor Speedway, so Johnson looked like the one to beat again.
Then trouble began in Sunday's Kobalt 400, with tire issues taking him off the track. Johnson finished 41st in the NASCAR Sprint Cup Series race, 31 laps off the pace.
"I'm disappointed," he said. "We certainly had an awesome racecar. I wish we could have won this Kobalt race in this Kobalt car, but we'll come back next week."
His day at LVMS began early, with Johnson taking part in a promotion with Lowe's and Habitat for Humanity to start building a home for a Henderson family.
He once remarked a few years ago he had trouble changing a light bulb, but apparently that isn't completely true.
"I was just trying to keep my wife from figuring out if I could do stuff around the house," said Johnson, smiling. "I've worked on plenty of stuff over the years — begrudgingly change light bulbs and get involved when I can. The schedule is so busy it's tough to enjoy the moments of doing it yourself around the house. But having kids and Christmas-time and birthdays and just stuff in general has kind of sharpened my mechanical skills again. I find myself assembling things much more regularly now."
He credited Matt Kenseth for changing his attitude on do-it-yourself projects, particularly when it comes to the challenging task of assembling kids' toys.
"He suggested that I look at that job as an opportunity to enjoy a beer," Johnson said. "So it could be a one-beer, two- or three-beer project; instead of thinking I've got to rush through this and get it done, just to try to change your vantage point on it. So that's been very helpful."
Johnson met with the media before the Kobalt 400 to promote the Habitat project. Helping to begin construction of that home turned out to be the highlight of his day.
TAKING RESPONSIBILITY — Carl Edwards knocked Kasey Kahne out of contention with less than 75 laps remaining, drifting up and pushing Kahne's Hendrick Motorsports No. 5 Chevrolet into the wall.
"That's completely my fault, and that's what ruined our day," Edwards said. "It's tough. I feel bad for Kasey Kahne's team. That's not something I normally do, so I have to make it up to everybody next week at Phoenix.
"It's not just frustrating, it's pretty stupid. I just should have been a little calmer, but it's kind of fun racing up front like that, and it got me going and I just got a little over-aggressive."
Kahne, who finished 17th, said Edwards apologized.
"It would have been a lot of fun to at least try to race (winner Kevin Harvick) there at the end," Kahne said. "See if we could catch him. It would have been interesting. He was really, really good and won today. But I feel like we had the second-best car, and we were really close."
KURT BUSCH UPDATE — The return of Las Vegan Kurt Busch to racing probably will occur after authorities declined to file charges after he was accused of assault by his former girlfriend, Patricia Driscoll.
Busch has been on indefinite suspension by NASCAR, and when it will be lifted isn't known.
"Some of our concerns are obviously if he does come back, can we get in the Chase?" Stewart-Haas racing co-owner Gene Haas said. "But those issues really now kind of reside with NASCAR."
CARRYING A TUNE — Country music group Rascal Flatts, which is doing a residency at the Hard Rock Hotel, sang the national anthem. It wasn't the first time for the three members, who sang it at other sporting events, including the World Series and an Ohio State football game.
"It's one of the most exhilarating and terrifying things you can do," Jay DeMarcus said. "It's an honor to be asked to sing it."
Rascal Flatts was right at home at LVMS because the singers are NASCAR fans.
"We're driving the 48 car today, so we're excited about that," Gary LeVox said jokingly.
Someone might want to inform Johnson.
TAKING A BREAK — The teams went into the race knowing a caution would take place early. They were informed at the drivers' meeting Sunday morning that a competition caution would occur because of the new rules package for the cars to see how the tires handled the track. The caution was for laps 27 through 30.
IN THE BACK — Las Vegas' Brendan Gaughan, driving for the new Premium Motorsports team, finished 38th in his No. 62 Chevy. He was nine laps off the pace.
Contact Mark Anderson at manderson@reviewjournal.com or 702-387-2914. Follow him on Twitter: @markanderson65.