Kobalt 400 breakdown, 100 miles at a time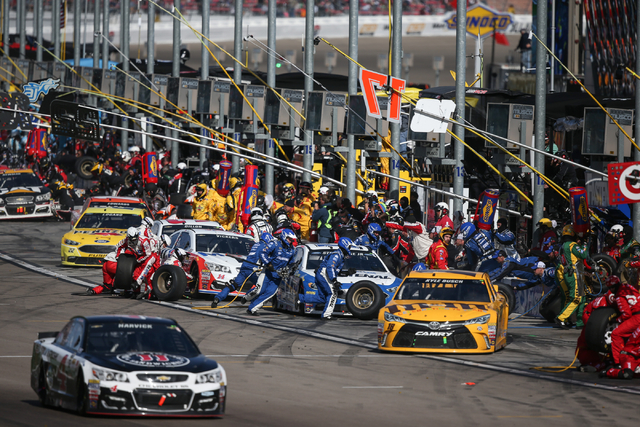 Breaking down Sunday's Kobalt 400 at Las Vegas Motor Speedway by the mile markers:
100 MILES
Order: Joey Logano, Brad Keselowski, Jimmie Johnson, Matt Kenseth, Martin Truex Jr., Chase Elliott, Austin Dillon, Ryan Blaney, Kevin Harvick, Kasey Kahne.
Speed: 159.916 mph.
Leaders: Kurt Busch, Laps 1 to 31; Joey Logano, Lap 32; Regan Smith, Lap 33; Denny Hamlin, Laps 34 to 43; Logano, Laps 44 to 67.
Yellow flags: Laps 32 to 35, competition yellow.
Out: None.
Notable: Green flag falls after 40-minute delay for wind and rain; Mother Nature sent to rear of field … Kurt Busch leads first 32 laps before fighting the law. Law wins — Busch busted for speeding on pit road during competition yellow flag. Las Vegan sent to the back of the pack … First Danica Patrick TV mention: Lap 40. She's running 28th … Greg Biffle running 27th. No TV mention … Hamlin reprises old-time footballer Jim Marshall — he's going the wrong way. Daytona 500 winner falls from lead to 16th during long green-flag run … Sun comes out, wind subsides, beer vendors do cartwheels.
200 MILES
Order: Jimmie Johnson, Joey Logano, Kevin Harvick, Brad Keselowski, Chase Elliott, Ryan Blaney, Matt Kenseth, Kyle Busch, Kurt Busch, Dale Earnhardt Jr.
Speed: 155.318 mph.
Leaders: Joey Logano, Laps 68 to 82; Kevin Harvick, Lap 83; Austin Dillon, Laps 84 to 85; Brad Keselowski, Laps 86 to 99; Logano, Lap 100; Johnson, Laps 101 to 131; Logano Lap 132; Johnson, Laps 133 to 134.
Yellow flags: Lap 100 to 104 (debris on frontstretch).
Out: None
Notable: Winds picks up big time … Deja vu all over again: Johnson, four-time Las Vegas winner, takes lead on pit-stop shuffle … Green flag passes for lead! Two of 'em! Logano powers past Johnson on Lap 133; Johnson powers back around Logano, Lap 134. Kyle Busch methodically moving up, he's eighth at mid-distance … More side-by-side racing than usual here. Hip-hip-hooray for low downforce package … Kurt Busch goes from back of pack to ninth. He has a faster car than Tracy Chapman.
300 MILES
Order: Matt Kenseth, Jimmie Johnson, Kyle Busch, Kevin Harvick, Kurt Busch, Martin Truex Jr., Chase Elliott, Joey Logano, Carl Edwards, Ryan Blaney.
Speed: 148.313 mph.
Leaders: Jimmy Johnson, Laps 135 to 148; Joey Logano, Laps 149 to 150; Brad Keselowski, Laps 151 to 154; Johnson, Laps 155 to 176; Logan, Laps 177 to 200; Kenseth, Lap 201.
Yellow flags: Laps 179 to 185 (debris in Turn 1); Laps 199 to 203 (Kyle Larson-JJ Allmendinger crash).
Out: Cole Whitt (vibration)
Notable: Johnson has trouble getting around Greg Biffle in lapped traffic; Johnson slows; Logan retakes lead. Biffle not happy with Johnson; Johnson not happy with Biffle. Johnson on in-car radio: "What the hell is he mad at me about?" Jimmie said H-E-double hockey sticks? Stunning development, almost as surprising as Derrike Cope winning 1990 Daytona 500 … Harvick, suffering from flu, charges to second. Maybe it's only sniffles … Clouds move in as AJ Allmendinger loosens up Kyle Larson in Turn 2. Larson hits wall. Probably one of them racin' deals … Giant dust devil blows in from Nellis Air Force Base, darkens backstretch. Cars pit for fuel, tires, headlights.
400 MILES
Order: Brad Keselowski, Joey Logano, Jimmie Johnson, Kyle Busch, Austin Dillon, Ryan Blaney, Kevin Harvick, Dale Earnhardt Jr., Kurt Busch, Kasey Kahne.
Speed: 138.170 mph.
Leaders: Matt Kenseth, Laps 202 to 209; Jimmie Johnson, Laps 210 to 216; Joey Logano, Laps 217 to 223; Kyle Busch, Laps 224 to 261; Brad Keselowski, Laps 262 to 267.
Yellow flags: Laps 216 to 223 (Regan Smith-Kyle Larson crash); Laps 226 to 232 (Carl Edwards-Matt Kenseth-Chase Elliott-Kurt Busch crash).
Out: Matt Kenseth (crash); Chase Elliott (crash).
Notable: Kyle Busch takes lead with audacious sixth-to-first restart. NASCAR race control calls it "video-game move." … The big one — at least LVMS' version of it — happens in Turns 1 and 2. Matt Kenseth loses back end, slides out. Carl Edwards, Chase Elliott, Kurt Busch pile in. Lots of smoke, lots of screeching of tires. Sheet metal crumbles … Sun back out, wind shifts — now coming diagonally out of Turn 1 … Kyle Busch develops vibration, begins to fade. Keselowski passes Las Vegan on backstretch to grab lead on Lap 262. Groans from spectators … Busch takes white flag in second place, winds up fourth. Logano and Johnson finish second, third … Keselowski in Victory Lane: "I'm beat." … Keselowski puts on racing cap. Manages to hold onto it.
Las Vegas Review-Journal sports columnist Ron Kantowski can be reached at rkantowski@reviewjournal.com or 702-383-0352. Follow him on Twitter: @ronkantowski