Kurt Busch considers another Indy 500-Coca-Cola 600 double
January 28, 2016 - 12:02 am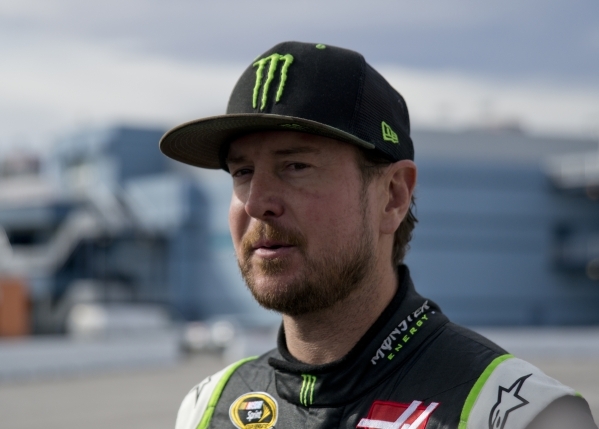 HOLLYWOOD, Calif. — It said #nascargoeswest, which is what the stock car racing sanctioning body called its first media day here to promote races at Las Vegas Motor Speedway, Phoenix International Raceway and Auto Club Speedway in Fontana, Calif.
But after the checkered flag was waved, ending the high speed chitchat on the dais Wednesday afternoon, Kurt Busch suggested a small part of NASCAR — him — might be going Midwest (again) on Memorial Day weekend.
At this juncture it still is a mighty big if.
Busch, the 2004 Sprint Cup champion from Las Vegas, indicated he would love to return to Indianapolis Motor Speedway to compete in the 100th running of the Indy 500 on May 29, then race in NASCAR's Coca-Cola 600 that same evening.
It's called the auto racing double, and Busch is one of four drivers to have attempted it. Driving for Michael Andretti, he finished sixth in the 2014 Indianapolis 500 en route to earning Rookie of the Year honors in his maiden IndyCar race.
The 500-mile classic was supposed to be the difficult part of the double for the 37-year-old NASCAR veteran. But he dropped out midrace at Charlotte with a blown engine and thus completed only 906 of the day's scheduled 1,100 miles.
John Andretti, Robby Gordon and Tony Stewart, Busch's current co-car owner in NASCAR, are the only other drivers to have attempted the exhausting Indy-Charlotte double.
Stewart, who has announced he will retire from NASCAR after the 2016 season, is the only driver to have completed all 1,100 miles on the same day. (Several drivers crossed over during the 1960s and early 1970s when the two races were on back-to-back days.)
In 2001, Stewart, who has won three NASCAR championships and one in the IndyCar series, finished sixth in the Indianapolis 500 and third in the Coca-Cola 600.
Busch said as much as he would like to be a small part of the 100th Indy 500, those thoughts and discussions still are in preliminary stages.
"It's amazing," he said from the outdoor parking deck of the Petersen Automotive Museum in the shadow of the iconic Hollywood sign in the Hollywood Hills. "I think it was (another) writer who wanted to make a story of it during media week and (the speculation) is just because I didn't say no.
"It is out there. It is a possibility. The likelihood of it happening, though, is a small percentage.
"My focus is with the 41 Haas Automation team; we've got Monster Energy coming on board that we need to win for; we need to win for Haas — we need to fully focus on getting the 41 car to the championship round this year."
Busch said he wants to set aside thoughts of redoing the double, especially with the season-opening Daytona 500 looming large on Feb. 21.
He spoke as if the Indy 500 was on his radar, just not on his immediate radar.
"By running well and finishing well, it did two things," Busch said of his 2014 IndyCar experience. "It told my mind you've accomplished something pretty special, and that should be it.
And the second thing? "We got all that done; now, let's capitalize. It's like going to college, and now three years into it, let's go finish this; let's go give it our best effort, give it another run."
"That's why I'm still undecided," Busch said. "I think (running in) the 100th-year anniversary would be special for everybody that participates. But at the same time, it's very difficult to focus on both cars."
Busch said it might be April before he decides whether to pursue another auto racing double.
"We have our NASCAR Goes West campaign," he said. "During that run, I'm going to be road-tripping between those three racetracks. So it's gonna be fun to drive from Vegas, go through Hoover Dam, go through Wickenburg and Wikieup on my way to Phoenix, so I'll have extra time in the car. Same thing in Phoenix on the way out to LA."
He said extra time in the car would give him an opportunity to work on the logistics of doing the double, which are considerable.
"So I think that's when we need to make a decision," he said.
Contact Ron Kantowski at rkantowski@reviewjournal.com or 702-383-0352. Follow him on Twitter: @ronkantowski