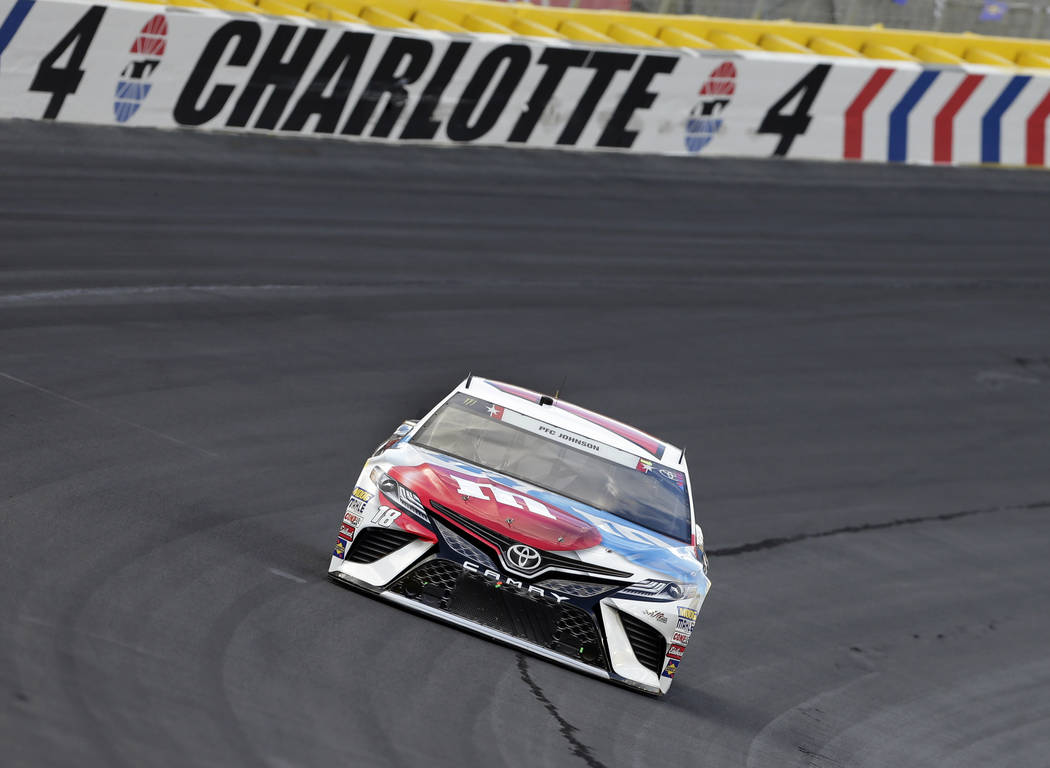 It was a mic drop that would have impressed Eddie Murphy, who started it all.
After finishing second (again) in NASCAR's Coca-Cola 600, Kyle Busch of Las Vegas wore his emotions on his sleeve (again) at the obligatory postrace news conference.
Busch bowed his head in his hands. He picked at his nose. He picked up the microphone.
"I'm not surprised by anything," he said of Austin Dillon's breakthrough win in NASCAR's longest race. "Congratulations."
Busch dropped the microphone with an audible kerplunk.
Busch sighed heavily.
When there were no further questions, Busch got up and walked out.
"Damn!" said Dale Earnhardt Jr., watching via social media. Junior laughed heartily. "That's Kyle, man. He's awesome. That's why we like him."
It's also why a lot of NASCAR fans don't like Kyle Busch. But at least you know he's honest. What you see is what you get. It's almost refreshing.
As one of the NASCAR announcers said, it probably would be better if Busch learned to balance his honest passion with a pinch of humorous restraint.
This is what made Tony Stewart so great.
Stewart was famous for belittling others, especially the media. But he did it with such whimsy that it almost made you want to ask him a stupid question.
About Schmidt
It has been a week of pomp and circumstance and personal achievement for IndyCar team owner Sam Schmidt, a Henderson resident who attended the graduation of his son, Spencer, from Lake Mead Academy and Friday will be inducted into the Southern Nevada Sports Hall of Fame.
Oh, yeah — there also was the Indianapolis 500 on Sunday.
Schmidt had three cars in the race, but they weren't big factors, somewhat unusual for Schmidt's team at Indy.
Jay Howard triggered the huge crash with pole-sitter Scott Dixon and finished 33rd — last place. Lead driver James Hinchcliffe sneaked into the top 10 toward the end, but was eliminated in a five-car pileup with 17 laps to go and was credited with 22nd place. Mikhail Aleshin was 13th and completed all 200 laps, but had a gaping hole in the side of his car after getting rammed by Ed Carpenter.
"We were disappointed — we put a tremendous amount of effort into Indy," Schmidt said upon returning home. "For whatever reason we were a mile and a half off (the pace) all month."
Tough day for the SPM crews. Thanks for sticking with us! #Indy500 #INDYCAR pic.twitter.com/f5EmTPQLwH

— Schmidt Peterson (@SPMIndyCar) May 28, 2017
I was happy to finish that one with SO much damage…/Я рад финишировать эту гонку с ТАКИМИ повреждениями… #spmindycar #indycar #smpracing pic.twitter.com/91nhfvpLqu

— Mikhail Aleshin (@mikhailaleshin) May 28, 2017
Turning Japanese at Indy
When Takuma Sato flashed across the yard of bricks to become the first Japanese driver to win the Indianapolis 500, my first thought was having watched the big race at home with a Japanese journalist one year. He was in town to cover a UFC fight. My buddy Charlie, an inspector for the Nevada Athletic Commission, brought him over.
His name was Manubu Takashima, and there was a language barrier for sure. But his passion for auto racing broke it down by the first pit stop. It was one of the years Hideki Mutoh drove at Indy, and I remember how proud my guest from the Far East was to have a countryman competing in the world's most famous automobile race.
"Yeeeeeeep!!!! Finally we have major single seat racing winner in Japan!!!!" he wrote in English on his Facebook page after Takuma Sato brought it home at the Brickyard.
.@TakumaSatoRacer makes it OK to cheer in the press box. https://t.co/WP8lTxeFhX

— Jeff Olson (@jeffolson77) May 30, 2017
White flag
— Although the second half of the NASCAR season hasn't officially arrived, the week after the big Memorial Day Weekend of auto racing always seems like a reset of sorts, a time to check the standings, etc. Here's how Las Vegas drivers are faring in stock car racing's top divisions heading into this week's racing in Dover, Delaware: Kyle Busch, fifth in the Cup Series; Kurt Busch, 14th in Cup; Brendan Gaughan, 16th in the Xfinity Series; Spencer Gallagher, 18th in Xfinity; Noah Gragson, 13th in Trucks.
— Racing resumes at the Las Vegas Motor Speedway Bullring at 7 p.m. Saturday with the annual running of the Chris Trickle Classic. The event is named for the former Bullring champion who appeared headed for NASCAR's major leagues before he died in 1998 as a result of a highway shooting.
Contact Ron Kantowski at rkantowski@reviewjournal.com or 702-383-0352. Follow @ronkantowski on Twitter.
Pro schedule
NASCAR Monster Cup
What: AAA 400 Drive for Autism.
When: Friday, practice, 7:30 a.m. (FS2), qualifying, 12:50 p.m. (FS1). Saturday, practice, 6 a.m. (FS1), practice, 8:30 a.m. (FS1). Sunday, race, 10 a.m. (FS1).
Where: Dover International Speedway (oval, 1 mile), Dover, Delaware.
Distance: 400 miles (400 laps).
Last year: Matt Kenseth, starting 10th, won the spring Dover event.
Last race: Austin Dillon won in Charlotte for his first victory in 2017.
Next race: Axalta presents the Pocono 400, June 11, Pocono Raceway, Long Pond, Pennsylvania.
NASCAR Xfinity
What: One Main Financial 200.
When: Friday, practice, 7:30 a.m. (FS2), practice, 10:30 a.m. (FS1). Saturday, qualifying, 7:05 a.m. (FS1), race, 10 a.m. (FS1).
Where: Dover International Speedway (oval, 1 mile), Dover, Delaware.
Distance: 200 miles (200 laps).
Last year: Erik Jones led 76 of 120 laps, holding off Darrell Wallace Jr.
Last race: Ryan Blaney picked up his first series win of the season.
Next race: Pocono Green 250, June 10, Pocono Raceway.
NASCAR Camping World Truck
What: Bay Harbor 200.
When: Thursday, practice, 11 a.m., practice, 1 p.m. Friday, qualifying, 11:35 a.m. (FS1), race, 2:30 p.m. (FS1).
Where: Dover International Speedway (oval, 1 mile), Dover, Delaware.
Distance: 200 miles (200 laps).
Last year: Matt Crafton picked up his first of two consecutive victories.
Last race: Kyle Busch won his second straight trucks race in Charlotte.
Next race: Gateway 200, June 17, Gateway Motorsports Park, Madison, Illinois.
IndyCar
What: Detroit Grand Prix.
When: Friday, practice, 7:20 a.m., practice, 12:30 p.m. Saturday, qualifying, 7 a.m., race, 12:30 p.m. (KTNV-13). Sunday, qualifying, 7:45 a.m., race, 12:30 p.m. (KTNV-13).
Where: The Raceway at Belle Isle Park (circuit, 2.34 miles), Detroit.
Last year: Sebastian Bourdais and Will Power each won races in Belle Isle.
Last race: Takuma Sato held off three-time champion Helio Castroneves to win the Indy 500.
Next race: Rainguard Water Sealers 600, June 10, Texas Motor Speedway, Fort Worth, Texas.
Formula One
What: No race this weekend.
Last week: Sebastian Vettel won in Monaco, his third victory of the season.
Next race: Grand Prix of Canada, June 11, Gilles-Villeneuve Circuit, Montreal.
NHRA
What: New England Nationals.
When: Friday, qualifying, 2 p.m., qualifying, 4:30 p.m. Saturday, qualifying, 11 a.m., qualifying, 1:30 p.m. Sunday, finals, 1:30 p.m. (FS1).
Where: New England Dragway, Epping, New Hampshire.
Last year: Antron Brown won in New England.
Last race: Antron Brown (Top Fuel), Ron Capps (Funny Car) and Tanner Gray (Pro Stock) won at the Heartland Nationals in Topeka, Kansas.
Next race: Summernationals, June 8-10, Old Bridge Township Raceway Park, Englishtown, New Jersey.
The Associated Press