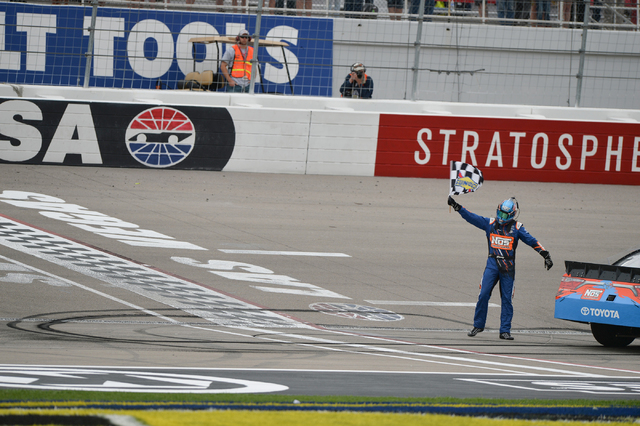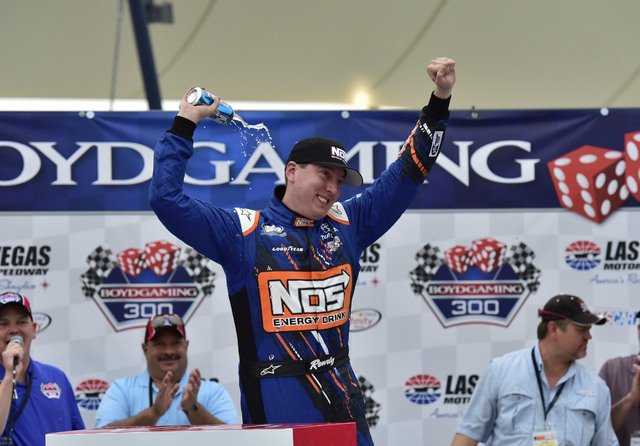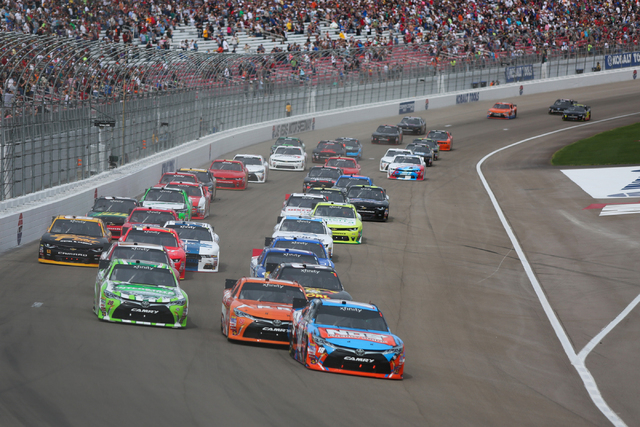 Kyle Busch's laundry list of racing achievements is long and varied.
The Las Vegan won the NASCAR Sprint Cup Series championship a season ago and is leading the standings this year.
But one thing Busch had never done was win an Xfinity Series race at his home track.
That is, until Saturday.
Busch, who started on the pole, dominated the field in the Boyd Gaming 300 in the No. 18 Toyota, leading 199 of 200 laps at Las Vegas Motor Speedway.
"It was really cool to have the opportunity to win here," Busch said. "I've had many opportunities in the past, and I've come up short or just haven't quite had the day that we needed to have in order to get it done. Today was pretty special just to be able to finally get a win here in the hometown and check that one off the list."
Busch edged teammates Daniel Suarez by 0.817 seconds and Erik Jones as Joe Gibbs Racing swept the first three places.
It was Busch's second consecutive Xfinity victory after finishing 0.466 seconds ahead of Kyle Larson a week ago in Atlanta.
It also was his 78th career Xfinity victory, extending his own record. This one was one of his most dominant.
Busch led 99 of the first 100 laps, losing his lead briefly on the 55th lap to Bubba Wallace when he took a green-flag pit stop.
"It doesn't hurt my feelings that I wasn't able to lead them all," Busch said. "I led the most important one."
The race was stopped on the 137th lap after Cody Ware spun out and was hit by the backside of Wallace's car. Wallace was subsequently hit again by Justin Marks and went into the wall.
"It was a hell of a hit, but thank the Lord that we all walked away OK," Wallace said to Fox Sports.
Wallace's was one of a handful of cars running on the lead lap at the time of the crash.
The red flag paused the race for almost 20 minutes, but when it resumed, Busch picked up where he left off.
He had to fend off a late-charging Suarez, who got within half a second of Busch.
"Honestly, in the last 10 to 15 laps, maybe we were the fastest racecar out there," Suarez said.
Busch said Suarez was closing in on him because he was faster when they were single file, but he was moving better than Suarez through traffic near the end.
With his second-place finish, Suarez took the lead in the Xfinity Series after three races, but he has yet to win an event while Busch has won two.
"For me, that means that we have to keep working and work a little bit more hard because somebody else out there is still faster than us," Suarez said.
For Busch, the focus now turns to today's Kobalt 400 at LVMS, where he will attempt to widen his lead in the Cup standings.
"It does sort of give you a little bit of confidence to believe in the fact that you know how to get around this racetrack," Busch said. "I look forward to (today's race), though, now. I didn't earlier on today or this weekend."
Betsy Helfand can be reached at bhelfand@reviewjournal.com. Follow on Twitter: @BetsyHelfand