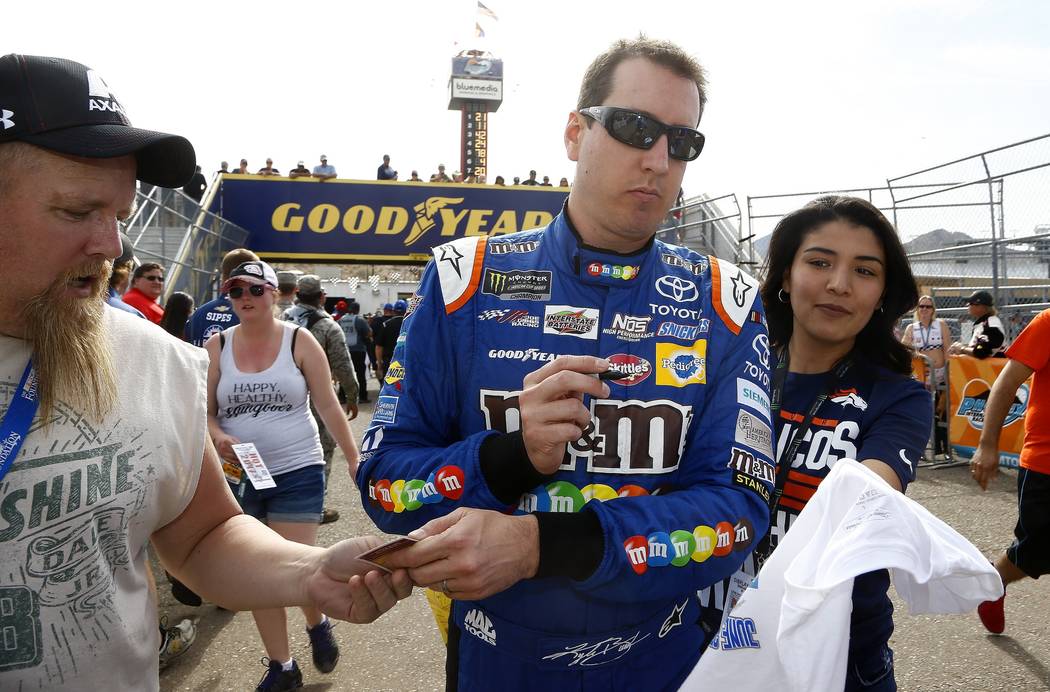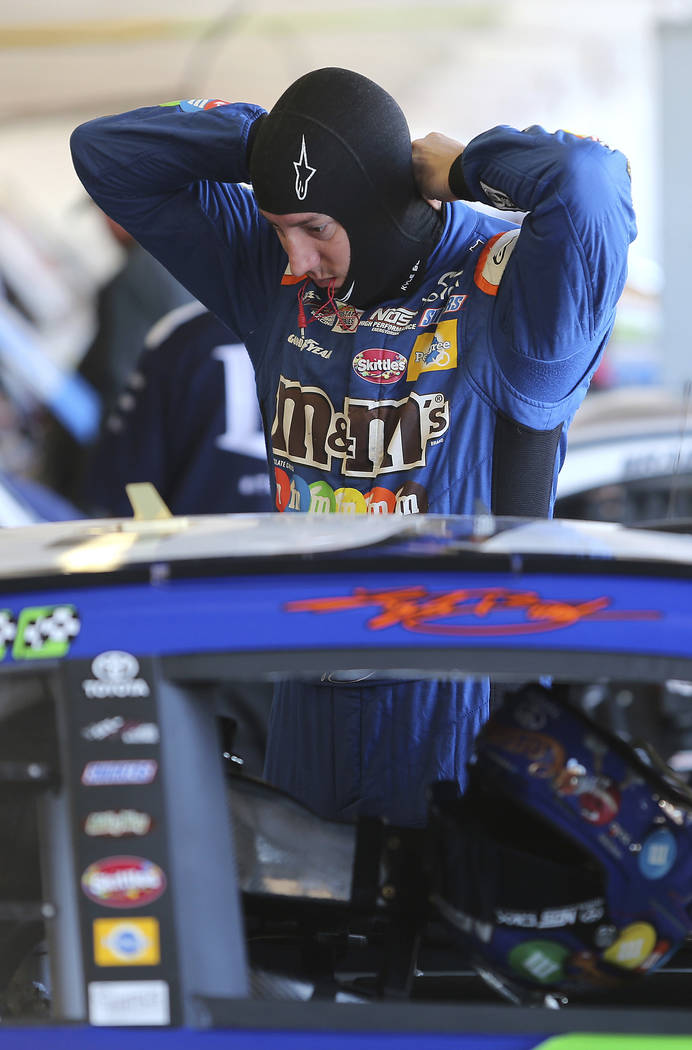 See what Elvis started?
There was a time when Las Vegas' auto racing history consisted mostly of The King — Elvis Presley, not Richard Petty — taking the Elva Mk. VI and Ann-Margret for a few laps around the track in "Viva Las Vegas."
We've come a long way since Lucky Jackson won the Las Vegas Grand Prix in the movies, as drivers who call Las Vegas home will be racing for real-life major championships in Florida and Mexico this weekend.
At Homestead-Miami Speedway, Kyle Busch will battle Martin Truex Jr., Kevin Harvick and Brad Keselowski as he bids for his second NASCAR Cup Series championship in three years.
On Mexico's Baja Peninsula, Rob MacCachren will be matched against a field of 412 sportsmen and pros as he seeks an unprecedented fourth consecutive SCORE Baja 1000 victory in the silver anniversary running of the iconic off-road race.
Neither local driver is expected to be pushed into a hotel swimming pool by Ann-Margret.
"It's obviously a great opportunity to be able to go race for a championship, and that's what this format is," Busch said of NASCAR's four-driver, winner-take-all title run that he won in 2015. "It doesn't mean a whole lot to make it to the Championship 4 if you don't win it."
With the exception of Truex, each of the final four drivers is a former Cup Series champion. Truex has been the dominant driver of 2017 with a series-high seven victories, two more than Busch.
"It's going to be a tough race. It's never easy," said Busch, who punched his Championship 4 ticket with a victory in Martinsville, Virginia, in late October. "All the Championship 4 (drivers) are going to be fast and have a lot of experience winning championships and races. It's that way every single time we go down there."
Baja doesn't get any easier, either — the race is grueling enough without spectators in remote areas creating additional hazards for the drivers by digging holes, creating jumps and altering the course of rivers. But that hasn't precluded MacCachren from turning the dusty peninsula into his own private playground.
The racing Herbst brothers of Las Vegas also will be represented. Tim Herbst is listed as driver of record on a Trophy truck; brother Troy was the overall Baja winner in 2004 and 2005.
"It's the 50th anniversary of the Baja 1000, so it's probably more of a highlight race for everyone. They want to win this one," said the 52-year-old MacCachren, who also won the Mint 400 this spring after years of trying. "My first Baja 1000 overall victory was the 40th anniversary. So it was cool to get the 40th, and it would be great — awesome — to get the 50th."
"You can't stop, you can't get a flat tire… and you better be driving like your on fire " – The @TerribleHerbst team knows what is needed to take on the 50th anniversary of the #Baja1000! pic.twitter.com/Rg6uLkZLDr

— Monster Energy (@MonsterEnergy) November 14, 2017
Green, white, checkered
—- Las Vegas also will be represented in the NASCAR Truck Series drivers championship race at Homestead-Miami. Johnny Sauter will run for the trophy in an entry fielded by GMS Racing, a team founded by Maury Gallagher of Las Vegas. The driver-owner combo will be attempting to reprise their 2016 title effort.
.@JohnnySauter has been let loose in the @NASCARONFOX office! pic.twitter.com/pu0lM1KNBl

— GMS Racing (@GMSRacingLLC) November 14, 2017
— IndyCar team owner Sam Schmidt of Henderson set a speed record for a semi-autonomous vehicle by topping 192 mph during a Veterans Day airshow at Nellis Air Force Base. The speed was almost 40 mph faster than the SAM car's previous record of 152 mph set by Schmidt, who was paralyzed in a 2000 racing crash, during demonstration laps before the 100th running of the Indianapolis 500 in 2016.
ICYMI: Sam set a new record of 192MPH in the SAM car at #AviationNation this weekend! He celebrated with some 🍩 of course! #ArrowDriven #BreakingBarriers pic.twitter.com/oATSr7kPsb

— Schmidt Peterson (@SPMIndyCar) November 13, 2017
— Terry Phillips of Springfield, Missouri, won his fourth career IMCA Modified Duel in the Desert at Las Vegas Motor Speedway and a check for $7,777.77. Phillips led all but the first of 40 laps at the Dirt Track. Action shifts to the Bullring on Saturday with the season-ending RAM Mounts 100 Shootout for the Lucas Oil Modified Series.
Contact Ron Kantowski at rkantowski@reviewjournal.com or 702-383-0352. Follow @ronkantowski on Twitter.
Schedules
NASCAR Monster Cup
What: Ford Ecoboost 400.
When: Friday, practice, 9:30 a.m. (NBCSN), qualifying, 3:15 p.m. (NBCSN). Saturday, practice, 7 a.m. (CNBC), practice, 10 a.m. (NBCSN). Sunday, race, 11 a.m. (KSNV-3).
Where: Homestead-Miami Speedway (oval, 1.5 miles), Homestead, Florida.
Distance: 400.5 miles (267 laps).
Last year: Jimmie Johnson won his seventh championship.
Last race: Matt Kenseth took first in Phoenix.
NASCAR Xfinity
What: Ford Ecoboost 300.
When: Friday, practice, 11:30 a.m., 2 p.m. (NBCSN). Saturday, qualifying, 8:15 a.m. (CNBC), race, 12:30 p.m. (NBCSN).
Where: Homestead-Miami Speedway (oval, 1.5 miles), Homestead, Florida.
Distance: 300 miles (200 laps).
Last year: Daniel Suarez won from the pole to secure the series championship.
Last race: William Byron claimed his fourth victory of 2017 in Phoenix.
NASCAR Camping World Truck
What: Ford Ecoboost 200.
When: Friday, practice, 5:30 a.m., 7 a.m. (FS1), qualifying, 12:30 p.m. (FS1), race, 5 p.m. (NBCSN).
Where: Homestead-Miami Speedway (oval, 1.5 miles), Homestead, Florida.
Distance: 201 miles (134 laps).
Last year: William Byron won from the pole
Last race: Johnny Sauter won his second race in a row.
Formula One
Last week: Sebastian Vettel won the Grand Prix of Brazil.
Next race: Abu Dhabi Grand Prix, Nov. 26, Yas Marina Circuit, Abu Dhabi, United Arab Emirates.
The Associated Press