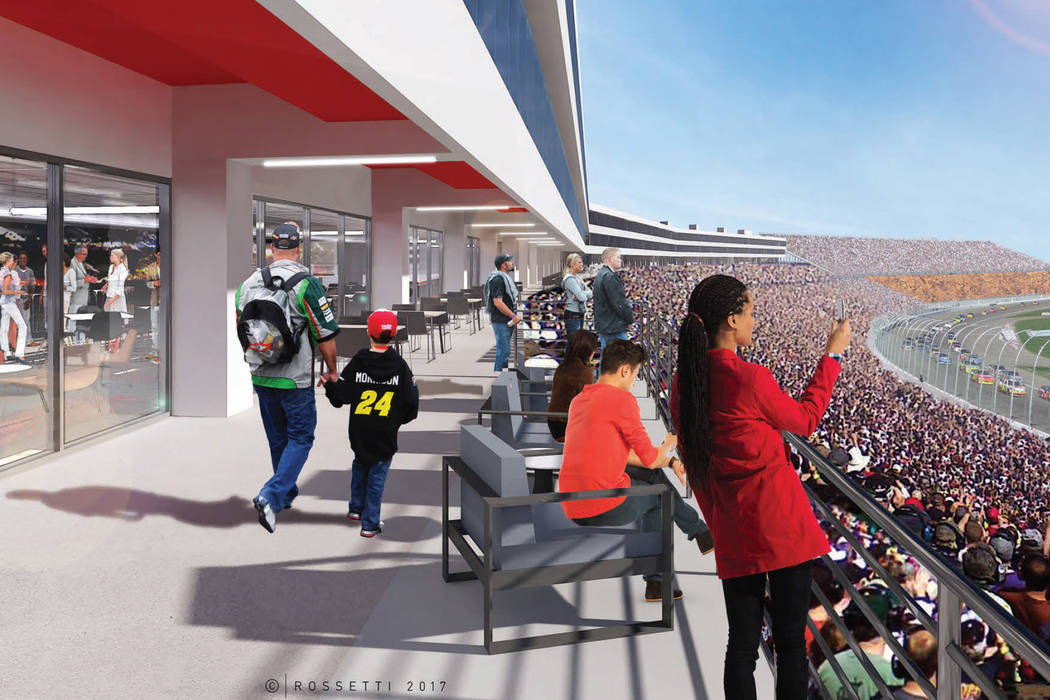 Call it vroom with a view.
Las Vegas Motor Speedway has announced seating upgrades and other amenities that will enhance viewing options and the overall fan experience starting with the NASCAR Pennzoil 400 tripleheader weekend March 2-4, 2018.
These will include renovated clubhouse areas and seating, loge areas that will offer box seat viewing, a social pavilion and a racing-inspired interactive sports lounge.
"We're extremely excited about the enhancements we have planned for our speedway, and we know fans will enjoy the new features," LVMS President Chris Powell said in a statement. "Sports fans today are looking for greater variety and expect a more dynamic experience. These changes will help modernize and diversify our facility.
"We have big plans for 2018, and these improvements are a major part of what we expect to be a monumental year for our speedway."
Powell was mostly referring to LVMS receiving a second Cup Series race that will be part of the NASCAR playoffs in the fall. Set for Sept. 14-16, it, too, will be a tripleheader weekend featuring the Truck, Xfinity and Cup series.
Both the schedule and the Speedway will be sporting a new look next year.
The clubhouse suites will be remodeled and redesigned to offer better viewing angles of the track. An open terrace with tables and chairs and lounge seating will be added between club seating and the clubhouses.
The loge boxes below the Richard Petty Terrace near turn 1 and the start-finish line will offer swivel arm chairs, food and beverage stations and wait-staff services.
Free stuff to see, do
While the clubhouse and loge boxes are considered premium seating, any fan with a ticket will be able to enjoy the new social pavilion and a 5,200-square foot interactive sports lounge.
The pavilion in turn 1 will offer a platform with multiple seating areas, social zones and game playing. The sports lounge between the start-finish line and turn 4 will include a wall of flat-screen TVs and a bar in the middle with food zones and multiple seating options.
In other words, there's going to be a lot more to see and do at LVMS during caution periods.
More info
Those interested in the Las Vegas Motor Speedway VIP seating options and fan experience upgrades are asked to call the LVMS sales and marketing department at 702-632-8254, or e-mail lvmsenhancements@lvms.com.
Contact Ron Kantowski at rkantowski@reviewjournal.com or 702-383-0352. Follow @ronkantowski on Twitter.