Logano won't complain about finishing second — again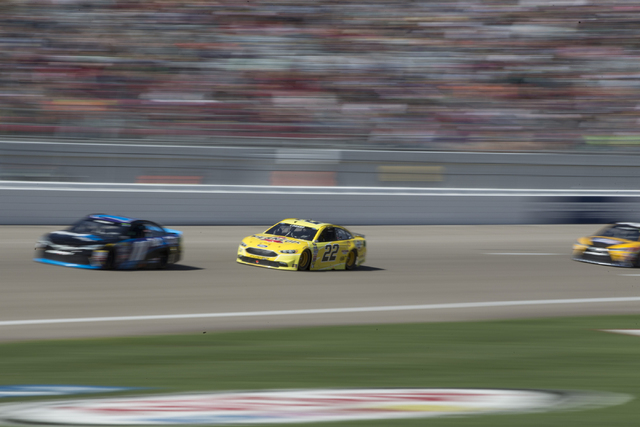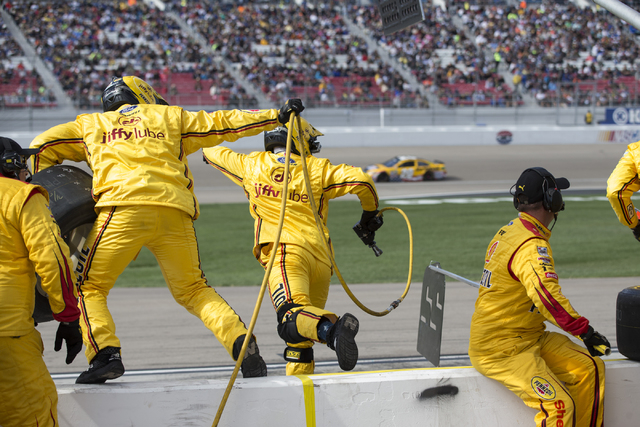 Joey Logano has seen his fair share of second place this weekend.
He was second in qualifying and second in practice.
So perhaps it's not surprising he finished in a familiar spot Sunday, placing second in the Kobalt 400 at Las Vegas Motor Speedway.
"It's nothing to hold our heads down about," Logano said. "It's not easy to finish second. (I) want to break through and get a trophy."
Logano, racing the No. 22 Shell Pennzoil Ford, led the race seven times — tops for any competitor — and was the leader for 75 laps, second to Jimmie Johnson.
He edged Johnson for second place behind Team Penske teammate Brad Keselowski, 0.675 seconds off his time.
"I thought it was a great race out there," Logano said. "We ran really top two or three the whole race, so I was very proud of what our team was able to do all day."
Logano made his way into second thanks in part to a bold late-race gamble that paid dividends.
While many of the top competitors pitted, Logano opted to stay out.
"It was little bit of mass confusion, actually," Logano said. "I'm not sure what we were supposed to do. I didn't hear (anything), so I said, 'Well, I guess I'm staying out.'"
The move helped him get his track position back up and, when playing the race back in his head, he said he thought it was the right call.
"It got us back up there," he said, "because we had four tires on our car for the pit stop before, which put us back to six or seventh and when everyone pitted and put lefts or rights back on. We were on fairly equal tires, but we had our track position back. We were up there in the lead."
Logano took the lead from Johnson on Lap 217 but lost it permanently on Lap 223 of 267 when Kyle Busch passed him.
Busch led for the next 38 laps and looked as if he had a victory in his back pocket before he faded late in the race.
"I've never seen the leader really check out and go away, which was pretty cool to be able to do that, to be able to see some more racing, some passing for the win there at the end with Brad," Logano said.
Late movement allowed Keselowski to chase down his Penske teammate, something that took him a long time to accomplish.
Logano told Fox Sports that Keselowski was able to pass him right in the bottom of Turns 3 and 4.
"He put up a heck of a fight," Keselowski said. "If anyone ever wants to say that your teammates just lay over and give it to you, that's not how we are at Team Penske. We race each other hard but clean. That was really something to see and be a part of."
Logano's fourth top-10 finish in eight races at Las Vegas Motor Speedway leaves him in fourth place in the Sprint Cup standings.
Though Logano hasn't finished first, he sits in a good position early in the season as NASCAR Goes West continues next weekend in Arizona.
"This is one of the first tests to see where we stack up," Logano said. "Atlanta was a beast of its own last week.
"This is a mile and a half. This really shows where we stack up, so I'm proud of that."
Betsy Helfand can be reached at bhelfand@reviewjournal.com. Follow on Twitter: @BetsyHelfand.