Martin Truex Jr. used 2017 Las Vegas win as launch to NASCAR title
Updated March 2, 2018 - 11:47 am
It was a fight to the finish during the 2017 Las Vegas 400.
It was a fight after the finish, too.
Martin Truex Jr. passed defending race champion and pole-sitter Brad Keselowski with two laps to go and eased away to his eighth career victory.
Afterward, Kyle Busch and Joey Logano and members of Logano's crew traded punches on pit road during a melee that left Las Vegas driver Busch with a bloody forehead.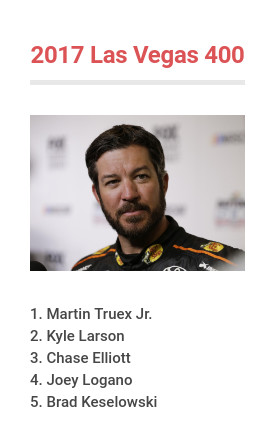 As Truex Jr. flashed under the checkered flag 1.495 seconds ahead of second-place Kyle Larson after Keselowski faded to fifth with brake and handling problems, Logano and Busch got together in Turns 3 and 4. Busch's car spun out of control down pit road.
That ended a spirited battle for third place and led to a postrace skirmish during which one big punch (by Busch) and several smaller ones were thrown in retaliation.
Sweeping stages
Truex Jr. became the first driver to sweep all three race stages under NASCAR's radical new point system and jumped to fourth in the season championship behind Keselowski, Larson and third-place finisher Chase Elliott.
The No. 78 Toyota was the class of the field for most of the sun-splashed day, as Truex Jr. led 150 of 267 laps. But the veteran driver from New Jersey began to struggle after developing a track bar problem that allowed Keselowski to pass him with 24 laps remaining.
Danica Patrick's blown engine oiled down the track and brought out the yellow flag, setting up a nine-lap dash to the finish between the two fastest cars.
"I felt like the race was over at that point, especially after the last pit stop," said Truex, who ran out of fuel at the Daytona 500 while battling for the win two weeks earlier. "Fortunately, (Brad) had issues, and we took advantage of them."
The win in Las Vegas proved to be a springboard to the 2017 Cup Series championship for Truex. It was the first of eight victories he would earn on his way to the title.
"I think we felt good coming into the year," Truex said during Champion's Week in Las Vegas. "But to get that win out of the way early was a huge deal for us, just to say OK, pressure's off, we're locked into the playoffs, we can just go racing and have fun and try to just continue to build our program."
Contact Ron Kantowski at rkantowski@reviewjournal.com or 702-383-0352. Follow @ronkantowski on Twitter.