Martin Truex Jr. wins South Point 400 in Las Vegas
Updated September 15, 2019 - 9:57 pm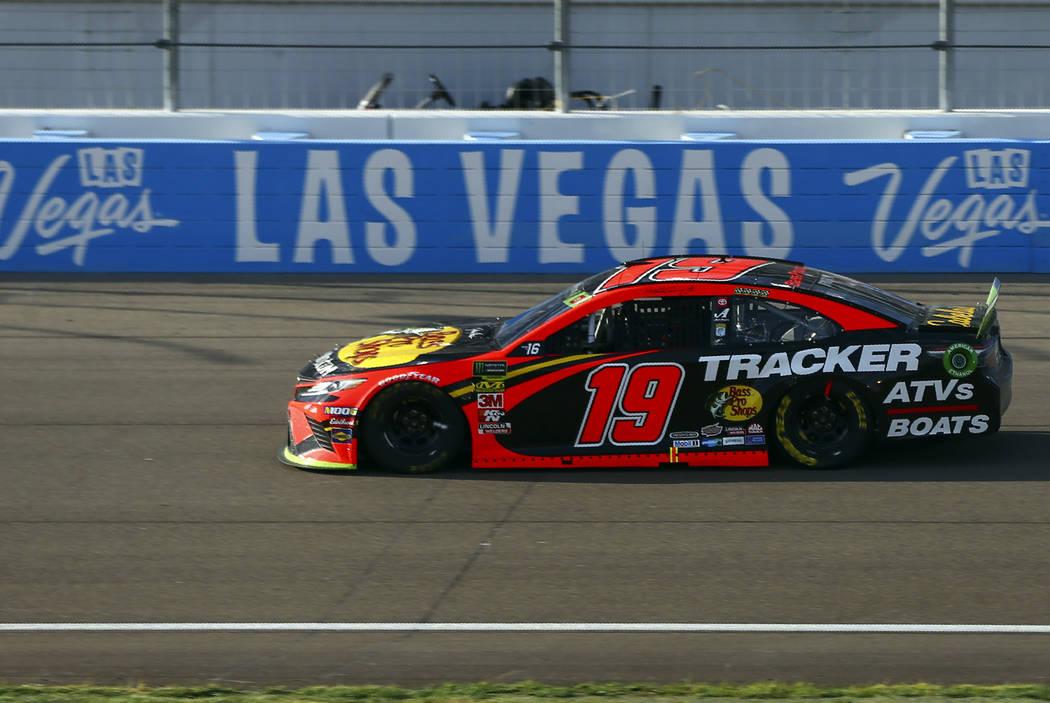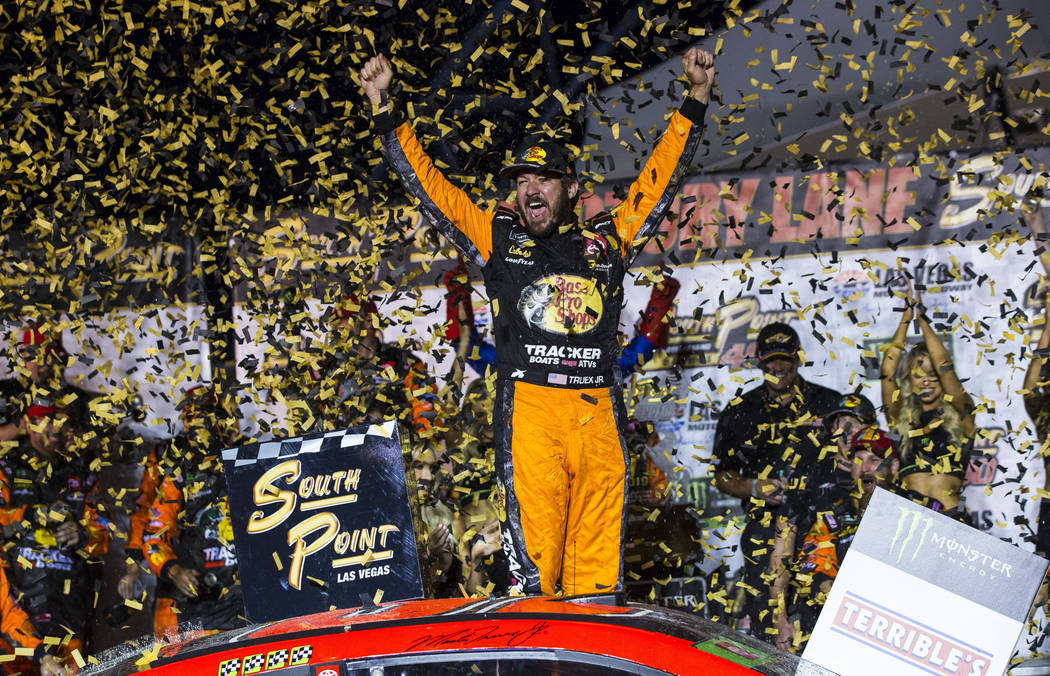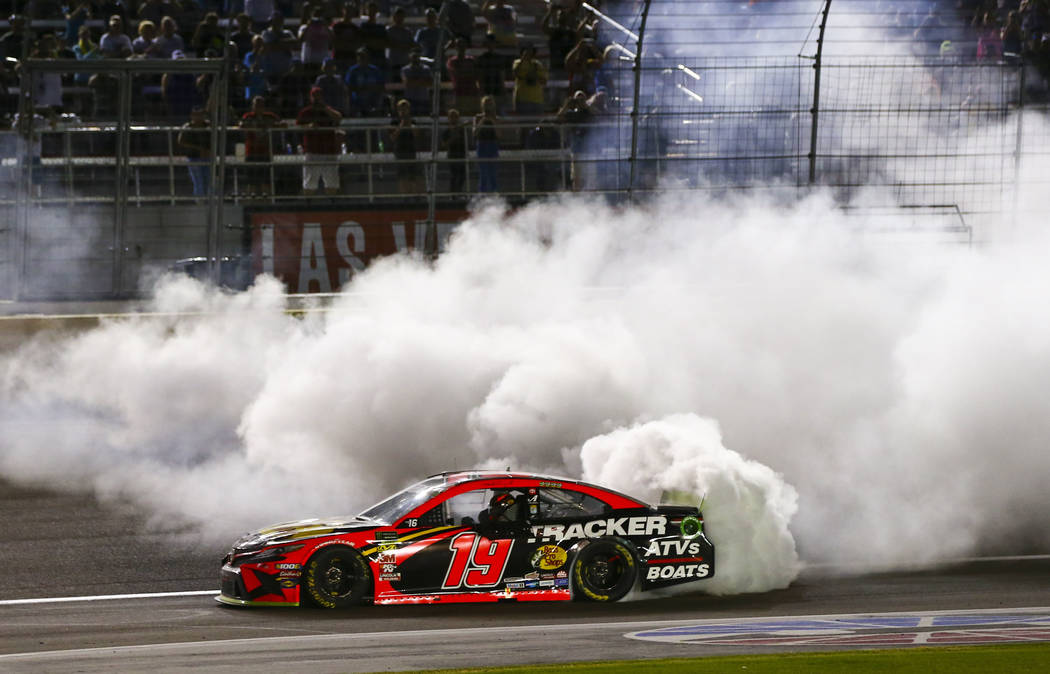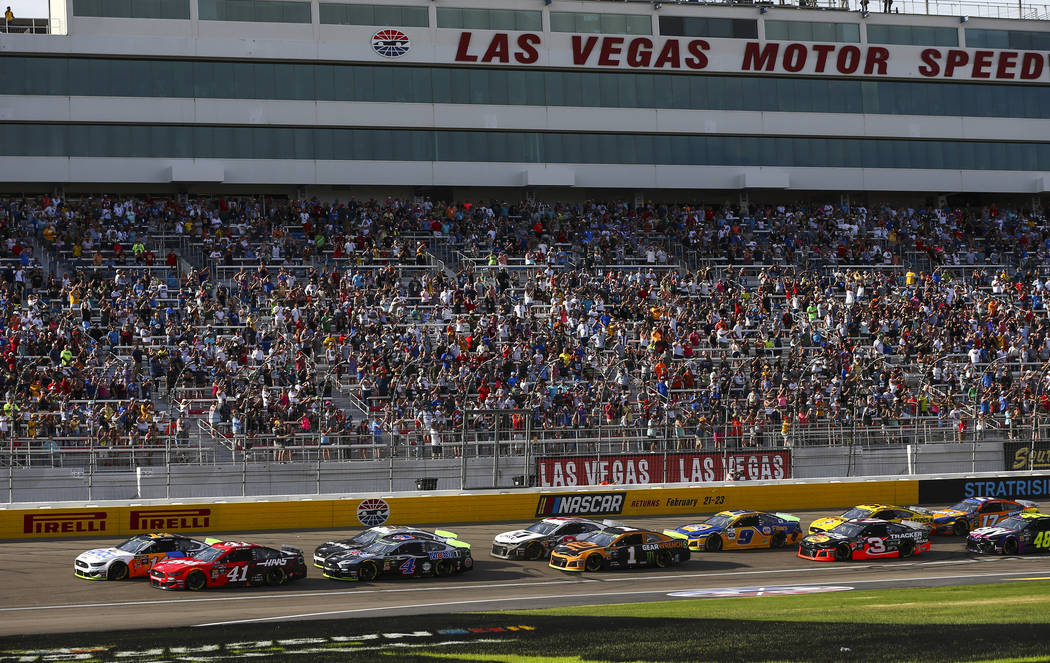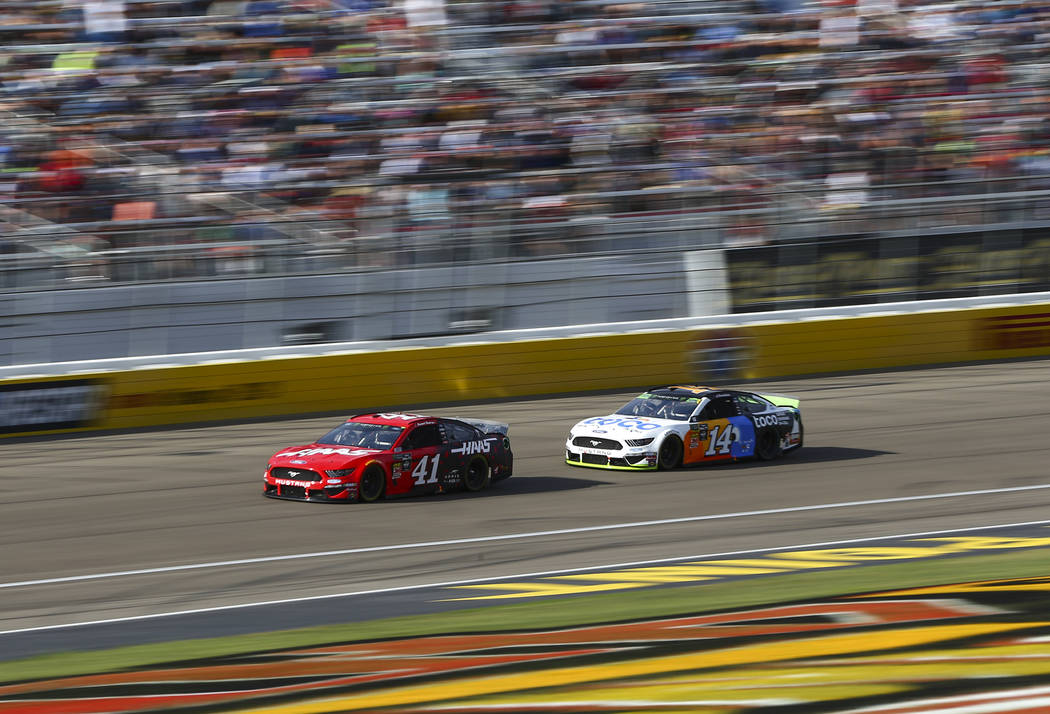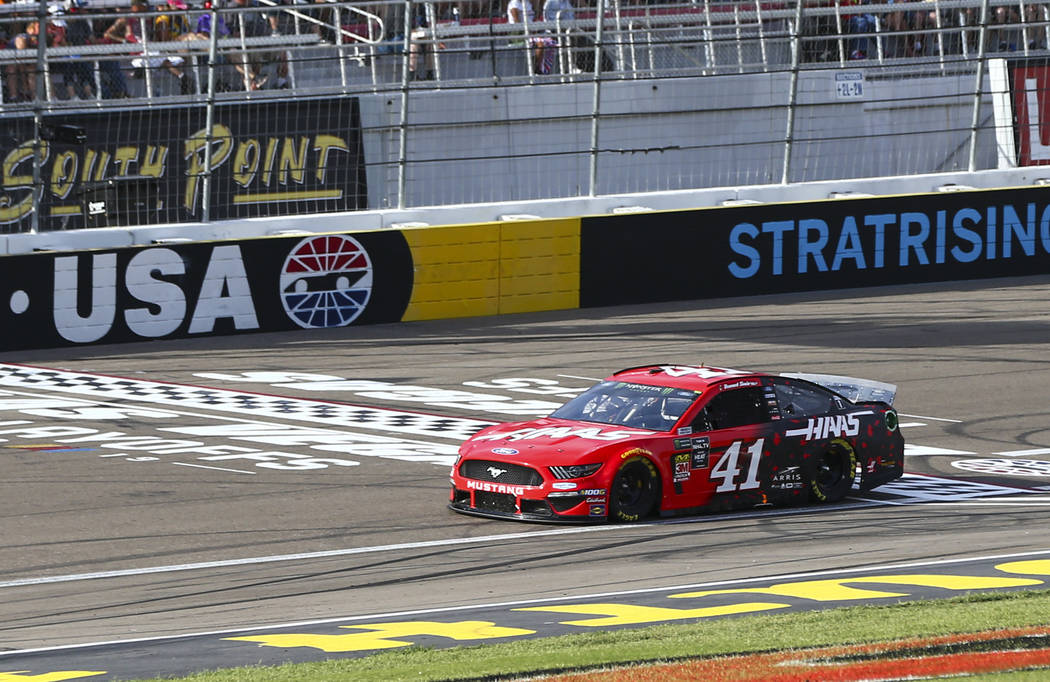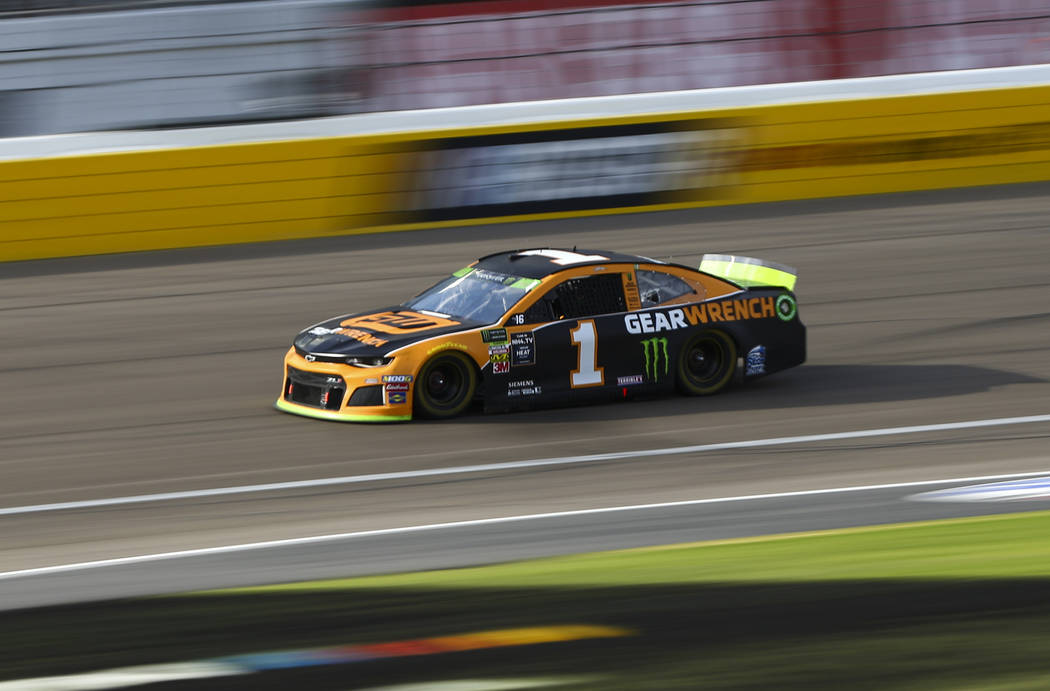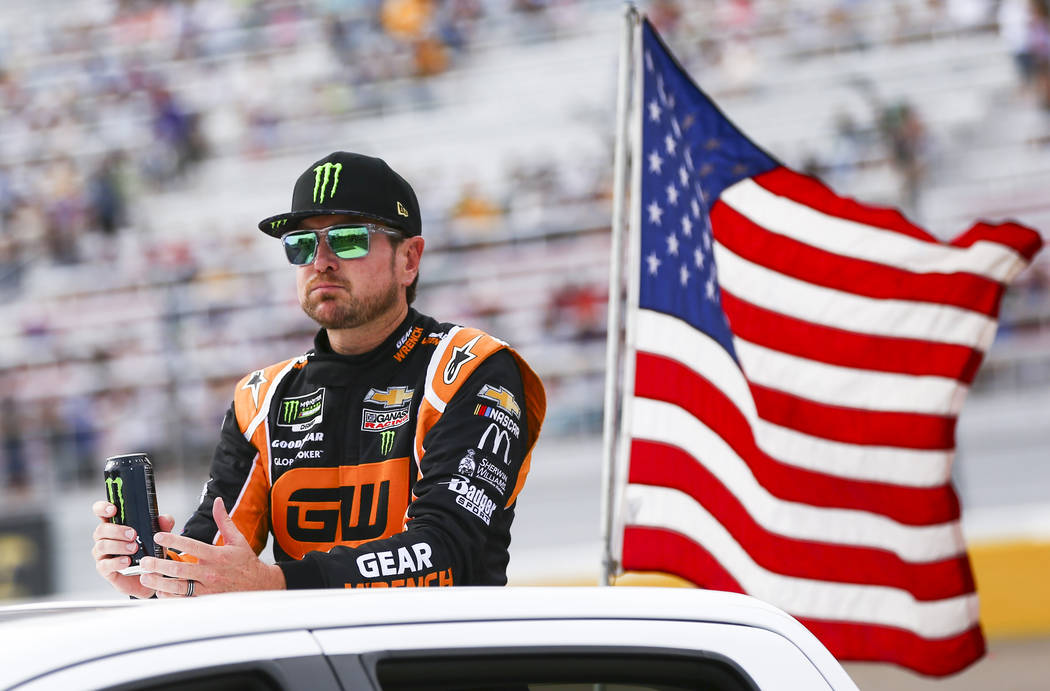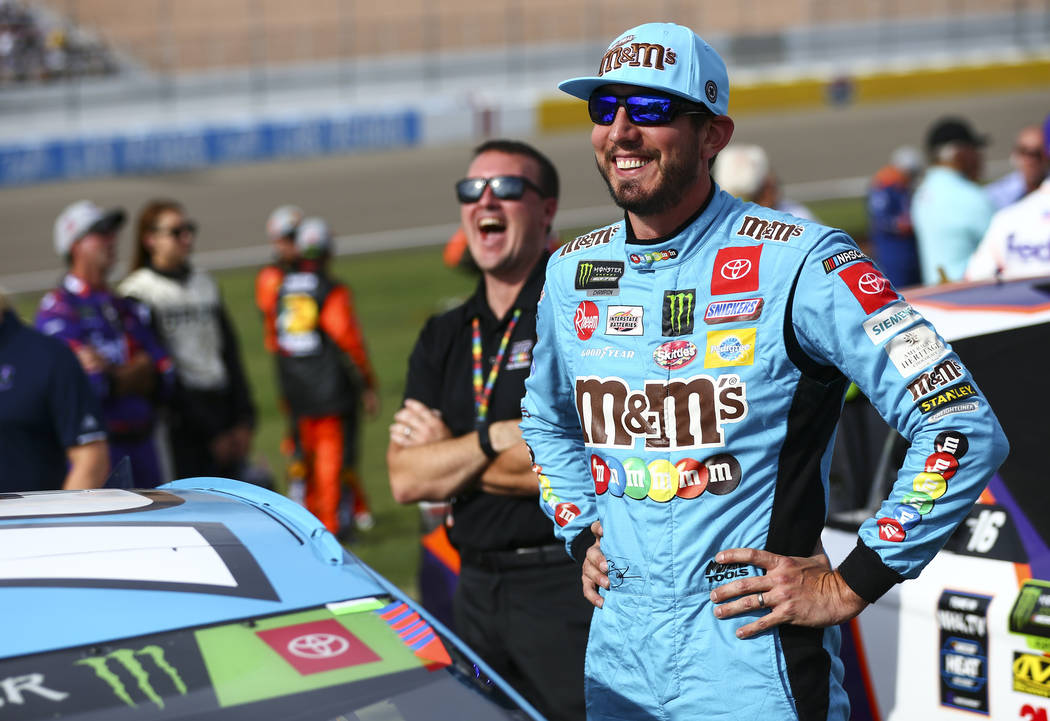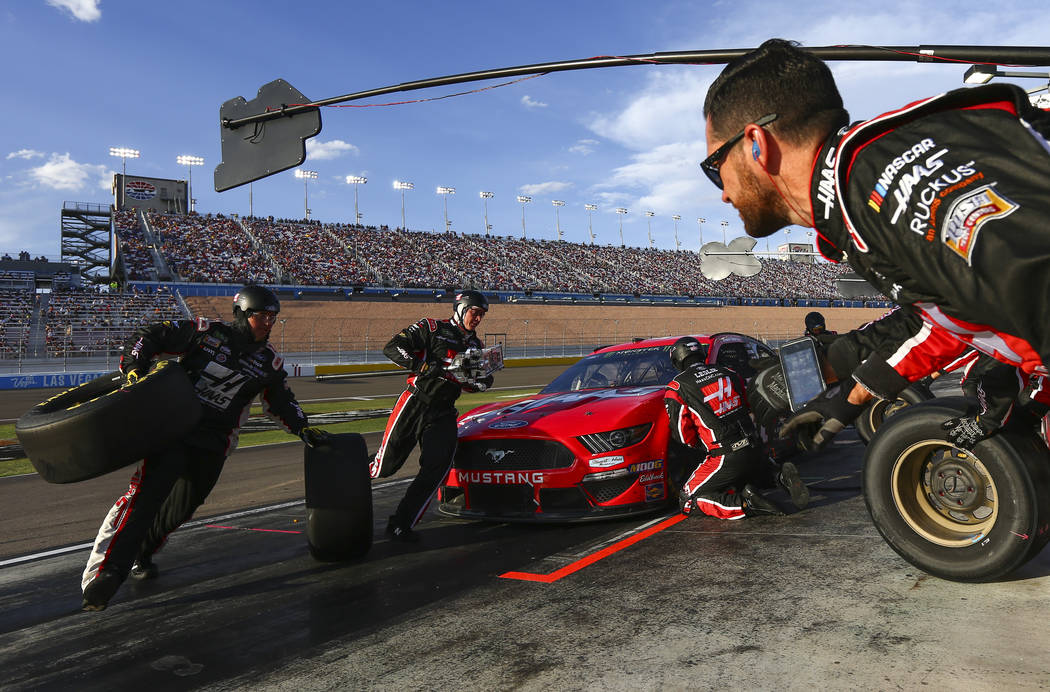 It was billed as NASCAR Under the Lights, which is what it was for 38 of the 39 drivers in Sunday's South Point 400.
For Martin Truex Jr., it was NASCAR Over the Moon.
Truex Jr. powered past Kevin Harvick with 20 laps remaining and pulled away to a 4.1-second victory in the playoff opener at Las Vegas Motor Speedway.
The win in front of a crowd estimated at 52,000 locks the 2017 NASCAR champion into the second round of playoff races.
"It's huge for a lot of reasons," said the driver of Joe Gibbs' No. 19 Toyota after notching his fifth victory of 2019 and 24th in 504 Cup Series races. "We've had a stretch of six or seven races that we've been really strong in but honestly don't have a whole lot to show for it.
"But we knew we were really fast and working on the right things. When we can get things to roll our way and not make any mistakes, this is what we can do."
Harvick settled for second place, with Brad Keselowski, Chase Elliott and Ryan Blaney completing the top five.
Avoiding the yellow
It was a safe, competitive race with the lead swapping hands 24 times among 14 drivers. There were only two caution flags outside of the mandated ones at the end of the race stages — a far cry from last year's LVMS fall race that produced 15 yellows and multiple wrecks.
Kyle Busch of Las Vegas had an early brush with the wall and finished 19th. Brother Kurt cut a tire and crashed while running in the top 10 and wound up 39th and last.
It was the second LVMS victory for Truex Jr., who worked his way from the 24th starting position into the top 10 before the sun set on the track and the first 80-lap stage.
"I think the start of the race is always a lot more calm than the restarts," the 39-year-old veteran from New Jersey said of his early charge. "Nobody really knows what they have yet, and everybody kind of feels their car out for a couple of laps."
Truex Jr., who led three times for 32 laps, said it's easier to gain positions at the start than after restarts, especially after the track cools and the leading drivers start feeling racy.
Harvick, who led for 47 laps — second only to ninth-place finisher Joey Logano's 105 — said he felt anything but racy when his car rolled onto the track for practice Friday.
"That we were in position to win the race there with 25 laps to go says a lot about the guys working on this No. 4 car," said the 2014 NASCAR champion after posting his 10th top-10 finish in 21 LVMS races.
Mixed bag for contenders
Harvick's runner-up finish salvaged what was expected to be a great playoff debut for the Stewart-Haas cars that qualified 1 through 4 on Saturday. But pole-sitter Clint Bowyer led only one lap, Aric Almirola settled for 13th, and Daniel Suarez faded to 20th after leading 29 laps.
It also was a mixed bag of results for Gibbs' powerhouse team, which has now won 14 of the first 27 races. Kyle Busch was never a factor, Denny Hamlin finished 15th and Erik Jones 36th after encountering an early mechanical issue.
"In pro sports, if you have a weakness, it's going to find you," said Gibbs, the former Washington Redskins Super Bowl coach. "Three of 'em had a real tough day. What you have to do is try to figure out what happened, how do you keep it from happening again, and learn from those tough nights."
Sort of like LVMS officials did after finally landing a Cup Series playoff race last year, only to have it bomb at the turnstiles.
The inaugural South Point 400 attracted an all-time Las Vegas low crowd estimated at 45,000, prompting the speedway to further reduce seating capacity to around 70,000 and ask NASCAR and TV partner NBC for a later starting time to offset the September heat and televised pro football.
It made a big difference. The frontstretch grandstand was nearly filled at the start of the race and stayed that way until Truex Jr. took the checkered flag.
Contact Ron Kantowski at rkantowski@reviewjournal.com or 702-383-0352. Follow @ronkantowski on Twitter.