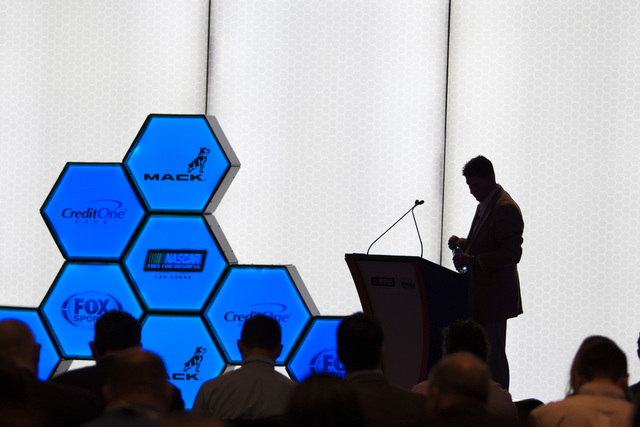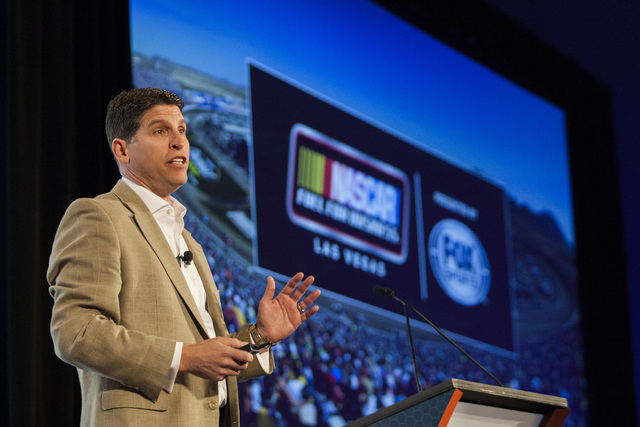 There's no doubt that NASCAR racers fly on the Las Vegas Motor Speedway track.
Maybe that's why two local aviation companies have affiliated themselves with motor sports on the eve of Southern Nevada's biggest NASCAR event.
Maverick Helicopters is the exclusive vendor for the speedway, taking race fans to the track in a 15-minute, $549 round-trip ride.
Allegiant Air, meanwhile, announced a new sponsorship with NASCAR on Thursday morning, the first commercial air carrier to affiliate with the nation's top-tier car racing circuit.
The Las Vegas-based airline, which flies to 21 cities where NASCAR races are run, made the announcement in a quarterly business-to-business meeting of NASCAR sponsors and affiliates just before kicking off three days of racing events that culminate with the Kobalt 400 on Sunday.
The Las Vegas race, the third of the Sprint Cup racing season, is the first among western tracks.
Brian Davis, vice president of marketing for Allegiant, acknowledged during the announcement that "we may be the biggest airline you've never heard of," but added that Allegiant becoming the official airline of NASCAR is a good fit.
"Our sales strategy has always been tactical," Davis said in an interview. "Through this sponsorship, we're hoping that NASCAR fans will get to know us better."
Loyal racing fans may already know Allegiant since the son of the airline's CEO, Maurice Gallagher, races for GMS Racing, a team that competes in the NASCAR Camping World Truck Series and the ARCA Racing Series — a point of contention for some company investors who see the sponsorship as favoritism.
But Steve Phelps, executive vice president and chief marketing officer for NASCAR, believes the Allegiant tie-in should work for the best because race fans are fiercely loyal to brands that support the sport.
"They're the most loyal fans in sports," Phelps said of the fan base. "And, they vote with their wallets."
Davis said the airline could eventually develop fan packages for specific race destinations, but Allegiant is handicapped by its limited ability to add capacity on short notice. But he added that he thinks race fans will discover Allegiant because it provides the opportunity for families to travel together with the company's low fares.
Meanwhile, Maverick began its association with the Las Vegas Motor Speedway several years ago and in a single day will transport about 600 race fans to the track in 23 Airbus EC130 Eco-Star helicopters.
The company will offer the service this weekend, expecting high numbers for Sunday's race.
Maverick broke industry records last year and now officially provides more travel via helicopter than any other sporting event in the world.
The company has a new attraction for customers — its recently opened $5 million terminal, which offers an exclusive space for drivers, team members and VIP guests to gather before and after their flights.
Contact Richard N. Velotta at rvelotta@reviewjournal.com or 702-477-3893. Find on Twitter: @RickVelotta