Micah Roberts' NASCAR Sprint Cup driver ratings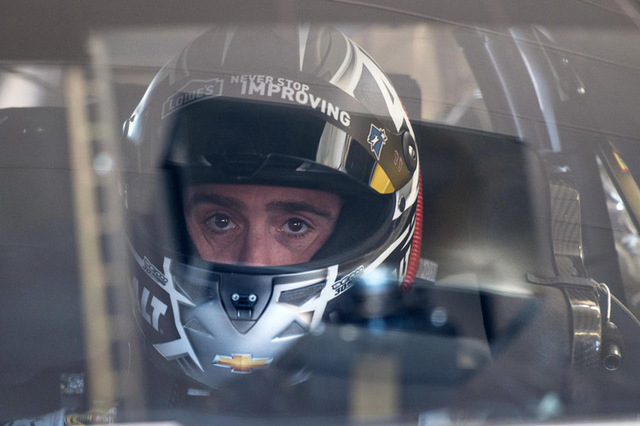 MICAH ROBERTS' SPRINT CUP DRIVER RATINGS
Kobalt 400
Las Vegas Motor Speedway
Race starts at 12:30 p.m. today on Fox (5)
Rating DriverOddsPractice 1QualifiedPractice 2Practice 3
1. Jimmie Johnson6/19th9th1st1st
LVMS record holder with four wins and 9.2 average finish; using brand new chassis.
2. Kevin Harvick9/210th18th3rd5th
Runner-up in 2010; led most laps on 1.5 tracks in 2014. Best 10-lap average in practice 2.
3. Dale Earnhardt Jr.8/116th4th5th8th
LVMS record 15 starts with no wins and three second-place finishes, including last season.
4. Joey Logano8/16th2nd4th2nd
Career-best fourth place last season; fourth last week; two wins on 1.5-mile tracks in 2014.
5. Jeff Gordon7/12nd1st*14th14th
2001 winner; only driver to start all 18 LVMS events; using backup chassis after wreck.
6. Matt Kenseth8/112th6th10th7th
Three-time winner, the last in 2013; led twice at Atlanta last week and finished fifth.
7. Carl Edwards10/17th14th12th21st
Two-time winner with LVMS 9.2 average, including fifth or better past four starts.
8. Brad Keselowski8/13rd11th13th9th
2014 winner, third in 2013; doesn't appear as strong on 1.5s as in 2014, when he won three.
9. Kasey Kahne12/113th3rd15th15th
Two-time runner-up; using sixth-place Brickyard chassis from 2014 that led 70 laps.
10. Denny Hamlin15/111th19th7th16th
Career-best third place in 2007; was contender last week at Atlanta before wrecking.
*Gordon will start from the rear after wrecking primary car in practice and switching to backup.
Odds courtesy of Westgate Las Vegas.
Micah Roberts, a former race and sports book director, has been setting NASCAR odds since 1995. For more post-practice analysis, visit the Linemakers on SportingNews.com or follow MicahRoberts7 on Twitter.