NASCAR still considered biggest leap of Travis Pastrana's career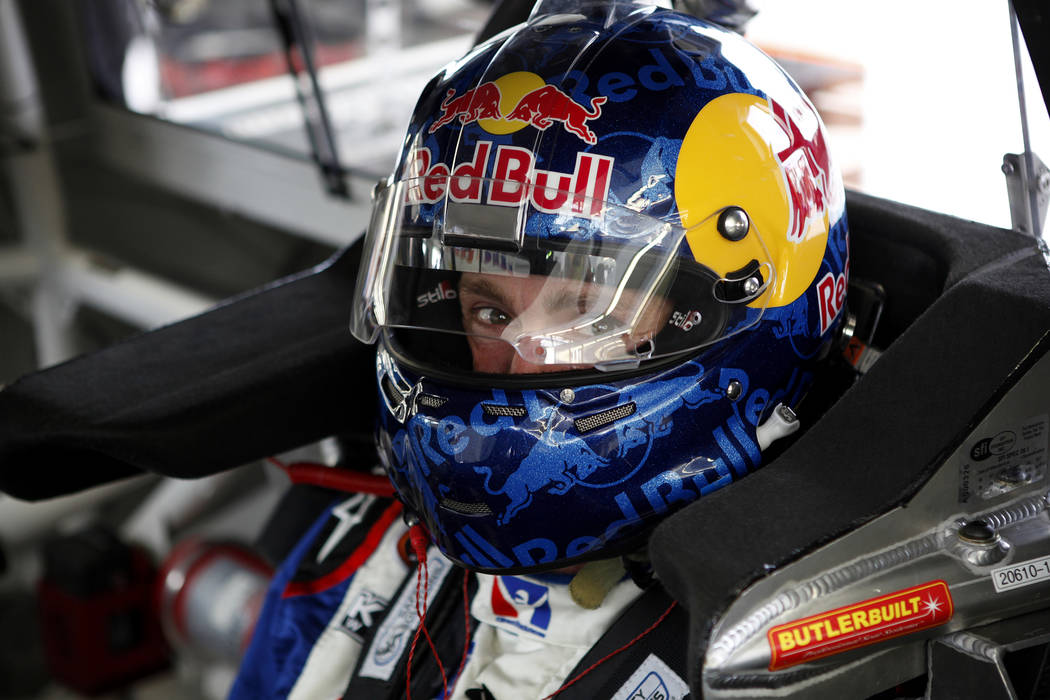 After flying over the fountains at Caesars Palace Sunday night and sticking the landing, Travis Pastrana was talking about how special Las Vegas has been to him.
How he had proposed to his wife here, had his first Nitro Circus show here. How he had jumped 52 crushed cars and 16 Greyhound buses and those iconic fountains in a tribute to his hero Evel Knievel.
The History channel had to wrap it up before he could talk about passing Dale Earnhardt Jr. here.
It happened during a 2013 Xfinity Series race at Las Vegas Motor Speedway.
Travis Pastrana in Nascar pic.twitter.com/sTYIlKvpMQ

— Vintage Nascar (@RocksVintage) July 9, 2018
"It was my first nonrestrictor plate race top 10," the action sports star said with an engaging smile in recalling his brief NASCAR career that encompassed 42 Xfinity and three Truck Series starts.
He was 29 then, late for a NASCAR driver to be breaking in. He ran all 33 Xfinity races for noted car owner Jack Roush with average starting and finishing positions of 17 and 21.3. He was hoping for a little better, of course.
"I find that my talent is making the best of a (bad) situation," Pastrana said before taking three flying leaps into history.
"In rally, you come over a hill, full-lock drift, between a gate. You've got a 100-foot cliff on one side, you might have trees on the other, you might have busted out lights and you gotta figure out how to make that work. Could be snowing, could be raining, could be mud, could be pavement — you might have them all the same day.
"So you're not dialing a setup. It's not like trying to find that half a tenth of a second per lap. It's not as meticulous as NASCAR on pavement."
Pastrana said he was well-received by the NASCAR drivers, and other than losing a bunch of his own money, he has no regrets about spinning wheels on the big-time stock car circuit.
"The best way to end up a millionaire is to start with two and go racing," Travis Pastrana said, his smile still on full-lock drift.
Travis Pastrana is a daredevil, a legend, and one of the most down to earth guys you'll ever meet! Wish he could've had more success in NASCAR, his personality and appeal could really help the sport right now!

— Staton Flurry (@Staton_Flurry) July 9, 2018
Thanks @travispastrana for stopping by after an incredible night! Hope you dug the pizza! pic.twitter.com/suBbSKiNLS

— Evel Pie (@EvelPieLV) July 10, 2018
Schmidt team wins
Who says Sam Schmidt's IndyCar team isn't fast on the ovals?
Seven weeks after being bumped out of the Indianapolis 500 for being too slow, Schmidt Peterson Motorsports driver James Hinchcliffe won the Iowa Corn 300, presenting Schmidt, his car owner and a longtime resident of Henderson, with his first victory on an oval track.
Because of a crash the race finished under the yellow flag, which may have upset race fans hoping for an exciting conclusion. But before the late caution, Hinchcliffe was leading by nine seconds.
The right car and driver won.
Let's relive SPM's first oval win 🏆, @Hinchtown's second #IowaCorn300 victory 🥇 AND another top-🖐🏼 finish for the rookie @robertwickens! pic.twitter.com/3euDOQ0I4R

— Schmidt Peterson (@SPMIndyCar) July 10, 2018
Gaughan again
With a big crash having eliminated many of the contenders (as well as a bunch of also-rans) in NASCAR's return to Daytona Speedway, the stage was set for Brendan Gaughan to make another strong finish in one of his infrequent Cup Series starts.
After a solid 16th-place qualifying run, the semi-retired Las Vegas veteran got tangled up in a subsequent wreck but still managed a 12th-place finish. His No. 62 Beard Oil South Point Chevrolet was the next-to-last car running on the lead lap at the checkered flag.
For a team that runs only the restrictor-plate races because of limited sponsorship and manpower, it was another nice showing.
How about that! @Brendan62 qualifies 16th for tomorrow nights @CokeZero 400 here @DISupdates great job to @d17shaw and the entire Beard Oil crew! pic.twitter.com/fhuehVz2FP

— Beard Oil Motorsports (@beardoil75) July 6, 2018
Contact Ron Kantowski at rkantowski@reviewjournal.com or 702-383-0352. Follow @ronkantowski on Twitter.
Pro schedules
NASCAR Monster Cup
What: Quaker State 400.
Where: Sparta, Kentucky; Kentucky Speedway (oval, 1.5 miles; 400 miles, 267.5 laps).
When: Friday, practice, 9, 11 a.m., NBCSN; qualifying, 3:40 p.m., NBCSN; Saturday, race, 4:30 p.m., NBCSN.
Last year: Martin Truex Jr. started second but finished first in Sparta.
Last race: Erik Jones roared back from 29th to win at Daytona.
NASCAR Xfinity
What: ALSCO 300
Where: Sparta, Kentucky; Kentucky Speedway (300 miles, 200 laps).
Schedule: Friday, qualifying, 2:05 p.m., NBCSN, race, 5 p.m., (NBCSN).
Race distance: Last year: Kyle Busch won from the pole.
Last race: Kyle Larson made it two straight victories at Daytona.
NASCAR Camping World Truck
What: Buckle Up In Your Truck 225
Where: Sparta, Kentucky; Kentucky Speedway (225 miles, 150 laps).
Schedule: Thursday, practice, 6:05, 8:05 a.m., qualifying, 2:10 p.m., FS1, race, 4:30 p.m., FS1
Last year: Christopher Bell won for the second time in four races.
Last race: Brett Moffitt won for the second time in three starts at Chicagoland.
Verizon IndyCar
What: Honda Indy Toronto.
Where: Streets of Toronto (1.786 miles; 151.8 miles, 85 laps).
When: Friday, practice, 7:40, 11:30 a.m.; Saturday, practice, 6:50 a.m., qualifying, 10:55 a.m., Sunday, race, noon, NBCSN
Last year: Josef Newgarden led 58 of 85 laps to win in Toronto.
— By The Associated Press