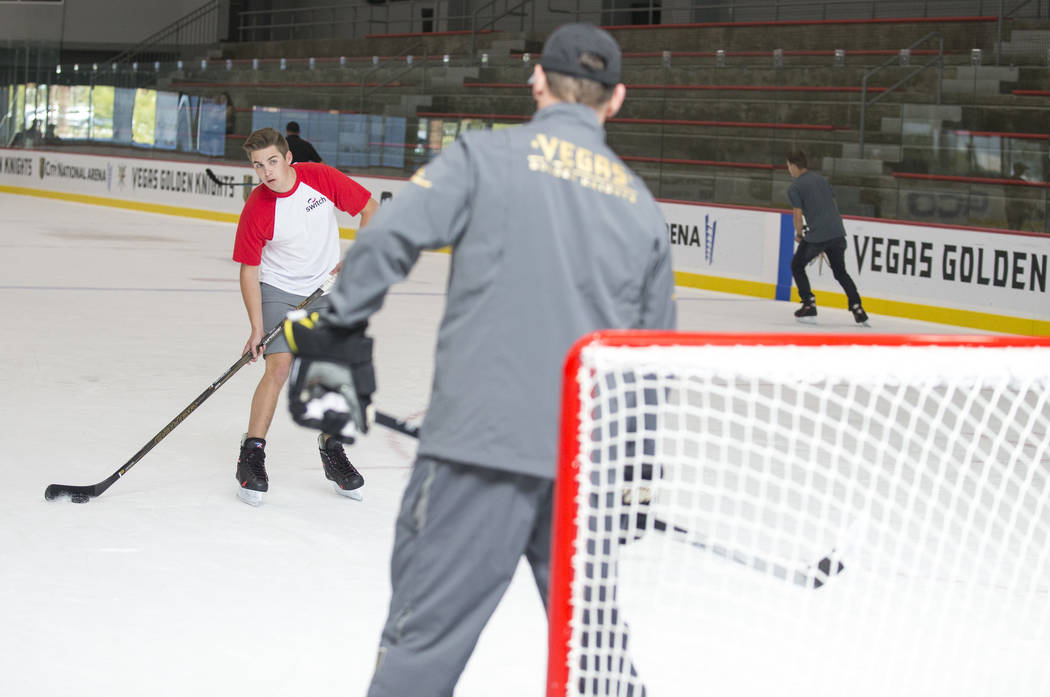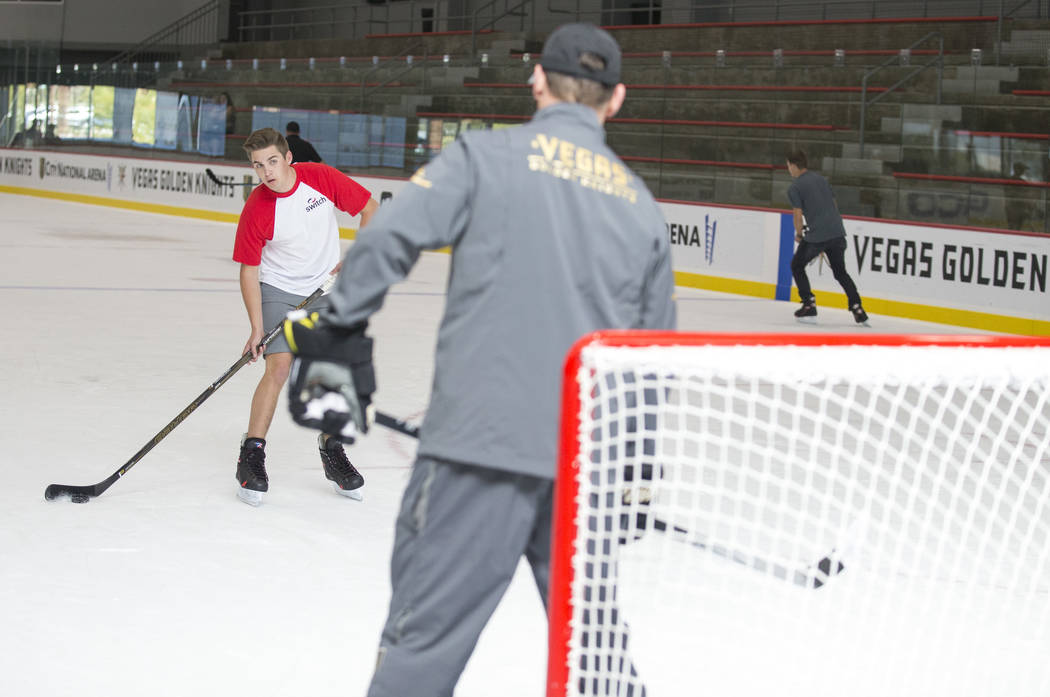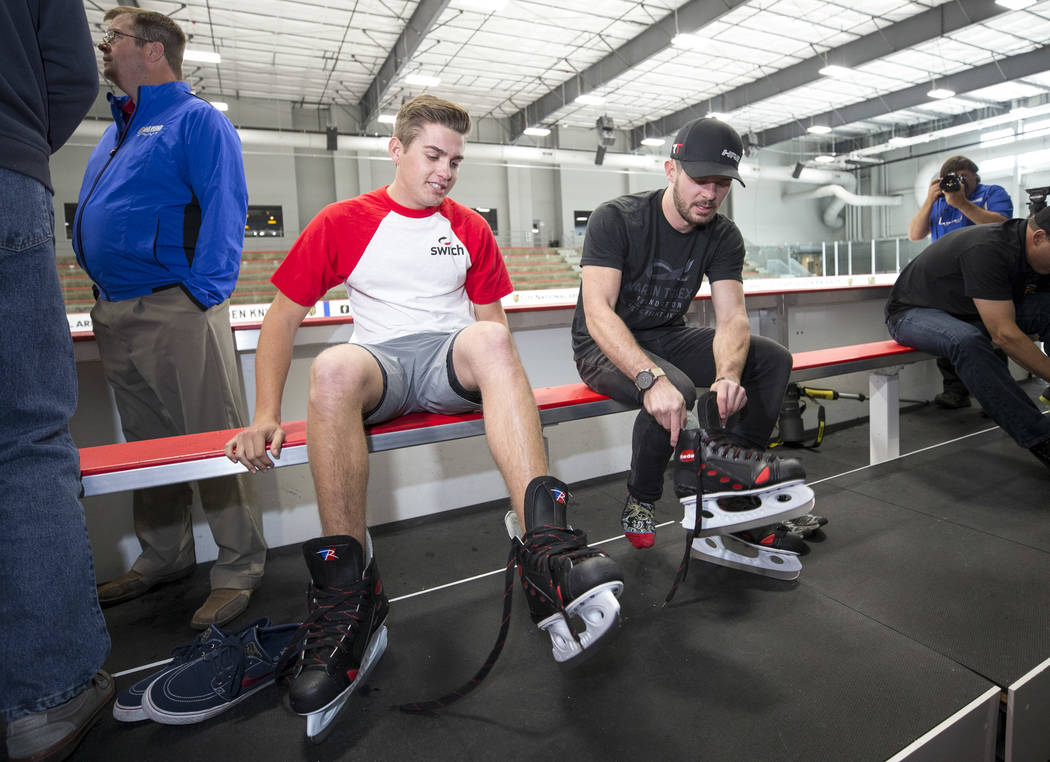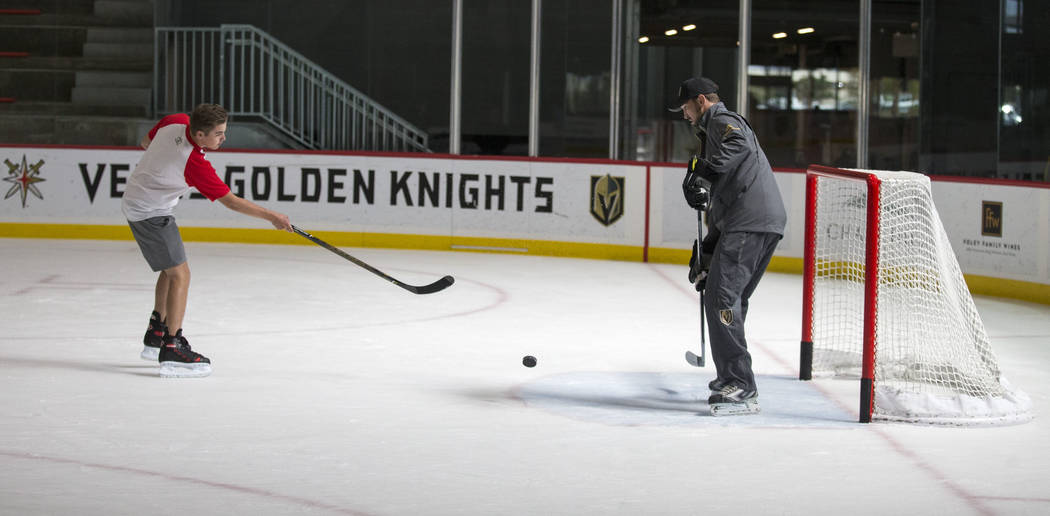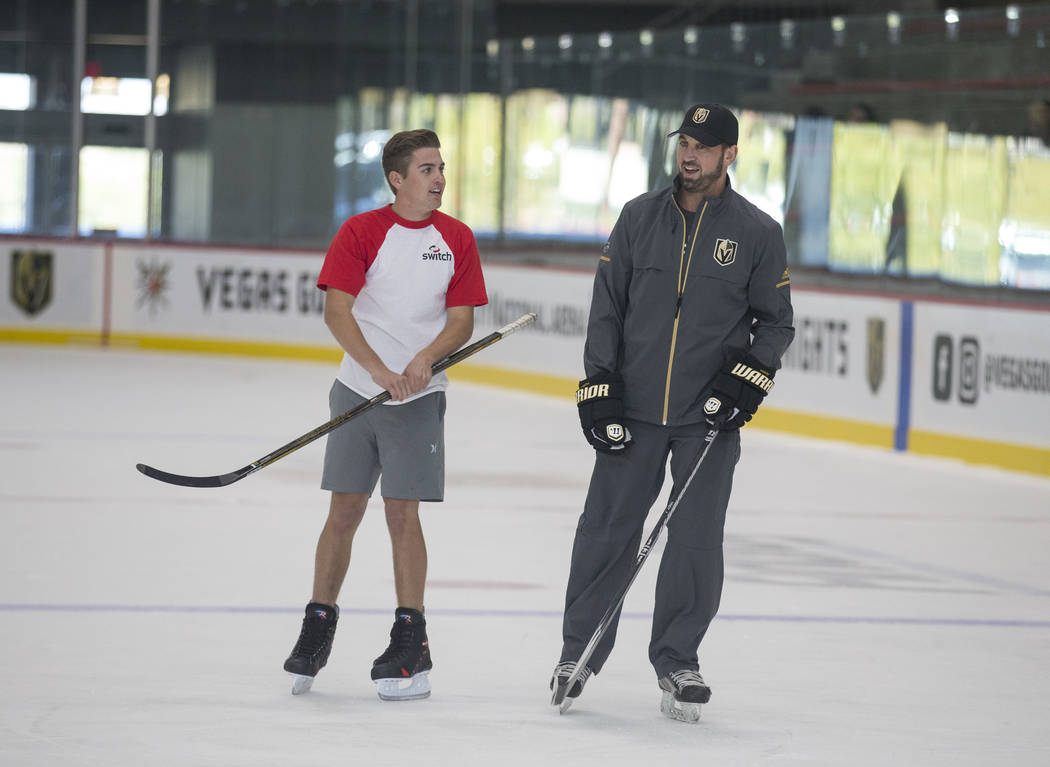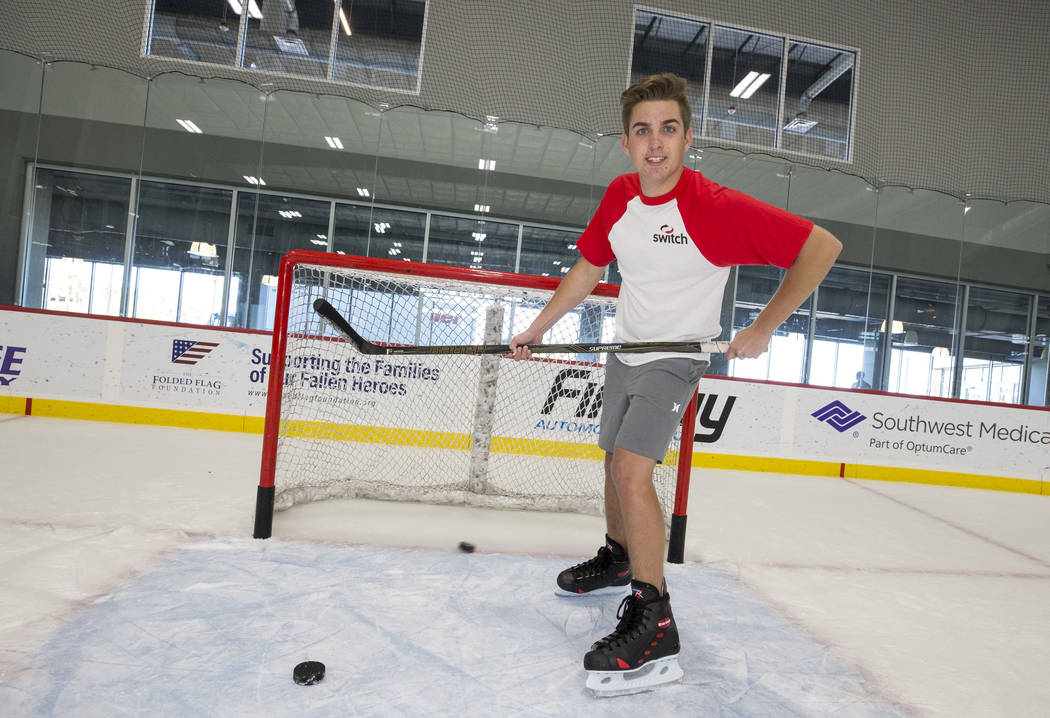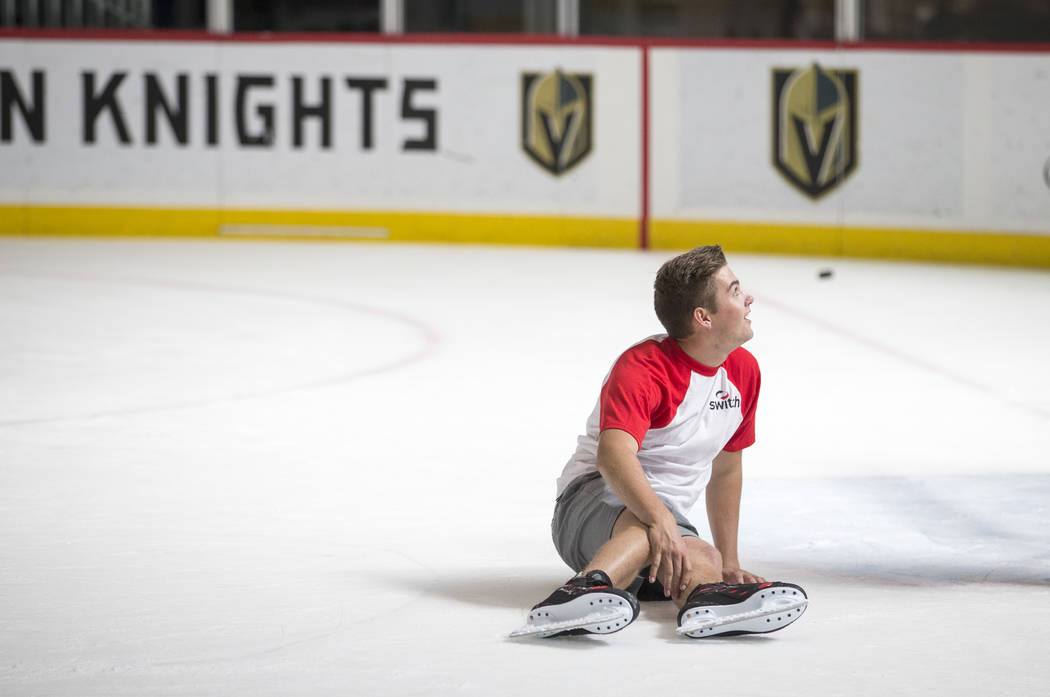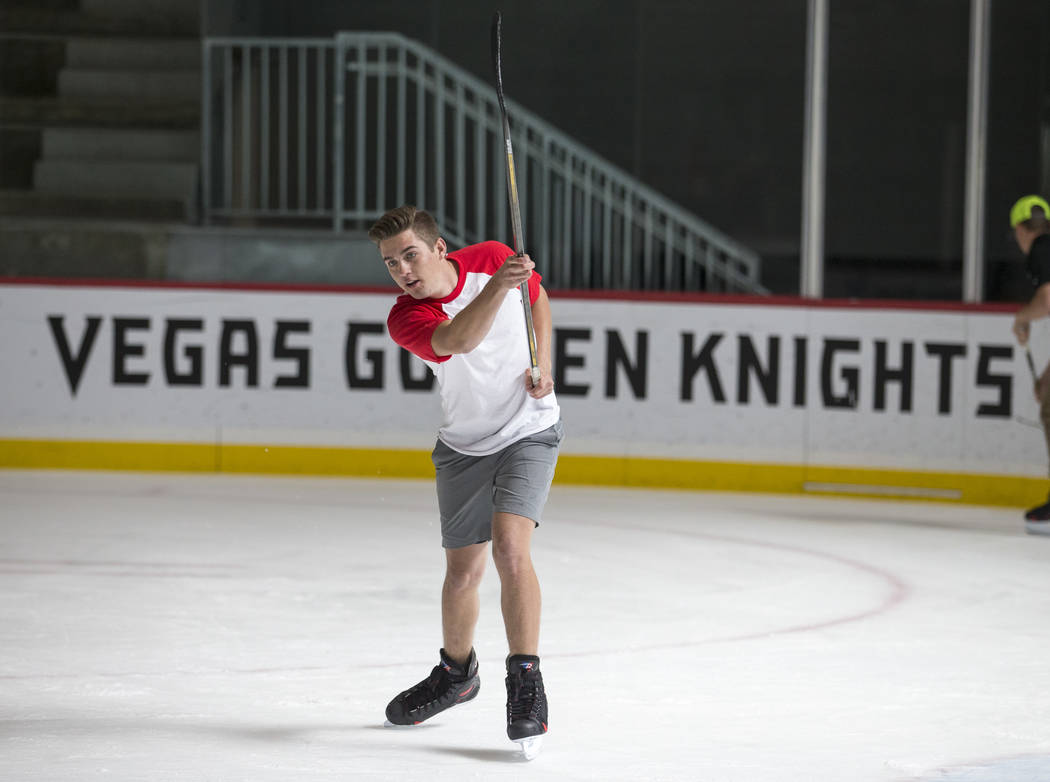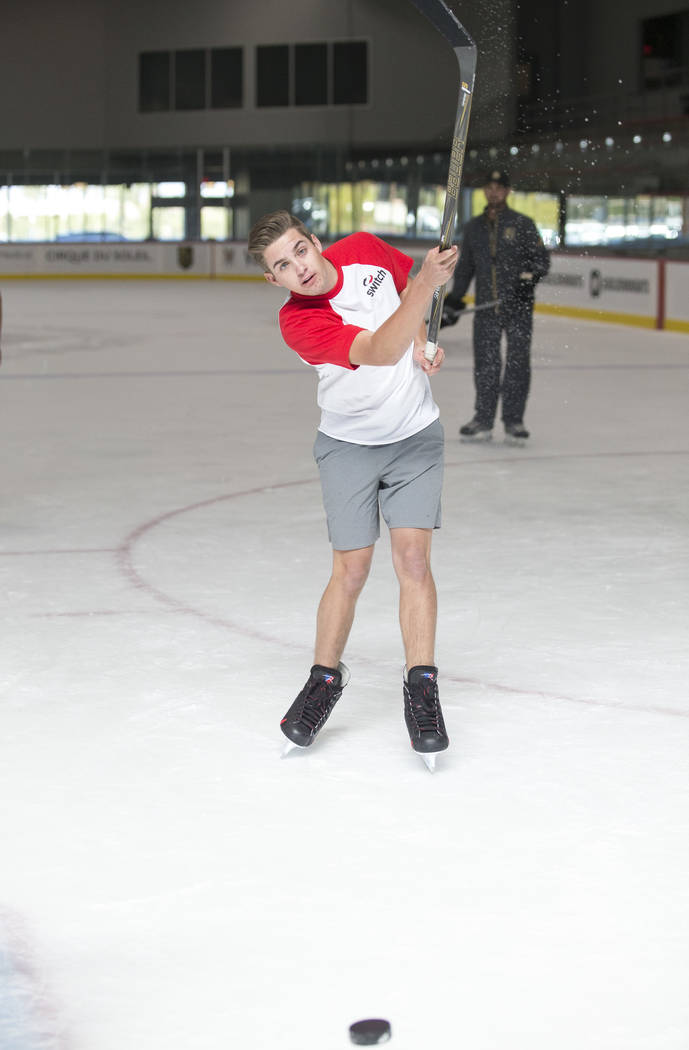 Hockey and auto racing are considered high speed collision sports, so perhaps it was appropriate that NASCAR Truck Series drivers and members of the Golden Knights go for a skate Friday afternoon at City National Arena.
There were no incidents, unless one counts several spills taken by Noah Gragson, the extroverted rookie driver from Las Vegas who made several length-of-the-rink rushes, only to run out of brakes. Gragson crashed into the dasher boards and Plexiglas behind the net before coming to a stop.
The fun-loving 19-year-old was joined by reigning Truck Series champion Johnny Sauter and playoff drivers John Hunter Nemechek, Chase Briscoe and Ryan Truex in the photo op leading up to Saturday's 5:15 p.m. race at Las Vegas Motor Speedway. Knights TV analyst Shane Hnidy and vice president Murray Craven represented the local NHL organization.
After the skate and some wrist shots that drifted wide, it was agreed that a NASCAR truck would run laps around a Zamboni.
"The Switch Toyota would be the fastest Zamboni in the world," said Gragson, who will be trying to break through for his first Truck Series victory in the 146-lap race on his hometown oval. "It would get it done in like 12 seconds, this whole place."
Added Hnidy, who played for six NHL teams: "It would cut down the intermission time, especially if one of these guys were driving it."
Gragson, who skated in shorts and was the only driver to leave the Knights' practice facility with ice shavings on his back, was the No. 1 star of the publicity skate. Wisconsin native Sauter also looked good on his blades and afterward swapped a racing helmet for a couple of Hnida's hockey sticks, which Sauter said his kids were going to love.
But off the ice and back on the track, Saturday's race pretty much is shaping up as the Christopher Bell show.
The latest in a line of Kyle Busch proteges, Bell has won a series-high five races in 17 starts, including the playoff opener at New Hampshire last weekend. The 22-year-old Oklahoma native will have Gragson, who finished second on the road course at Canadian Tire Motorsports Park this month and sat on the pole for the first playoff race, as a teammate.
"All in all, it'll be a big weekend for Kyle Busch Motorsports, and I'll be on the edge of my seat watching from afar in Dover," Busch said of his NASCAR Cup Series commitment. "I think for all of our teams, with everyone knowing that I'm from Las Vegas and that this race is a big deal to me, it gives us a second home track (along with Charlotte).
"This year, we've got Las Vegas native Noah Gragson racing there for the first time in the Truck Series, and he has a Las Vegas company in Switch as his primary sponsor, so it'll be a big race for our No. 18 team."
Sauter is another driver with ties to Las Vegas. He won the 2016 Truck Series championship driving for GMS Racing, a team founded by Maury Gallagher, CEO of Las Vegas-based Allegiant Air. The 39-year-old veteran is second in the playoff standings and won twice during the regular season.
Contact Ron Kantowski at rkantowski@reviewjournal.com or 702-383-0352. Follow @ronkantowski on Twitter.
Las Vegas 350
What: NASCAR Camping World Truck Series
Where: Las Vegas Motor Speedway
When: 5:15 p.m. Saturday
TV: Fox Sports 1
Tickets: LVMS, 702-644-4444
Schedule
— 8:30-9:25 a.m.: Practice
— 10-10:55 a.m: Practice
— Noon-4 p.m.: LVMS Show & Shine Car Show (LVMS Fan Engagement Area)
— 1-1:45 p.m.: Driver autograph session (LVMS Fan Engagement Area)
— 3:10 p.m.: Las Vegas 350 qualifying (single vehicle/two rounds)
— 5:15 p.m.: Las Vegas 350 race (146 laps, 219 miles)
Points leaders
1. Christopher Bell, 2100
2. Johnny Sauter, 2060
3. Matt Crafton, 2059
4. Ben Rhodes, 2050
5. Austin Cindric, 2043
6. Kaz Grala, 2038
7. Chase Briscoe, 2035
8. John Hunter Nemechek, 2031