NASCAR's 2019 Cup Series schedule identical to 2018
Updated April 5, 2018 - 1:23 pm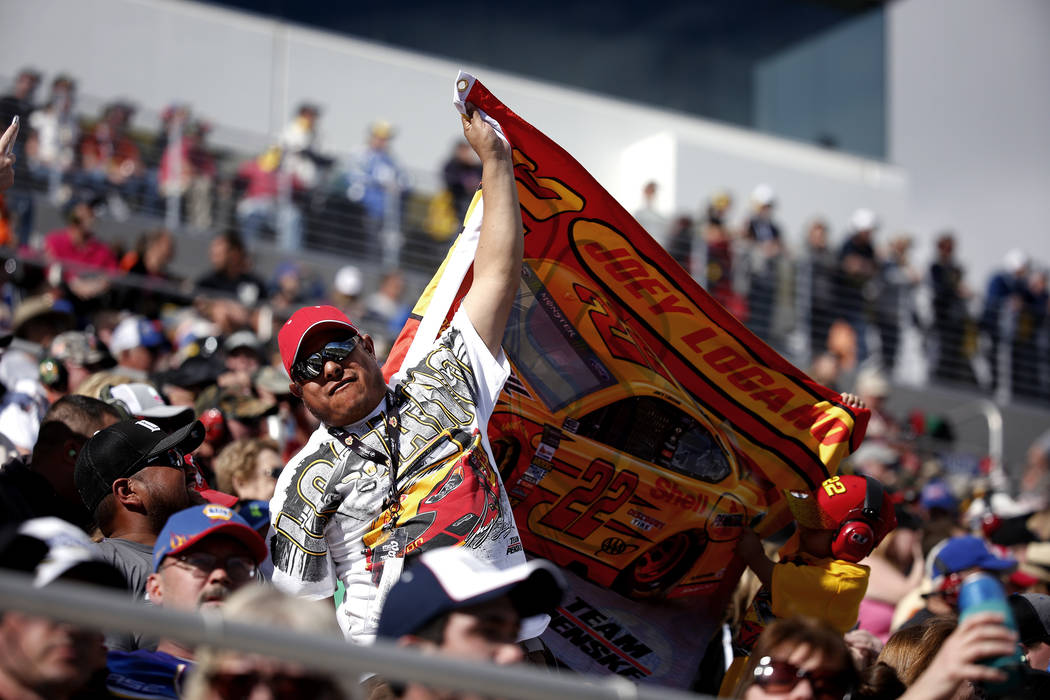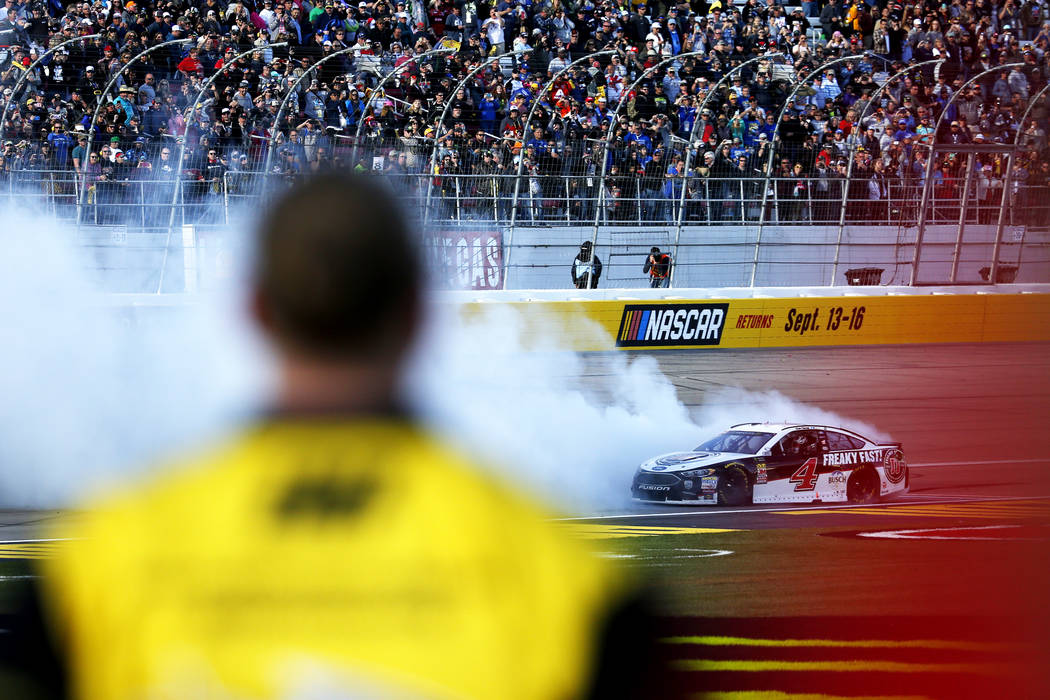 Second verse, same as the first.
Peter Noone of Herman's Hermits would have loved the 2019 schedule that NASCAR released Tuesday. Except for the off week that fluctuates because of the Easter holiday, it was exactly the same as the 2018 schedule.
Every race will return on the same weekend. Las Vegas' two Cup Series events will be March 3 and Sept. 15. The second race again will serve as the opener to the NASCAR playoffs.
You would think race fans would mostly be OK with the lack of change, because usually when NASCAR tinkers with something, race fans complain about it.
They lamented the lack of change, too.
One internet story about the 2019 schedule listed dozens of comments, and virtually every one was negative.
"That schedule is really exciting, said nobody," wrote one.
"Bring back Rockingham, North Wilkesboro and the old point system," wrote another.
"The only good thing about NASCAR nowadays is the commercials with Danny McBride," opined a third.
Gotta love Danny McBride, very funny @NASCAR @MountainDew @DaleJr commercial https://t.co/RO6Kgewlj4

— Chasing Racing (@Chasin_Racing) March 23, 2018
Darned if you do, darned if you don't.
Had NASCAR changed the schedule and moved races around to where fans planning to attend on one date couldn't attend on another, the outrage probably would have been even more swift than Dewey Ryder.
NEWS: 2019 Monster Energy NASCAR Cup Series schedule announced.

Details: https://t.co/k1IY4rQ13Z pic.twitter.com/FV0LgyeJjM

— NASCAR (@NASCAR) April 3, 2018
Green, white, checkered
— This is what happens when you almost win the Daytona 500 two years in a row: The race team for which you drive issues a statement that says you'll be back next season only six races into the current one, which is what Stewart-Haas Racing did in regard to Las Vegan Kurt Busch this week.
"SHR fully expects to have Kurt Busch back in its No. 41 Haas Automation/Monster Energy Ford in 2019 and has had no other conversations regarding the No. 41 team," Stewart-Haas Racing said.
There had been speculation the 39-year-old 2004 Cup Series champion could be replaced by a young driver who would demand less money. One name being mentioned: Cole Custer, who drives for the SHR Xfinity Series team and made his Cup Series debut at Las Vegas Motor Speedway last month, finishing 25th.
Kurt Busch is currently driving under a 1-year deal that expires at the end of 2018 https://t.co/Z0L87OYtBO

— Racing News (@RacingNewsCo) April 2, 2018
— Per ESPN, here's something you may find interesting. Only three NASCAR drivers have won races on their birthdays, and two have a Las Vegas connection.
Kyle Busch won at Richmond, Virginia, on May 2, 2009 to become the second driver to grab a checkered flag on his birthday. Matt Kenseth was the third to blow out in candles in victory lane when he came home first at LVMS on March 10, 2012.
The first driver to win on his birthday was Cale Yarborough who did it twice on March 27, the first time at North Wilkesboro Speedway in 1977 and the second time at Atlanta in 1983.
"That's @KyleBusch in your mirror… he's a hard one to keep in the rear view mirror."@ClintBowyer realized the challenge & withstood it. 💪 pic.twitter.com/JFT9UqyH5l

— NASCAR (@NASCAR) March 28, 2018
— Conversation between NASCAR media guru Jeff Gluck and 19-year-old NASCAR Truck Series driver Noah Gragson of Las Vegas:
JG: NASCAR enlists three famous Americans to be involved with your team for one race as part of a publicity push: Taylor Swift, LeBron James and Tom Hanks. Choose one to be your crew chief, one to be your spotter and one to be your motor home driver.
NG: What does Tom Hanks do?
JG: He's an actor. A movie actor.
NG: Oh. Like what movie?
JG: He was in "Cast Away," where he was on the island with the volleyball.
NG: Not a clue.
JG: He was in "Forrest Gump!"
NG: That's him? OK.
12 Questions with @NoahGragson is posted. Don't flush away the chance to listen to this episode: https://t.co/834QRe6ZCT

— Jeff Gluck (@jeff_gluck) April 3, 2018
Contact Ron Kantowski at rkantowski@reviewjournal.com or 702-383-0352. Follow @ronkantowski on Twitter.
Pro schedule
NASCAR Monster Energy Cup
What: O'Reilly Auto Parts 500.
When: Friday, qualifying, 2:45 p.m. (FS1). Sunday, race, 11 a.m. (FS1).
Where: Texas Motor Speedway, Fort Worth, Texas.
Defending champion: Jimmie Johnson.
NASCAR Xfinity
What: My Bariatric Solutions 300.
When: Saturday, qualifying, 9:10 a.m. (FS1), race, noon (KVVU-5).
Where: Texas Motor Speedway, Fort Worth, Texas.
Defending champion: Erik Jones.
Verizon IndyCar
What: Phoenix Grand Prix.
When: Friday, qualifying, 5 p.m. (NBCSN). Saturday, race, 3:35 p.m. (NBCSN).
Where: ISM Raceway, Phoenix.
Defending champion: Simon Pagenaud.
Formula One
What: Bahrain Grand Prix.
When: Saturday, qualifying, 8 a.m. Sunday, race, 8:10 a.m.
Where: Bahrain International Circuit, Sakhir, Bahrain.
Defending champion: Sebastian Vettel.
NHRA
What: Four-wide Nationals.
When: Friday, qualifying, 1 p.m., 4 p.m. Saturday, qualifying, 12:30 p.m., 3 p.m. Sunday, finals, 4:05 p.m.
Where: The Strip at Las Vegas Motor Speedway
Defending champion: Antron Brown (Top Fuel), Tommy Johnson Jr. (Funny Car), Tanner Gray (Pro Stock).
The Associated Press