Playoff opener in Las Vegas brings mixed results for NASCAR's Big 3
Updated September 16, 2018 - 5:43 pm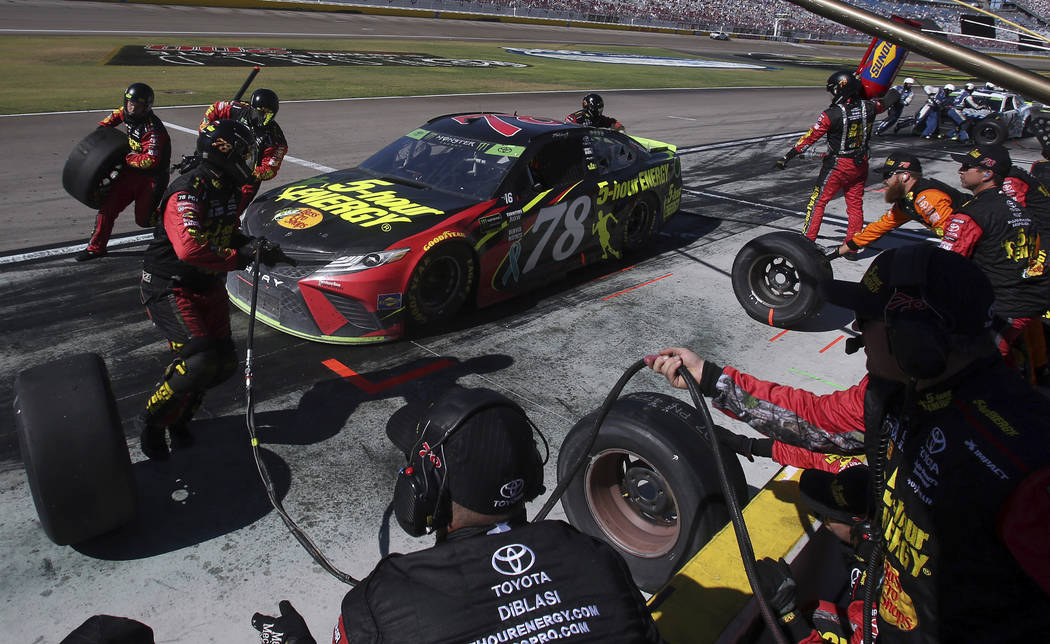 Throughout the regular season, the Cup Series was dominated by the "Big 3."
Kyle Busch, Kevin Harvick and Martin Truex Jr. combined to win 17 of 26 races.
But Sunday, the inaugural South Point 400 at Las Vegas Motor Speedway marked the start of a new season.
And when more than 3½ hours of racing ended, only one of the Big 3 had turned in a top-three performance.
Brad Keselowski took first, followed by Kyle Larson and Truex Jr.
"I think the Big 3 talk is cool for the regular season but when it comes to the playoffs, the big four are going to make the final four, so that's the only thing that matters at that point," Truex Jr. said. "We can talk all we want about who did great in the regular season but at the end of the day, we're here to win a championship …"
Harvick blew a tire and crashed early, while Busch finished seventh.
Truex Jr. nudged into first place in the standings, two points ahead of Busch. After three straight wins, Keselowski jumped ahead of Harvick into third place.
"He's hot right now; he's on a streak; that's the way it goes," Truex Jr. said of Keselowski. "We finished third with the best car. The last three weeks we had a top-three car and we finished 14th or worse in every one of them. …
"It's a tough sport. A lot of things can happen and momentum and luck being on your side, there's a lot to say for it."
Keselowski pulled ahead of Larson at the end, taking the lead on lap 251. Larson had led for the 10 laps prior to that.
"I knew if I could hold Brad off for a little bit I'd have a pretty good shot, but it didn't work out and then we had a couple of restarts there," Larson said. "A couple of them worked out for me; a couple of them didn't. I'm thankful the last one worked out and we were able to get to second."
Green, white, checkered
■ The Busch brothers were once again shut out in their hometown.
Kyle Busch, who entered as a co-favorite to win the championship with Harvick, finished seventh, at one point spinning into the grass before recovering. Kurt Busch ran well early but faded during the second half of the race, finishing 21st.
The two are a combined 1-for-33 in Cup Series races in Las Vegas.
■ Harvick's day ended early, with a right front blown tire taking him out of the race.
Pole-sitter Erik Jones then bumped Harvick from behind, ending Jones' day, too.
"There was something wrong from the time we put the tires on," Harvick said on the NBCSN broadcast. "It's like Russian roulette every time you put these piece-of-crap tires on and try to drive around the racetrack. One time it's tight, one time it's loose. One time they're blistered."
■ Jimmie Johnson, one of the most decorated drivers of all time, blew a tire late in the race after running as high as fifth. He finished 22nd.
"We could have closed with a top-five finish that would have really helped and given us a cushion," Johnson said. "Today was a really good day for the Lowe's team. We had good speed in the car, good pit stops, everything was going well and unfortunately, cut a right-front tire when we touched the No. 41 (Kurt Busch) off of Turn 2."
Contact Betsy Helfand at bhelfand@reviewjournal.com. Follow @BetsyHelfand on Twitter.