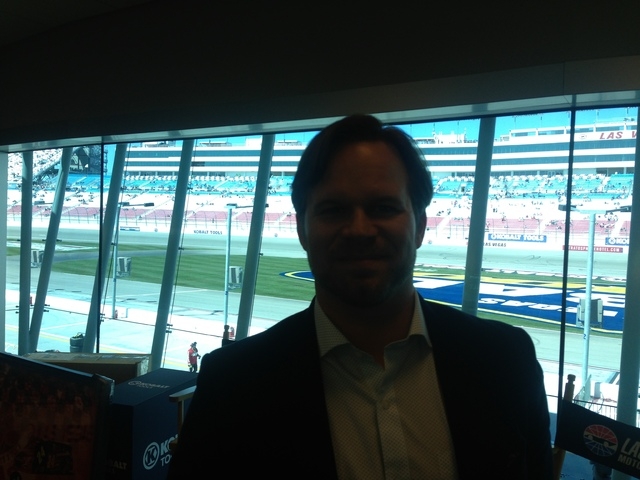 Ticket sales for 2014 were down from 2013. But overall year-to-year revenue was slightly up, and restructuring debt to reduce it by $230 million during the past four years has helped, too.
So, Marcus Smith, CEO of Speedway Motorsports Inc., the parent company of Las Vegas Motor Speedway, says the Charlotte, N.C.-based company that owns eight NASCAR tracks has turned the corner on a recession that took a healthy bite out of revenue.
Smith, in Las Vegas for Saturday's Boyd Gaming 300 and today's Kobalt 400, said the recession in 2008 hit SMI's bottom line in 2009 and 2010 and "subsequently we're slowly coming out of it."
SMI's annual revenue fell most years after the economic crunch, but its federal filing Wednesday showed that overall revenue increased to $484.3 million for last year from $480.6 million in 2013.
Net income for 2014 also hit $31.1 million, a healthy spike from a loss of almost $6.5 million for 2013.
The profit was "within expectations," said Smith, who assumed the CEO title last month.
At the same time, his father, Bruton, was named executive chairman. Bruton Smith was chairman and CEO since 1995, while Marcus Smith was president and chief operating officer since 2008. The public company is traded as TRK.
While annual revenue increased, there was a dip in admissions revenue in 2014, as ticket sales dropped to $100.8 million last year from $106 million for 2013.
NASCAR broadcast rights deals remain a solid source of revenue for SMI, increasing to $207.4 million in 2014 from $199 million in 2013, according to the recent SEC filing.
While there has been talk of SMI trying to appeal more to families and younger people, Marcus Smith said the company markets to all demographic groups, including its longtime race fans.
"There's no way you can fill a speedway with a single demo," Smith said Saturday. "We don't focus on one single demo."
In terms of the numbers of tracks and revenue, Speedway Motorsports trails only Daytona Beach, Fla.-based International Speedway Corp., which has 13 motor sports venues and had total revenue of $651.9 million for the year ending Nov. 30,2014, compared with $612.6 million for the same 12-month period that ended in 2013.
Las Vegas Motor Speedway plays a distinct role in the Speedway Motorsports portfolio because Las Vegas's conventions and other major events generate business and revenue for the 1,200-acre site that is 15 miles northeast of the Strip. SMI purchased Las Vegas Motor Speedway in 1998.
The speedway has proved a top revenue producer for Speedway Motorsports, as the Las Vegas venue has played host to everything from the annual Electric Daisy Carnival to BMW debuting its driverless vehicle during CES in 2014. The facility also is the home for professional drag racing events and smaller tracks such as The Bullring.
"I'm bullish on where the sport is heading," Smith said.
Contact Alan Snel at asnel@reviewjournal.com or 702-387-5273. Follow him on Twitter: @BicycleManSnel.