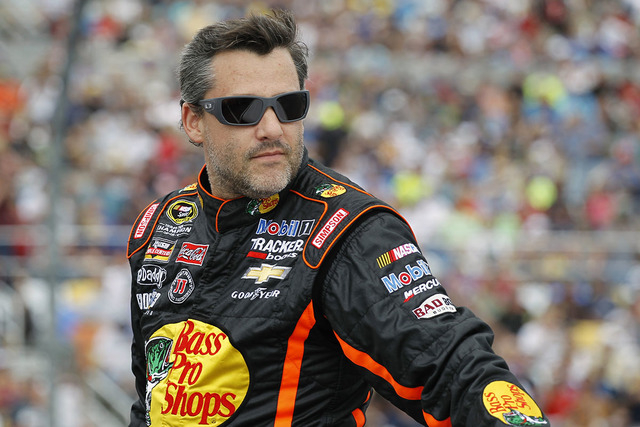 The Ontario County District Attorney's office completed its investigation of the fatal accident at a New York state sprint car track involving NASCAR Sprint Cup driver Tony Stewart and will take the case to a grand jury to decide whether he will face charges.
District Attorney Michael Tantillo made the announcement Tuesday afternoon in a statement. Tantillo could have determined there was not evidence to pursue the case but chose to proceed.
Kevin Ward Jr., 20, was struck by Stewart and killed on Aug. 9 during a sprint car race at Canandaigua Motorsports Park.
"Over the past several weeks I have reviewed with members of the Ontario County Sheriff's Department their investigation, as it progressed, in the Tony Stewart matter," Tantillo said. "Recently that office concluded its work and forwarded the complete case file to me.
"Upon my review of all of the information contained in the entire investigation, I have made the determination that it would be appropriate to submit the evidence to a grand jury, for their determination as to what action should be taken in this matter. Accordingly, the evidence developed in the investigation will be presented to an Ontario County grand jury in the near future.
"As grand jury proceedings in New York State are strictly confidential by law, I am unable to state when the matter will be scheduled, other than to state that I intend to present the matter in the near future. Similarly, because of the confidential nature of these proceedings, I cannot state who will be called as witnesses, or what any witness's expected testimony will be.
"When the presentation has been completed and a determination has been made, I will advise the public and the media at that time of the results."
Ward died when he exited his car after a crash and walked toward Stewart's moving car on the track.
Stewart sat out three Sprint Cup races before returning to the series at Atlanta on Aug. 31.
In a statement, Stewart said he hoped for a resolution in the case and pledged to continue to work with authorities. He plans to race in this weekend's Sprint Cup race at New Hampshire.
"I respect the time and effort spent by both the Ontario County District Attorney and the Sheriff's Office in investigating this tragic accident," Stewart said. "I look forward to this process being completed, and I will continue to provide my full cooperation." ?
NASCAR spokesman Brett Jewkes said, "We are aware of the completed investigation and the announced next steps. First, our thoughts continue to be with all who have been impacted by this tragedy. We will monitor this process and stay in close contact with Stewart-Haas Racing.
"It would be inappropriate for NASCAR to comment on this case so we will continue to respect the process and authorities involved."
RELATED:
Criminal charge possible for Tony Stewart in fatal crash
Investigators focus on lighting, track in Stewart crash