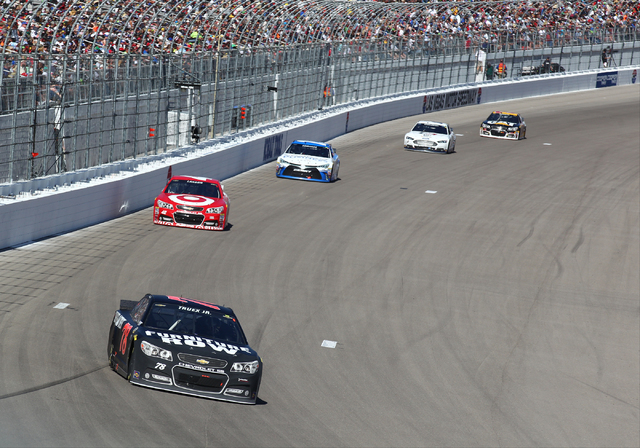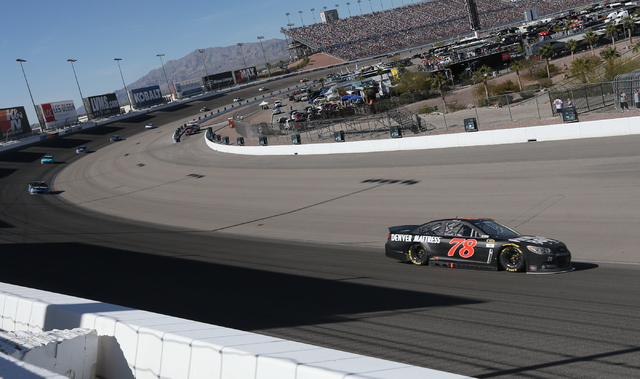 In a city that has seen its fair share of successful one-man shows, Martin Truex Jr. turned in an impressive solo performance Sunday in the NASCAR Sprint Cup Series Kobalt 400.
The only driver for the single-car Furniture Row Racing No. 78 Chevy team, Truex, a 40-1 long shot to win the race, led for three laps before settling for second place behind winner Kevin Harvick, the reigning Sprint Cup champion who was the favorite to take the checkered flag.
It was the third straight top-10 finish to start the season for Truex, who is fourth in points after placing eighth in the Daytona 500 and sixth in Atlanta.
"Just had another solid day. No mistakes, no bad luck, fast racecar," said Truex, who finished 1.6 seconds behind Harvick. "Got a lot of momentum on our side right now, and hopefully we can keep building on that, build some more momentum, and hopefully be able to catch that 4 car in a couple of weeks."
Truex, 34, is coming off one of the most trying years of his life. He struggled to a career-worst 24th-place finish in the standings in his first season for Denver-based Furniture Row Racing — the only Sprint Cup team located outside of North Carolina. During his slide behind the wheel, he and his longtime girlfriend, Sherry Pollex, received devastating news in August when she was diagnosed with Stage III ovarian cancer.
Pollex underwent surgery Aug. 15 to remove her appendix, spleen, ovaries, fallopian tubes and part of her stomach. She then had weekly chemotherapy treatments until January and is now cancer-free, though she still has to undergo monthly chemotherapy treatments for another year.
Truex said the harrowing experience changed his perspective on life and racing.
"I think those bad days are not near as bad at the racetrack as you thought they were," he said. "When you get a glimpse of something that could possibly change your life like that in a bad way, it makes you look at things a lot differently.
"Suddenly those bad days at the racetrack weren't so bad. Suddenly they were OK, and I knew that if we just kept working hard, we could get through it all, and certainly I feel like we have now."
A New Jersey native who lives in Mooresville, N.C., with Pollex, Truex comes from a racing family. His father, Martin Truex Sr., is a former race winner on the NASCAR K&N Pro Series East, and his younger brother, Ryan Truex, is a former champion in the series.
Truex Jr. won NASCAR Xfinity Series titles in 2004 and 2005 — when it was named the Busch Series — and has won two Sprint Cup races, in 2007 in Dover (Del.) and in 2013 in Sonoma (Calif.).
After the 2013 season, Truex lost his ride with Michael Waltrip Racing when sponsor NAPA pulled out in the wake of a race-fixing scandal at Richmond (Va.) International Raceway.
He landed on his feet with Furniture Row Racing, taking the ride vacated by Las Vegan Kurt Busch.
The team, which has a technical alliance with Richard Childress Racing, improved at the end of last season — when Truex recorded two consecutive top-10 finishes — and has built on that this year.
"Just getting more experience together, getting more confidence in each other, and really just having a better game plan going into the season is a big part of the reason why the cars are running better," Truex said.
After dealing with the difficulties of last season, Truex is relishing his early-season success.
"Well, at the end of the day, it's just fun. As a competitor, that's what you want," he said.
"We're going to continue to work hard and try to get to that next level. We're going to keep pushing and try to get better and hopefully get in Victory Lane a few times."
Contact reporter Todd Dewey at tdewey@reviewjournal.com or 702-383-0354. Follow him on Twitter: @tdewey33.