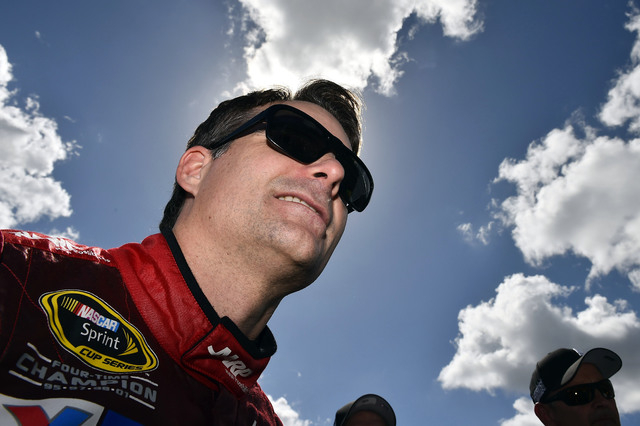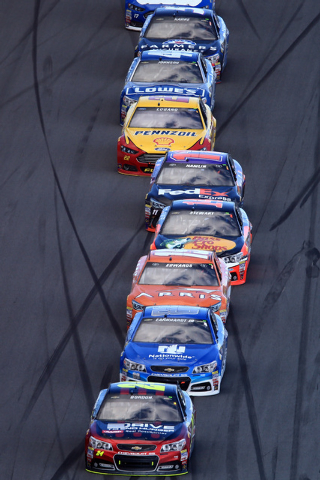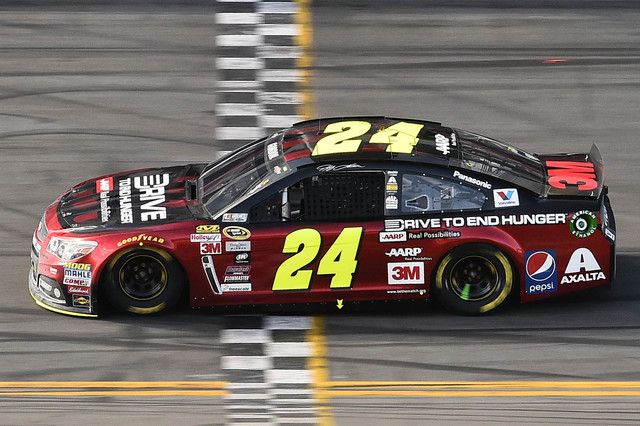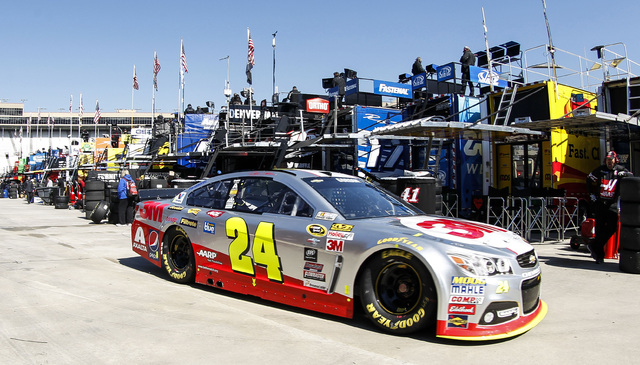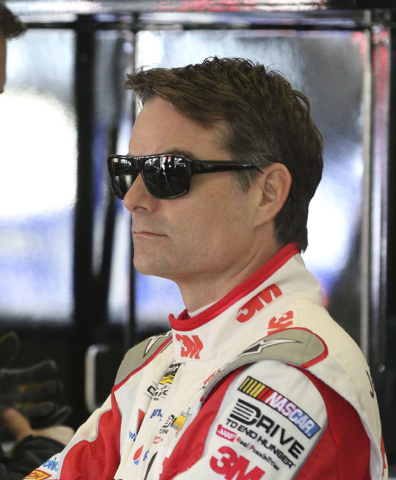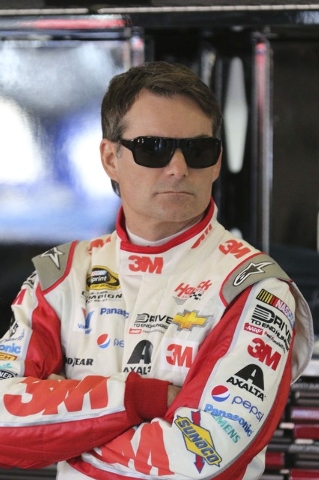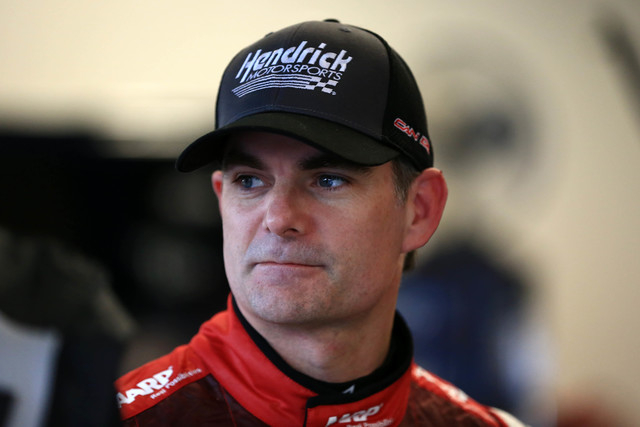 In early 1999 at the height of the Earnhardt-Gordon rivalry, the two central figures sat next to each other in the front row of a promotional NASCAR event in downtown Las Vegas.
They chatted away like old friends, which would have shocked the respective fan bases if they had been there.
The rivalry was always more serious between the fans anyway, the old-schoolers on Dale Earnhardt's side and the NASCAR newbies who favored Jeff Gordon, who was taking the sport out of the comfort zone of the South and introducing it nationwide.
Times were changing, and many longtime NASCAR fans didn't like losing part of their sport to outsiders. But they didn't know Earnhardt not only respected Gordon but also liked the kid.
The Intimidator, in fact, recognized Gordon's talent early, and even told his son — who was driving a Super Late Model car at the time — this was someone to keep an eye on.
"I already knew of Jeff, seen him racing sprint cars on Thursday Night Thunder and all that stuff and heard all about it, and he had a lot of buildup coming into the sport," Dale Earnhardt Jr. said. "But it was interesting for Dad to compliment him because Dad is such a fierce competitor and didn't rarely ever compliment any of his drivers that he raced against."
Even many hardened Earnhardt fans eventually came around on Gordon, particularly after the elder Earnhardt died in the 2001 Daytona 500. The drivers' shared respect and friendship became public, and Junior becoming Hendrick Motorsports teammates with Gordon in 2008 also helped fans gain a new appreciation for Gordon.
When Gordon, 43, announced in January this would be his final Sprint Cup Series season — meaning Sunday's Kobalt 400 will be his final race at Las Vegas Motor Speedway — drivers and fans throughout the country took to social media to express their gratitude.
"It's been an overwhelming experience," Gordon said. "I've had the mindset of the decision coming for a long time, so it's not like it was new to me. But when you finally make it public and then you get the reaction back, and the reactions that I saw were really humbling, and it's very cool to see people that you compete against especially, say those kind of things about you. Or maybe even fans that aren't necessarily fans of yours."
Even those who still don't like Gordon can't deny his contributions to the sport.
His four Cup championships rank fourth-highest, behind Earnhardt and Richard Petty with seven apiece and Jimmie Johnson with six.
His 92 victories are third, behind Petty's 200 and David Pearson's 105.
Even more important was what Gordon did to expand the sport's reaches beyond the South. He grew up in Vallejo, Calif., and moved to Pittsboro, Ind., in 1986 to race sprint cars.
Gordon's future appeared to be in open wheel, but when opportunities didn't come his way, he gave stock cars a look. Breaking in with NASCAR and then becoming a champion driver showed youngsters all over the country they could succeed in an organization that had been dominated by good 'ol boys.
"He was definitely an inspiration for me and opened the door for Tony Stewart to come in," said Johnson, who is from El Cajon, Calif. "Tony opened the door up further (for) myself, (Kasey) Kahne, Ricky Stenhouse, Kyle Larson. It's because Jeff plowed that road for us."
Johnson credited Gordon for helping him join Hendrick in 2001.
"He believed in me and was willing to put his own money down to start the 48 team and give me my shot," Johnson said. "He kind of picked me out of the crowd and said, 'That's the guy I want to put in a racecar.' "
Gordon's ability to see beyond the track also impressed Johnson. Corporate America began to invest more heavily in NASCAR, and Johnson said Gordon understood how important the business side of the sport was to its future.
In Gordon's first Cup season, 1992, Alan Kulwicki won the championship and received $2.3 million in earnings. Last season's Cup champion, Kevin Harvick, made $12.8 million.
Earnhardt, who knew plenty about marketing, saw that kind of financial windfall coming. His first championship, in 1980, earned him $671,990. In his final full season, a second-place finish in 2000, he made $4.9 million.
And that doesn't include endorsement dollars that also went up thanks largely to the rivalry of the Earnhardt-Gordon fan bases, which drove interest in the sport.
"When you look at this sport, the way that it's shaped, Dale Earnhardt would have never been what he was towards the end of his career if Jeff Gordon hadn't come into the sport," Harvick said. "When you look at the Fortune 500 companies and the things that it brought to Earnhardt because of the attention that Jeff Gordon brought to the sport, it took Earnhardt to another level. And then it was kind of like you had all those new fans that didn't really like Earnhardt.
"Earnhardt was a huge part of the sport, but if you look at the late '90s, early 2000 up until 2001, I mean, if you look at the leap that Earnhardt's career took and his wealth and the sponsors and the things that he had, a lot of that had to do with Jeff Gordon."
NASCAR's popularity has since slid some, but it is considerably stronger than when Gordon entered the sport.
"I look at it as the sport started to become more recognized nationally, maybe even outside the U.S., in the late '90s, and when I was having the majority of my success," Gordon said. "That would have been when a lot of these kids were really getting into racing in a big way instead of saying like when I was a kid, saying I want to be the next Indy 500 winner or I want to race against Rick Mears, A.J. Foyt, these kids started going, no, no, I want to race NASCAR, I want to race against Jeff Gordon.
"So, yeah, I was the top guy at that time when it was all blowing up and being exposed to more people. That's the way I look at it. I don't look at it as I'm the one that made it more visible. I just feel like I was there at the right time and the right place and the right car and the right team."
And now he is less than one season from stepping away and handing NASCAR to another generation, which already was starting to claim the sport.
That generation can thank Gordon, though, like the drivers who were his contemporaries.
He's no longer "Wonder Boy," as Earnhardt called him, and now the legendary veteran is making one big last lap.
"When I came in, I always felt like I was the outsider, that I wasn't accepted, and that I had to do things my way, but also to try to earn that respect," Gordon said. "Honestly, and I tell Jimmie this all the time, when people are criticizing him or not giving him the credit that he fully deserves, I said, 'Man, just be patient. Just be patient. Just stay on that path. You keep doing what you're doing, and it's going to come to you.' "
Contact Mark Anderson at manderson@reviewjournal.com or 702-387-2914. Follow him on Twitter: @markanderson65.