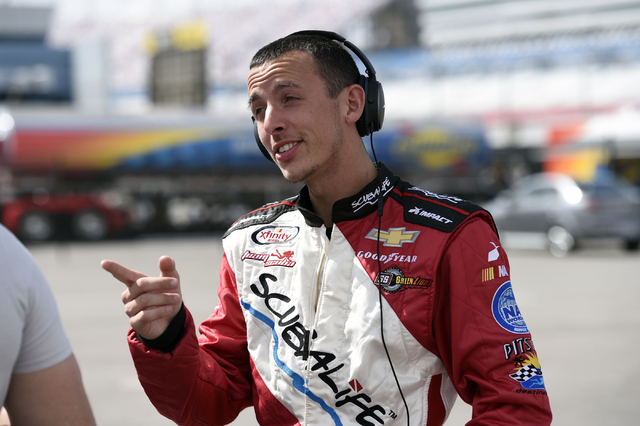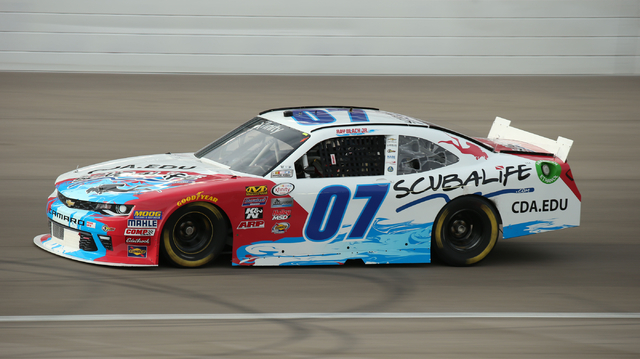 Ray Black Jr. routinely drives cars at speeds topping 175 mph.
And that's not even the most dangerous thing he does on a routine basis.
Black, who will be racing today in the NASCAR Xfinity Series race at Las Vegas Motor Speedway, spends his time away from the sport deep-sea diving.
"I'd say diving is a lot more dangerous just because there's a lot more things that can hurt you underwater, especially if you're just not paying attention or being stupid," Black said. "The racing, obviously it's not 100 percent safe. You might break some bones here and there, but they've pretty much got it so that it's almost perfect."
Barracudas, for example, can rattle his nerves sometimes, as they have a tendency to sneak around.
But Black, 24, has been diving since he was 11 and racing since 14, so by this point, neither seems like a thrill as much as just a part of regular life.
When he's not doing one, he's likely doing the other. And though it may not seem like it on the surface, he said the two activities have a lot in common.
"Just staying calm under pressure and things like that," Black said. "There's a lot of ups and downs in both sports and jobs and the travel thing, obviously if you want to be successful in either sport, you've got to travel. It taught me to grow up. I've matured a lot from diving. … It's benefited me a lot."
Black is in his first season in the Xfinity Series, which consumes most of his time and doesn't allow him to dive as much as he would like to. But he has more than enough ways to keep himself busy when he has time away from the track.
He took over ownership of his father's company, Blacksmith Marine Offshore, and is a commercial diving supervisor and diving instructor at the Commercial Diving Academy Technical Institute, founded by his father, Capt. Ray Black.
Black Jr. is less into teaching, opting for the more hands-on aspect of the job, which includes examining ships, finding out why they sank, patching them up and doing other underwater inspections, among other things.
During the offseason, Black Jr. spent time in St. Kitts, as the CDA is in the process of expanding to a location there for international students.
The new location has already gotten its first group — about 50 students from Nigeria — and instructors are teaching them how to do underwater maintenance and construction.
With a couple of weeks off after NASCAR Goes West wraps up this month, Black Jr. plans to head back there to help out.
In the meantime, his focus is racing.
Black Jr. competed in the NASCAR Camping World Truck Series last year, finishing 11th in the championship standings.
He finished 13th in his Las Vegas Motor Speedway debut in October and enters today's race 26th in the Xfinity standings, hoping to gain momentum heading into the second NASCAR Goes West event.
Aside from Saturday's race, Black Jr. has another item on the agenda for his time in Las Vegas.
Unsurprisingly, it's a thrill-seeking activity.
"I (want) to jump down the Stratosphere, but I don't know how that's going to work out," he said. "It looks like fun, right?"
Betsy Helfand can be reached at bhelfand@reviewjournal.com. Follow on Twitter: @BetsyHelfand