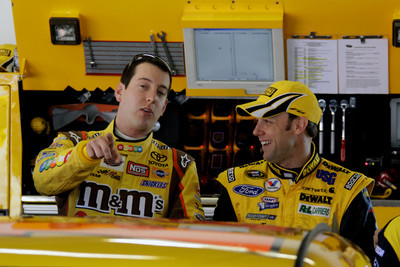 Kyle Busch never has been at a loss for a quip when on television.
He can expand his list of witty comebacks if he's interviewed during coverage of tonight's Budweiser Shootout, a nonpoints NASCAR Sprint Cup invitational race in Daytona Beach, Fla., that serves as a prelude to the season-opening Daytona 500 on Feb. 15.
Busch, 23, might say he feels "really sharp" before the race or that he won "by a whisker."
Say hello to the newest member of the Gillette Young Guns, a group of Cup drivers hired to promote shaving products.
"I haven't gotten any message points yet," Busch said Friday in a telephone interview from Daytona. "It might be kind of funny if I can work those in.
"It usually takes about two weeks for me to have to shave."
Kyle replaces Kurt Busch on the Gillette promotional team. At 30, it would appear older brother no longer falls under the "young" category — even though Gillette kept the 31-year-old Ryan Newman on the team.
"He's the funny man in the commercials," Kyle explained about Newman, the reigning Daytona 500 champion.
Both Busches are among the 28 drivers who will start the revamped Shootout at 5 p.m. PST today.
Each automaker in the Cup series has seven entries in the race. In the past, the field was set by pole winners from the previous season, or former Shootout winners.
Kyle Busch will start 10th in the race following a blind draw Thursday night. Paul Menard will be on the pole, followed by Elliott Sadler, Reed Sorenson, Scott Speed and Denny Hamlin.
Kurt Busch will start 12th.
Kyle Busch would have qualified under the old format after winning two Cup poles last year, including the one at Las Vegas Motor Speedway, where he went on to finish 11th in the Sprint Cup race. He was fastest in Friday's first Shootout practice in his Joe Gibbs Racing No. 18 Toyota.
He already has won a NASCAR race this year — albeit, a 200-lap Super Late Models regional race on Jan. 25 in Braselton, Ga.
"It was a wake-up for the year to get back in the realm of things and putting a helmet back on," he said
Busch is eager for the Shootout and the real season to begin eight days later with the 500.
Last year, Busch recorded a career-best eight Cup victories.
He set a NASCAR record for most wins in its three national series by adding 10 wins in the Nationwide Series and three in the trucks series.
But mechanical problems led to disappointing finishes of 34th, 43rd and 28th to open the 10-race Chase.
After entering the playoff as the series points leader, Busch fell to 12th with eight races left and finished the season ranked 10th.
"The first 26 races last year were great. We ran real strong," he said. "We had those mechanical problems, and the rest were decent, not great. We need to get better."
If Busch does, his nicknames of "Rowdy" and "Shrub" might change to "Blade Runner."
Contact reporter Jeff Wolf at jwolf@reviewjournal.com or 702-383-0247.