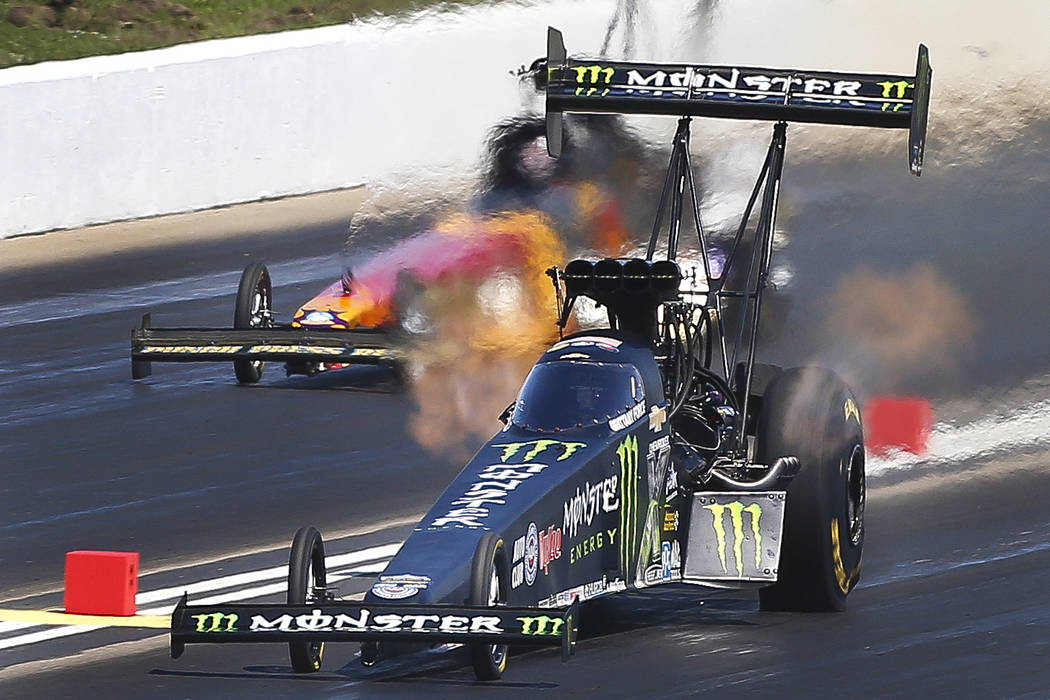 A decade ago when Speedway Motorsports chairman Bruton Smith and son Marcus hatched the idea for four-wide drag racing at Charlotte Motor Speedway, the former referred to it as the "Bellagio" of dragstrips.
It was the first of its kind. But now there is going to be another four-lane launching pad for NHRA dragsters and Funny Cars and Pro Stock machines in the Bellagio's very shadow at Las Vegas Motor Speedway.
"Are they really doing it? That's exciting," two-time reigning Top Fuel champion Antron Brown said Wednesday from his adopted hometown of Indianapolis, where the Don Schumacher Racing team was testing for the upcoming U.S. Nationals.
The Strip at LVMS will be transformed from the traditional two lanes to the radical four in time for next spring's DENSO Nationals. Speedway officials said response to the project on social media was swift and overwhelmingly positive.
NHRA drivers and teams had mixed emotions when zMAX Dragway in Charlotte was announced. But Brown, for one, loves the challenges that four-lane drag racing offers.
It'll be side-by-side-by-side-by-side during some rounds, and it'll be thrilling for fans, he said.
"It adds something different from what we normally do," said the 41-year-old three-time Top Fuel champion and a five-time four-wide winner at Charlotte who is leading the points again this season. "Four Nitro cars running at the same time is going to produce the loudest rumble Las Vegas has ever heard."
Brown said sometimes the fast cars can practically take an early round off, depending on the competition. Not so after the first round at a four-wide meet. Now instead of having to beat one fast car, you have to beat three.
"There's a different train of thought for how you have to race it," he said.
The four-lane layout also is expected to provide a shot in the arm for attendance at the LVMS spring race. While crowds have remained steady they're not as substantial as at the fall race, the next-to-last stop in the NHRA's Countdown to the Championship.
On a mission from NASCAR
Question: If it were 106 miles to Chicagoland Speedway, and I had a full tank of gas, a half a pack of cigarettes, it was dark and I was wearing dark sunglasses, which NASCAR driver would I want behind the wheel?
Answer: Kyle Busch of Las Vegas. Despite Dale Earnhardt Jr. saying this week the Rowdy One, fresh off his second sweep of Truck, Xfinity and Cup Series races at Bristol, Tennessee, needs to win a few more championships to be considered truly great.
Q: And if those ornery Good Ol' Boys were lookin' for trouble, who in NASCAR would be best equipped to apply a dollop of Gorilla Glue to the gas pedal of their honkin' RV to cause a multi-car pileup of Illinois state troopers on the Stevenson Expressway?
A: Brad Keselowski. Or Swifty, the foul-mouthed kid from Brewster Baker's pit crew in "Six Pack."
Fast women chat on TV
NASCAR pit road reporter Jamie Little of Las Vegas was proud to be invited to the "Women in Wheels" round table discussion (on tall chairs) that aired Wednesday on Fox Sports 1.
"It was truly inspiring to be a guest," she said in a text message. "To have the head engineer for Chevrolet Alba Colon there, and (team co-owner) Kelly Earnhardt and Hailie Deegan, the 16-year-old off-road champion and newly named NASCAR Next member, it was incredible to hear their stories.
"We all share so much the same drive, passion, won't-take-no-as-an-answer attitude, as well as a love of racing. It's a small club we're in, but we're proof that it's growing."
Inspiring day on the job. #WomenInWheels show with these amazing women (& AA!). It airs tonight 6 ET @FS1 #RaceHub pic.twitter.com/8RWfKemt7B

— Jamie Little (@JamieLittleTV) August 23, 2017
Bullring back in business
It's back to school and back to passing on the low and high sides as racing returns to the Las Vegas Motor Speedway Bullring this weekend following the standard seven-week summer respite from the heat.
Spectator gates open at 5 p.m. Saturday with opening ceremonies at 6:50 p.m. followed by lots of passing on the low and high sides.
Call LVMS (702-644-4444) for a discount on admission and other Bullring information.
Contact Ron Kantowski at rkantowski@reviewjournal.com or 702-383-0352. Follow @ronkantowski on Twitter.
Schedules
NASCAR Monster Cup
What: No race this weekend.
Last race: Kyle Busch won for the 40th time in the series and the sixth time at Bristol.
Next race: Bojangles' Southern 500, Sept. 3, Darlington Raceway, Darlington, S.C.
NASCAR Xfinity
What: Johnsonville 180.
When: Saturday, practice, 11 a.m., 1 p.m. (NBCSN). Sunday, qualifying, 8:45 a.m. (CNBC), race, noon (KSNV-3).
Where: Road America (circuit, 4.05 miles), Elkhart Lake, Wis.
Distance: 182.16 miles (45 laps).
Last year: Michael McDowell won the only race of his NASCAR career.
Last race: Kyle Busch won Bristol from the pole.
Next race: Sport Clips Haircuts VFW 200, Sept. 2, Darlington Raceway.
NASCAR Camping World Truck
What: No race this weekend.
Last race: Kyle Busch won the race as part of a weekend NASCAR sweep, the second of his career.
Next race: Chevrolet Silverado 250, Sept. 3, Canadian Tire Motorsport Park, Bowmanville, Ontario.
IndyCar
What: Bommarito Automotive Group 500.
When: Friday, practice, 2 p.m., qualifying, 4:30 p.m. (NBCSN), practice, 7 p.m. Saturday, race, 6:45 p.m. (NBCSN).
Where: Gateway Motorsports Park (oval, 1.25 miles), Madison, Ill.
Distance: 310 miles (248 laps).
Last race: Will Power held off Josef Newgarden in Pocono.
Next race: Grand Prix at The Glen, Sept. 3, Watkins Glen International, Watkins Glen, N.Y.
Formula One
What: Belgian Grand Prix.
When: Saturday, qualifying, 5 a.m. Sunday, race, 5 a.m. (NBCSN).
Where: Circuit De Spa-Francorchamps (circuit, 4.35 miles), Francorchamps, Belgium.
Distance: 191.4 miles (44 laps).
Last year: Nico Rosberg snapped Lewis Hamilton's four-race win streak.
Last race: Sebastian Vettel took first in Hungary.
Next race: Italian Grand Prix, Sept. 3, Monza National Autodrome, Monza, Italy.
NHRA
What: No race this weekend.
Last race: Leah Pritchett (Top Fuel), Alexis DeJoria (Funny Car), Tanner Gray (Pro Stock) and Jerry Savoie (Pro Stock Motorcycle) won in Minnesota.
Next race: Chevrolet Performance U.S. Nationals, Sept. 4, Indianapolis.