NHRA loses humble trailblazer
October 5, 2007 - 9:00 pm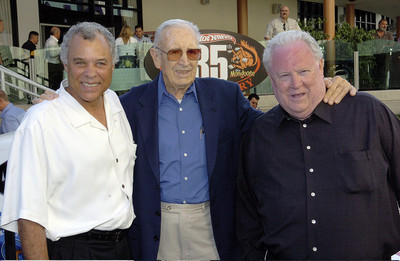 Wally Parks never received the level of recognition he deserved for organizing a renegade group of hot rodders and transforming their passion for speed into a legitimate motor sport that spawned a billion-dollar industry.
The father of drag racing was 94 when he died on Sept. 28.
Parks never sought recognition for himself but always did for the sport he helped legitimize.
He was a trailblazer, and a fast one at that.
His large footprints remain in the Southern Nevada desert, where he and Las Vegas Motor Speedway developer Richie Clyne in 1994 envisioned building the country's finest quarter-mile facility.
Clyne, who created the concept for the speedway complex as one of its original owners, detailed in a September 2004 interview with the Review-Journal how instrumental Parks was in getting the dragstrip built and helping land an NHRA pro event once the dragstrip was completed in 2000.
"Wally was the key person before we broke ground," Clyne recalled. "He said we're going to have a major dragstrip in this town.
"Wally spent lots of time with me. He walked that desert through the cactus and sagebrush with his 100-foot tape, and he was in his early 80s then.
"We did it over and over and over until he found the right spot. I have the utmost respect for that man, and he never took a nickel from me."
Parks won every major motor sports award for his contributions to racing as founder of the National Hot Rod Association in 1951 when he was editor of Hot Rod magazine. But not enough folks outside drag racing know of his role in not just starting what has become the country's biggest racing organization but for what it has done to make public streets safer.
The late Bill France started NASCAR in 1948, three years before Parks push-started the NHRA.
The deaths of France 15 years ago and his heir Bill France Jr. in June were major stories, although the stock-car racing organization has nowhere near the number or participants and members as does the NHRA, which from Day One promoted safety for racers and fans and fought illegal street racing.
Parks understood the tributes to the Frances and applauded their contributions, but Parks' contributions to society's greater good far surpasses those of the Frances.
From the West Coast, Parks worked eastward to organize hot rodders, which included many World War II veterans with mechanical skills and derring-do approach to life. Parks helped find safe locations for side-by-side racing.
He rallied law enforcement support to secure suitable patches of pavement for drag racing with rules and safety criteria.
Parks powered drag racing into the main stream, and a byproduct has been a high-performance parts industry that has produced scores of multimillion dollar companies.
NASCAR, which traces its origins to illegal moonshine running in the South, was formed as a promoter's tool and formed as a dictatorship. However, Parks' membership-driven NHRA was created as a safe, controlled means for those who wanted to drag race and a vehicle to help organize and grow drag racing nationally.
When the NHRA tour makes its second stop of the year at Las Vegas next week, spectators certainly will be shown a tribute to Parks on the big-screen monitor near the starting line.
When the pros raced at the speedway in April, that screen shared memories of the late Eric Medlen, who died at 33 a few days after a Funny Car testing accident in late March.
Not all the good ones die young.
When you walk from the LVMS parking lot to the dragstrip pit area you cross Wally Parks Lane. Stop for a moment next weekend, bow your head and remember the man who made this great sport possible.
Jeff Wolf's motor sports column is published Friday. He can be reached at 383-0247 or jwolf@reviewjournal.com.
JEFF WOLFMORE COLUMNS