Antron Brown does it again in Las Vegas
Updated April 3, 2017 - 1:19 am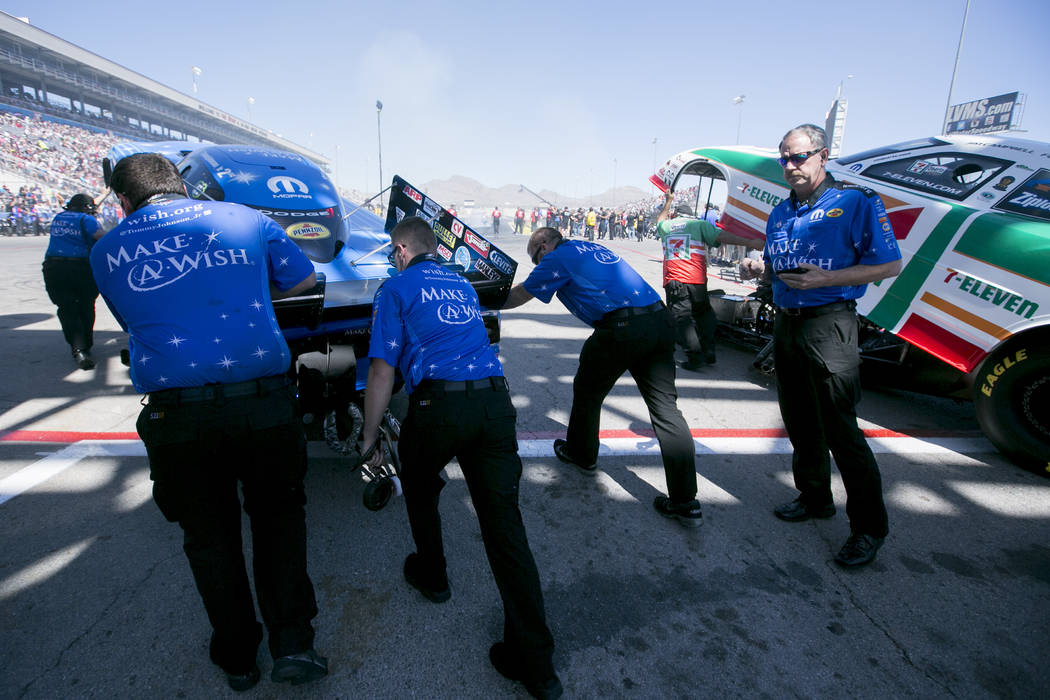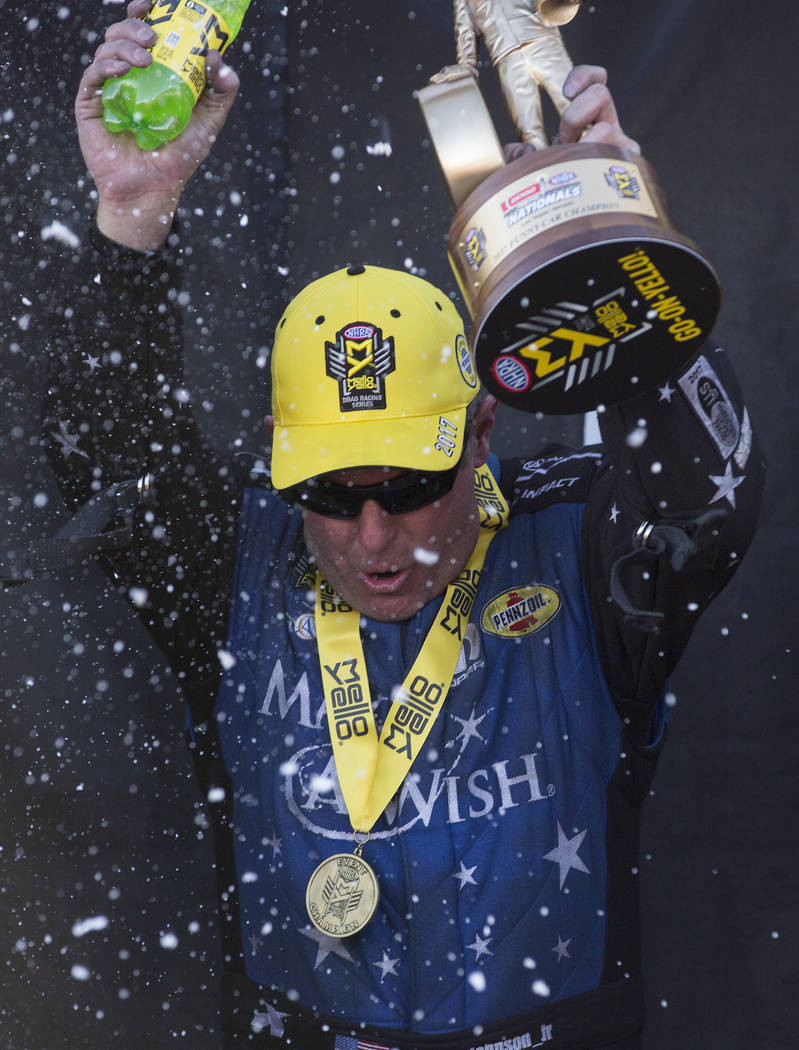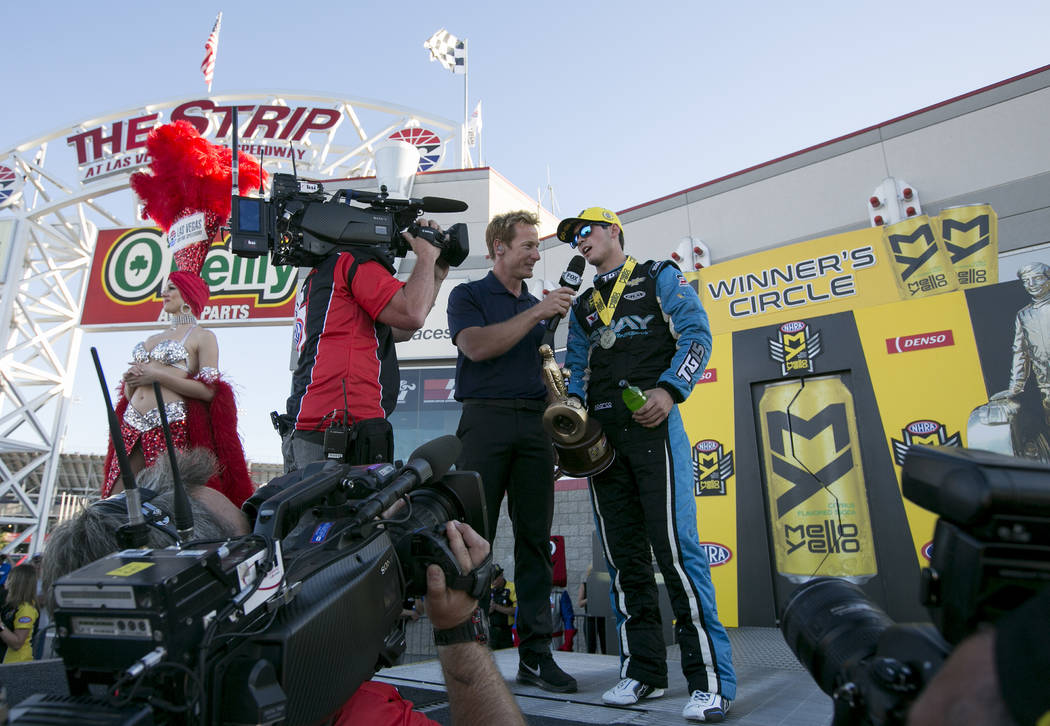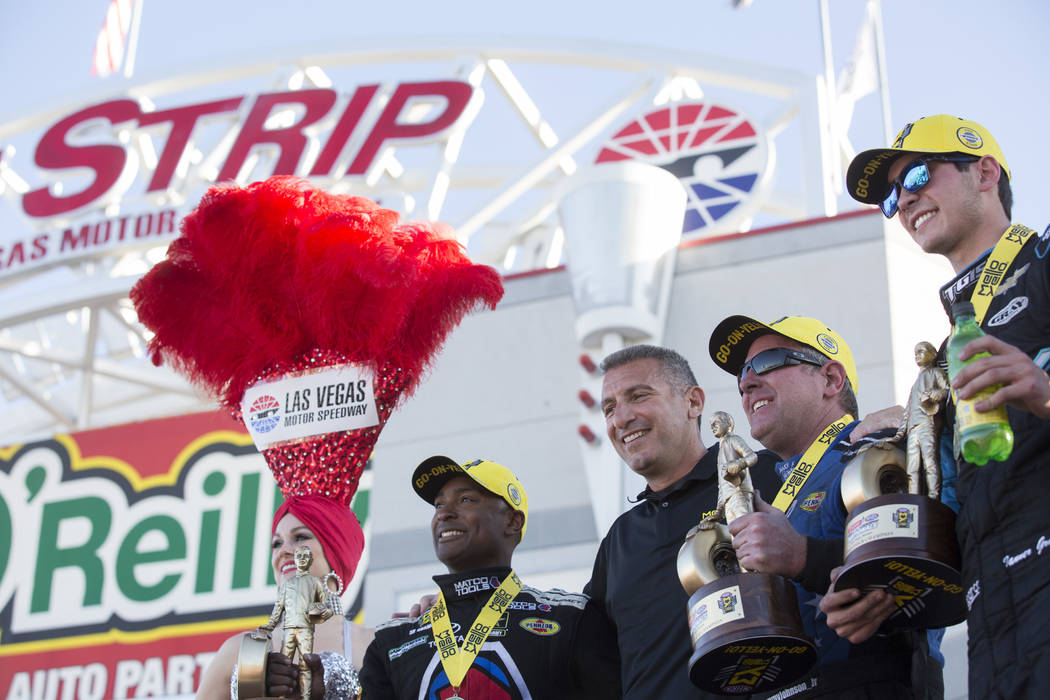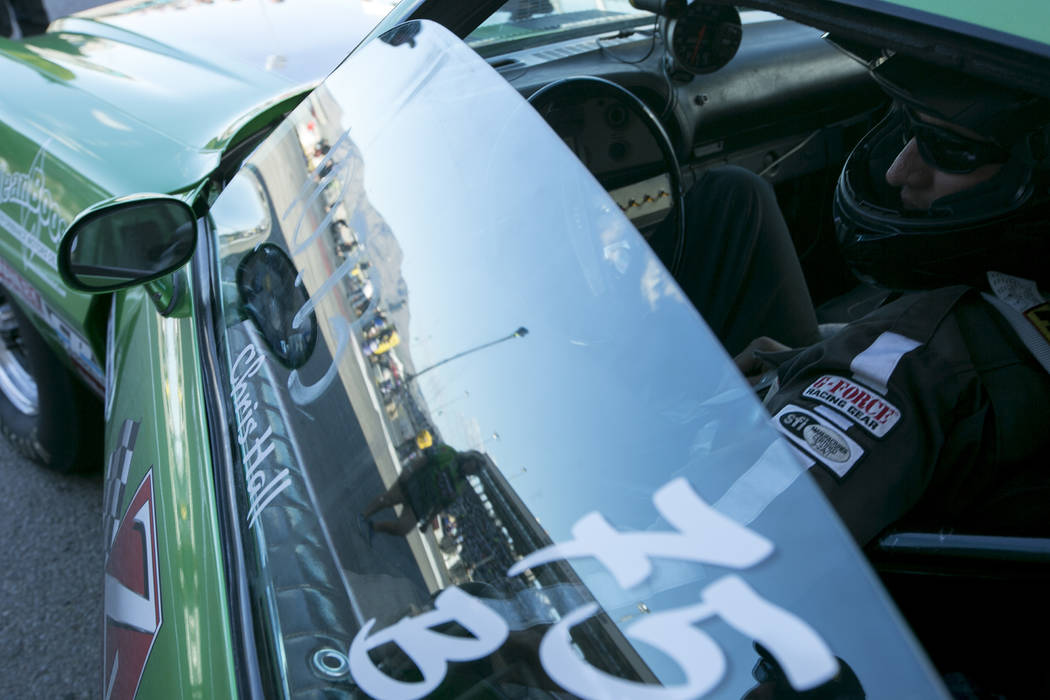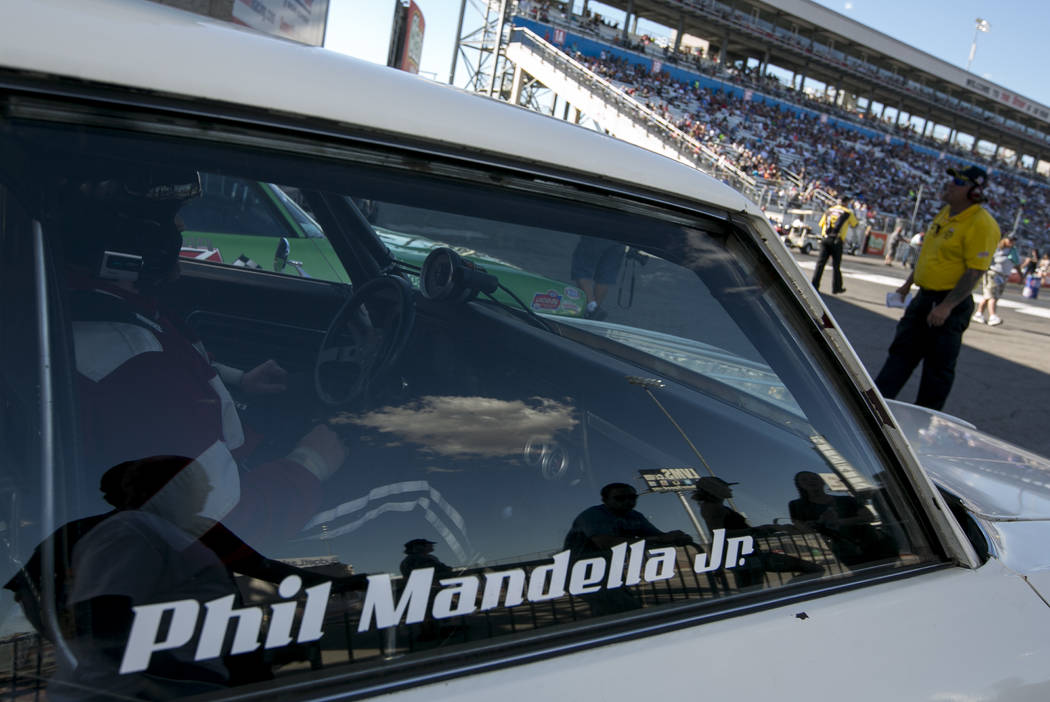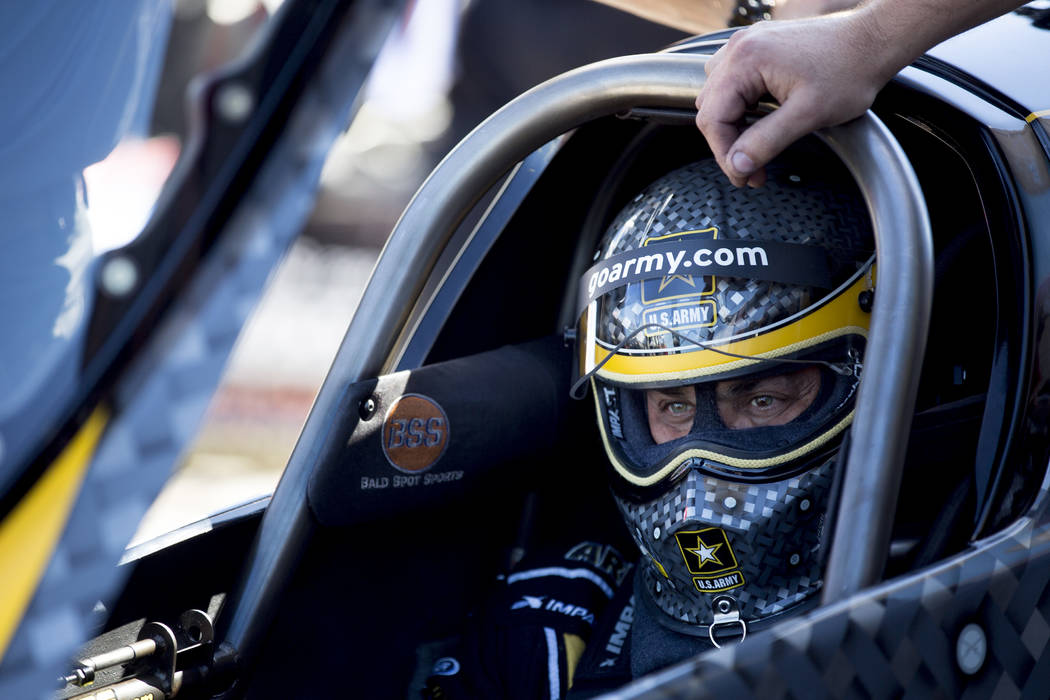 It was Opening Day of the baseball season, and Antron Brown went 4-for-4.
The 41-year-old Top Fuel champion continued his mastery of Las Vegas Motor Speedway. Brown defeated teammate Tony Schumacher in the DENSO Spark Plugs NHRA Nationals on a sun-splashed day during which youth was served in two of hot rod racing's three pro classes.
In his past four outings at The Strip, Brown has clinched the 2015 Top Fuel championship during the fall race, won the 2016 spring race, clinched the 2016 championship during the fall race, won the 2017 spring race.
If he was with the Yankees, he'd be batting cleanup.
"When I think about Vegas, it's like coming home," said the three-time series champion after earning his 46th Top Fuel victory and first of 2017 while providing car owner Don Schumacher with his 300th career win.
"It seems like big things happen here. Vegas has been a turning point at the beginning of the season for us, and obviously when we come back for the Toyota Nationals in the fall, the focus is on winning championships. And we've been fortunate to clinch here two years in a row."
The native of rural New Jersey posted the eighth-fastest qualifying time but stormed through the bracket in the manner of South Carolina during March Madness. He defeated Scott Palmer, top qualifier Steve Torrence and teammate (and points leader) Leah Pritchett before outlasting Schumacher, an eight-time series champion.
Brown's winning time was 3.747 seconds at 321.04 mph to The Sarge's 3.809 at 325.14.
"The weekend didn't start out great for us," Brown said after pulling to within six wins of third-place Joe Amato on the Top Fuel career list, and notching a victory for the 10th consecutive season. "This track was tricky during qualifying, and we just kept creeping up on it.
"Today, man, it was tough battles. When you race two of your teammates, you know you've got a fight on your hands."
FUNNY CAR
Tommy Johnson Jr. notched his first victory at The Strip since 2001 by outrunning Swedish rookie Jonnie Lindberg.
"When the weather changed, a little warmer racetrack, it kind of came to everybody," said Johnson, who sped down the quarter-mile with an elapsed time of 3.933 at 323.66 mph to Lindberg's 4.016 at 302.14. "We made the appropriate changes we normally would with the car and we just went right down the racetrack."
Despite failing to break through for the win, Lindberg's career is off to a flying start. His stat line now reads: two races, two runner-up finishes. In the last race before Las Vegas, the 27-year-old from Stockholm also made it to the final round in Gainesville, Florida, where he was defeated by the legend John Force.
PRO STOCK
Youth also was served — as it has never been served before — in the Pro Stock final. Tanner Gray, 17, become the youngest winner in NHRA history by edging Bo Butner, who also was seeking his first NHRA pro class win.
"It's very indescribable, " said Gray, a New Mexico-born third-generation driver who added his name to those of his father, Shane, and grandfather, Johnny, in the Gray area of NHRA race winners. "They just said they were proud of me. I told them 'thank you for everything,' that I definitely wouldn't be here without them."
The victory came in the teenager's fourth start. His winning time was 6.681 at 206.61 mph to Butner's 6.678 at 206.76.
Contact Ron Kantowski at rkantowski@reviewjournal.com or 702-383-0352. Follow @ronkantowski on Twitter.
NHRA WINNERS
Pro class winners at Sunday's DENSO Spark Plugs NHRA Nationals at The Strip at Las Vegas Motor Speedway:
Top Fuel: Antron Brown, Pittsboro, Indiana
Funny Car: Tommy Johnson Jr., Avon, Indiana
Pro Stock: Tanner Gray, Mooresville, North Carolina