LVMS ready to rumble with four-wide NHRA event
Updated April 5, 2018 - 7:13 pm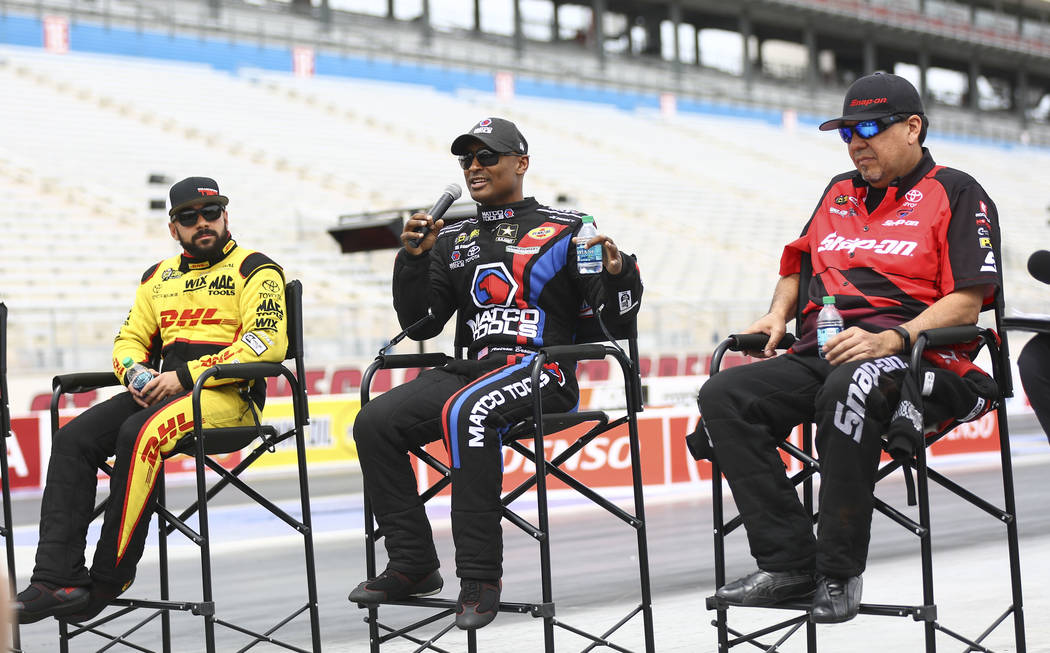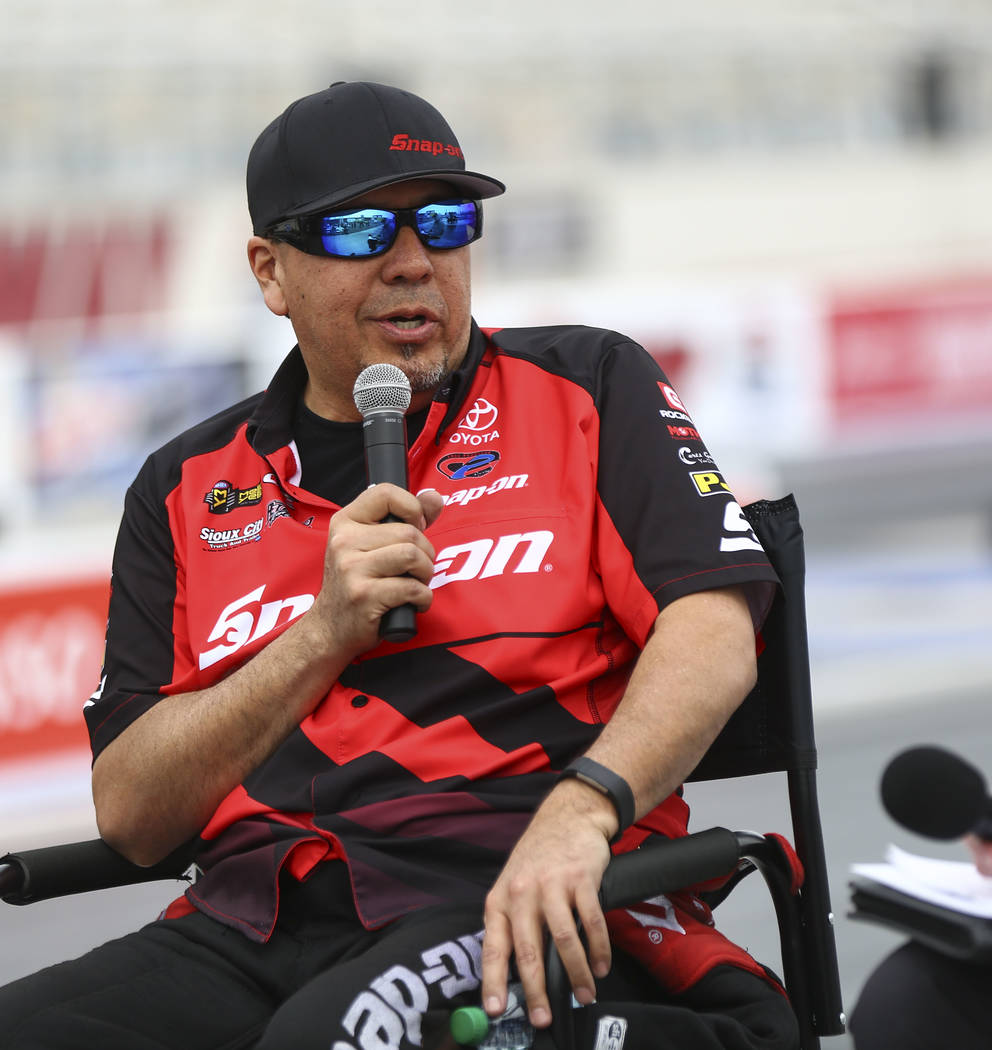 In addition to being a three-time NHRA Top Fuel champion, Antron Brown is considered a 10,000 rpm quote machine.
He was ready with high-octane analogies during Thursday's news conference introducing four-wide drag racing at The Strip at Las Vegas Motor Speedway.
"When you line up, you're going into this coliseum-type atmosphere," said the 42-year-old veteran who will be trying to win this weekend's DENSO Spark Plugs NHRA Four-Wide Nationals for the first time after winning the past two years on the old two-lane layout.
"This is like going to Wrestlemania. You want to be the last one standing at the end of the racetrack."
In keeping with those themes, the Don Schumacher Racing driver has been more lion than Christian, and Hulk Hogan and John Cena rolled into one when it comes to racing in Las Vegas.
Just call him Antron The Giant.
Brown clinched the 2015 Top Fuel championship during the fall race at LVMS, won the 2016 spring race, clinched the 2016 title during the fall race, won the 2017 spring race.
But he said all bets — or at least some bets — are off on four lanes, though he also has won twice on the only other four-wide track on the circuit, at LVMS' sister track at Charlotte Motor Speedway.
"You've got four lanes, you've got competitors all around you. When you line up, you don't know what you're going to get," said Brown, who trails Steve Torrence by seven points atop the Top Fuel standings after three of 24 races.
"You've got to be poised like a cat and be ready to pounce. If you don't — this is one of those races if you're last off the line, you might as well just shut it down."
The widening of the track began shortly after last fall's race at LVMS. The retaining wall on the left side is the only thing that remains from the two-lane strip.
"This was a tremendous undertaking," LVMS president Chris Powell said before Brown and Top Fuel rival Richie Crampton joined Funny Car drivers J.R. Todd and Cruz Pedregon in performing a four-wide ceremonial burnout.
"This four-wide situation has been planned for a long, long time because of the vision of Bruton Smith, our founder and chairman of Speedway Motorsports — you might even notice the (welcoming) archway is centered over four lanes as opposed to the first two lanes we built."
Powell said another thing worth noticing is the demand for tickets. It is way up. Usually the spring LVMS race lags behind the fall one in attendance, but Powell said that might not be the case with the advent of four-wide racing.
"We've never had the kind of advance sales that we are experiencing for this weekend," he said.
"We think the fans are curious; they certainly want to see what four-wide racing is all about. And in addition to seeing it, they probably also want to hear it, just to see how many decibels we can get up to."
As they say in the boxing world, LVMS is ready to rumble like never before.
"I'm sure we'll shake some ground around here on Friday, Saturday and Sunday," Powell said.
Contact Ron Kantowski at rkantowski@reviewjournal.com or 702-383-0352. Follow @ronkantowski on Twitter.
Four-wide on The Strip
A look at the nuances of NHRA four-wide drag racing, which debuts at Las Vegas Motor Speedway this weekend:
— Qualifying: Drivers with the fewest championship points will be first to run, with the top four in points the last to run in each category.
— Scoreboards: The left scoreboard will represent lanes 1 and 2; the right scoreboard lanes 3 and 4. As the cars cross the finish line, the elapsed time will come up first, then the display will change to the MPH for all four lanes in rotation.
— Starting system: Because The Strip is essentially two tracks built side by side with a center wall dividing the two, each track will have the standard NHRA Christmas tree.
— Final eliminations: The top two finishers in each four-wide pairing advance to the next round. In the four-car final round, the cars will be scored in the order they cross the finish line.
NHRA Four-Wide Nationals
Friday
— Pro Stock qualifying, 12:30, 3:30 p.m.
—Nitro (Top Fuel, Funny Car) qualifying, 1, 4 p.m.
Saturday
— Pro stock qualifying, 12:10, 2:45 p.m.
— Nitro qualifying, 12:30, 3 p.m.
Sunday
— Final eliminations, noon
— Tickets: LVMS.com.
— TV: Fox Sports 1 (Friday, 4 p.m; Sunday, 8:30 a.m., 3 p.m.)