NHRA drivers bask in four-lane format in Las Vegas
Updated April 6, 2018 - 7:47 pm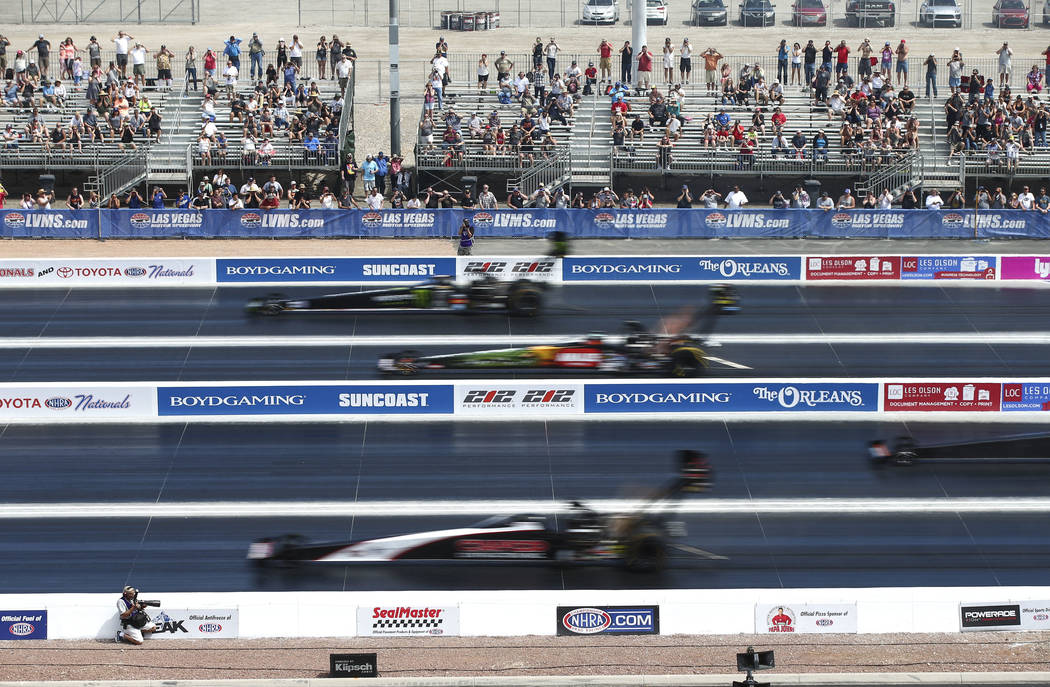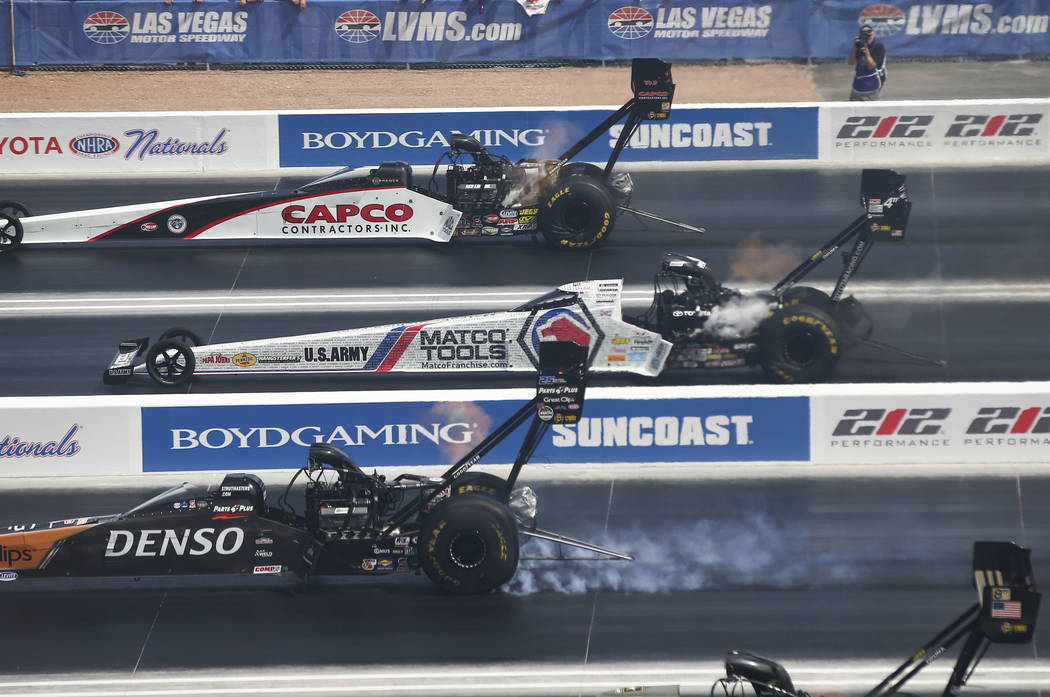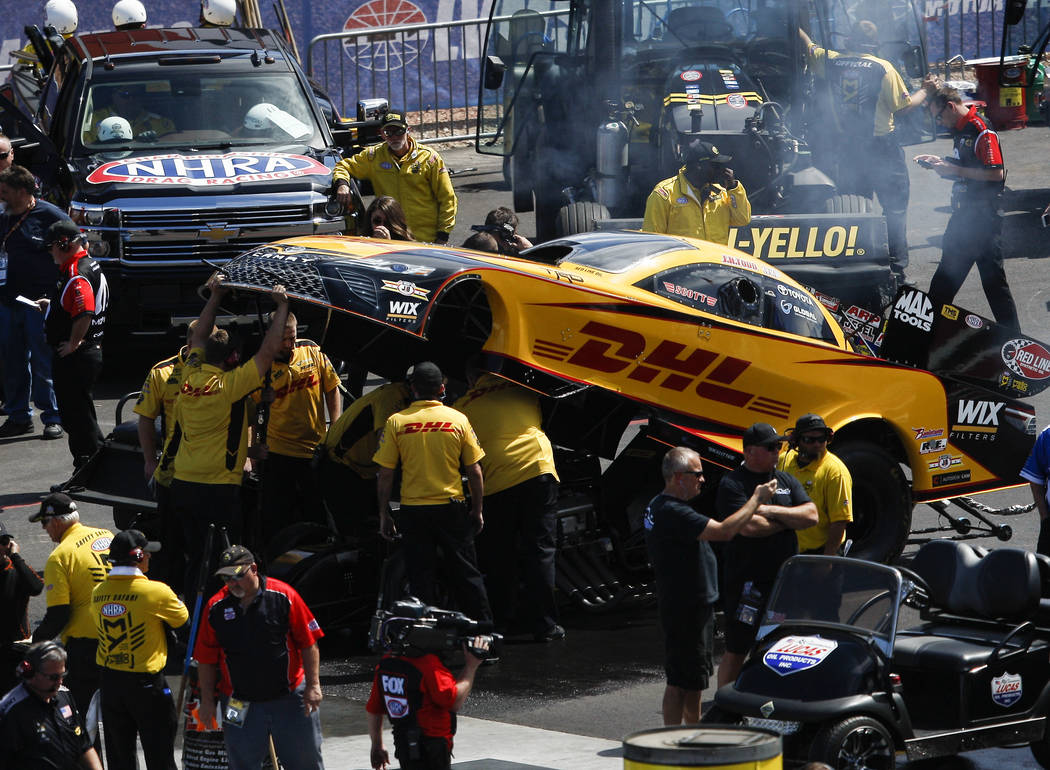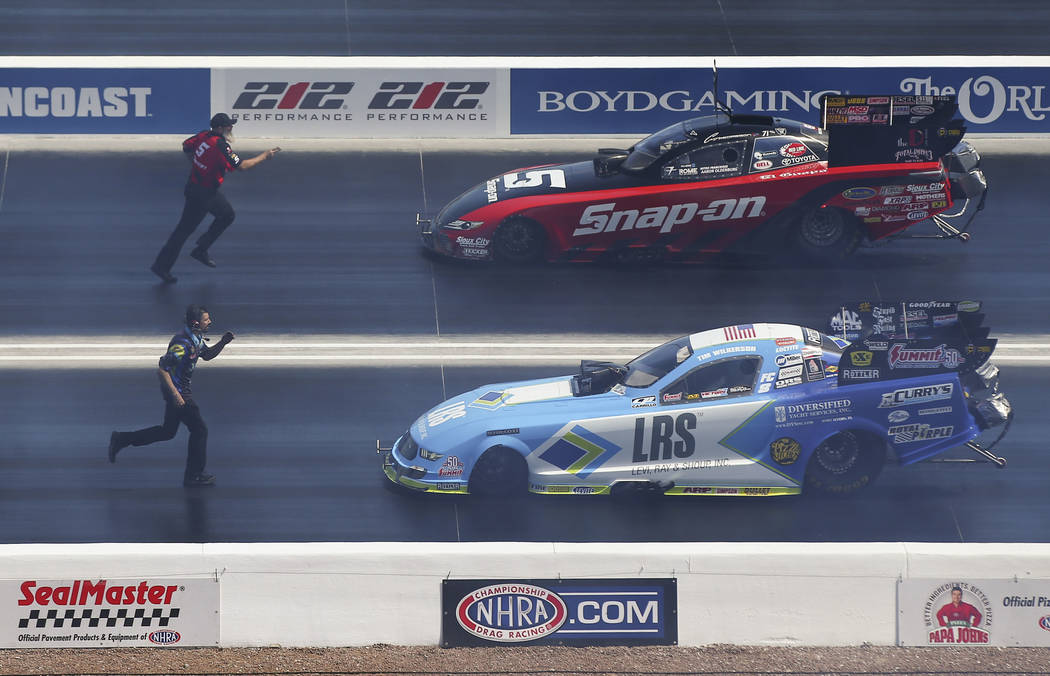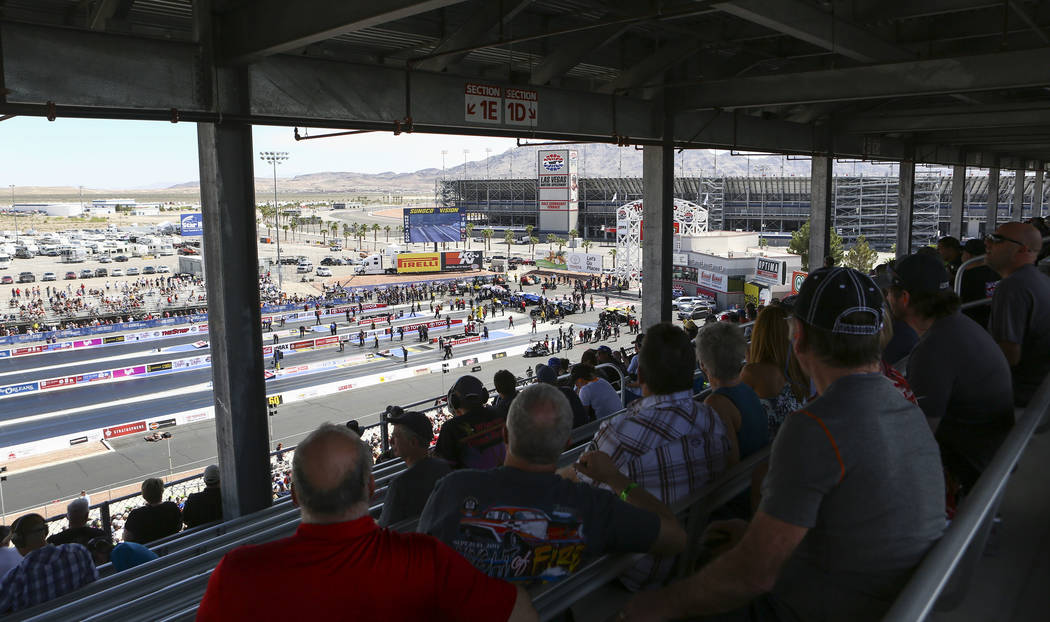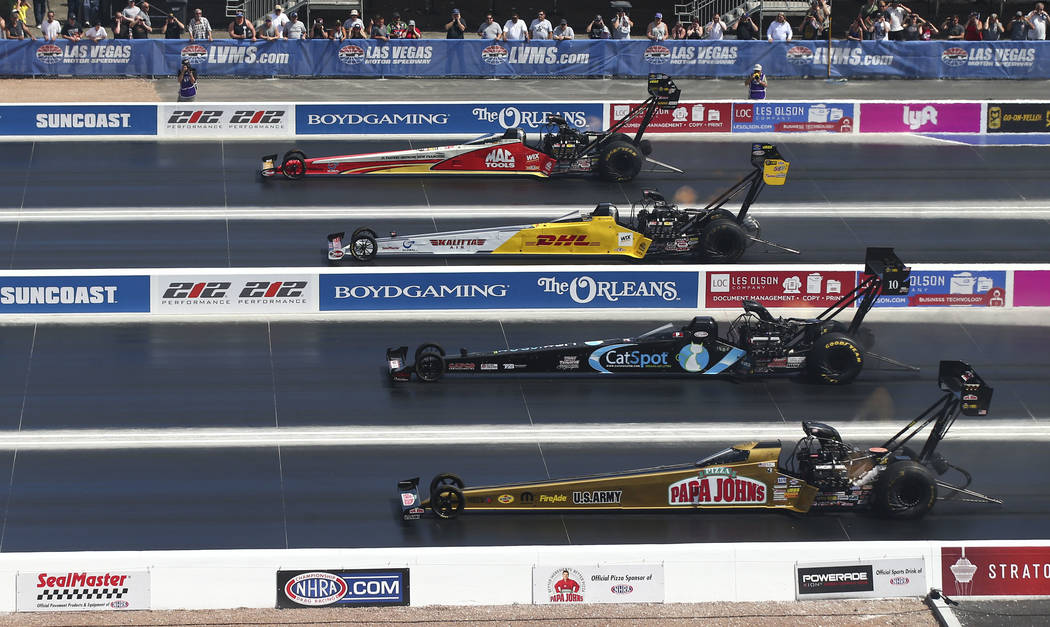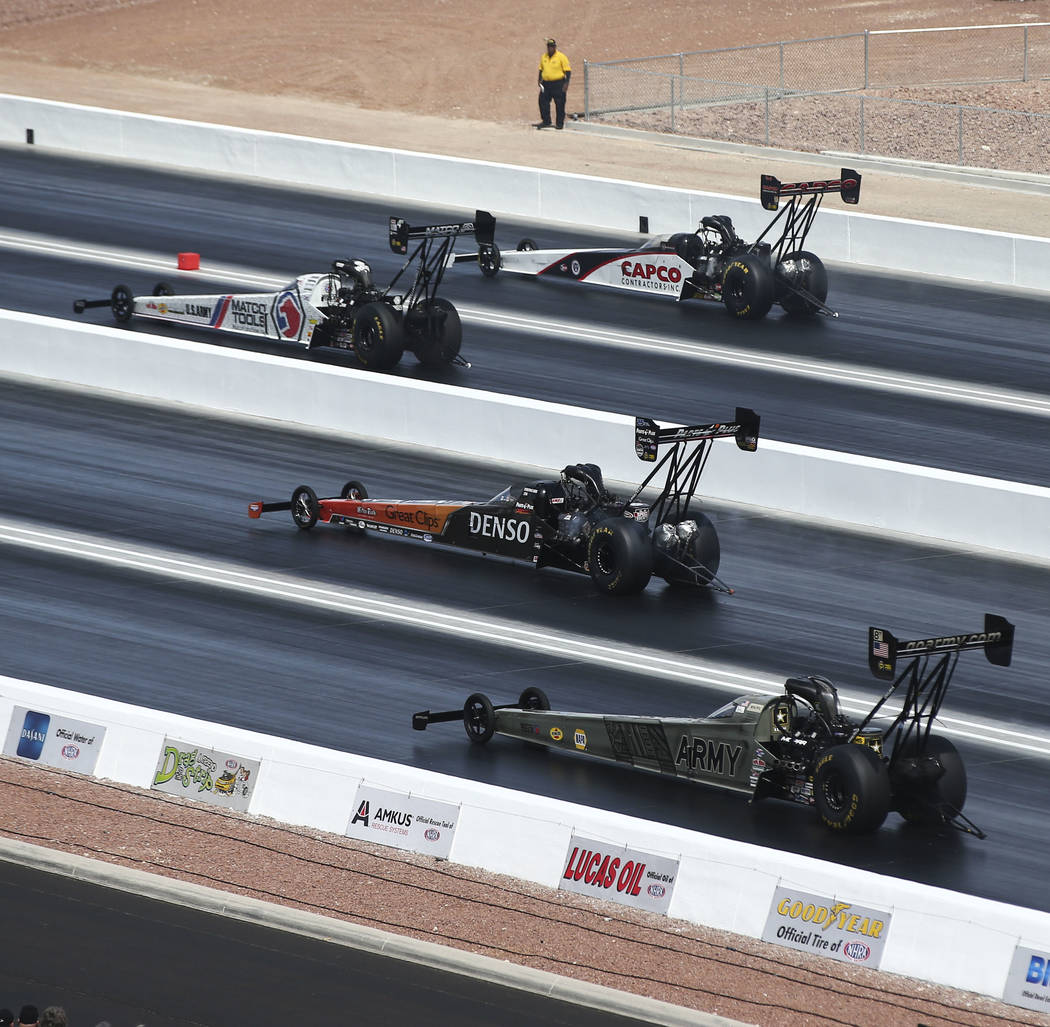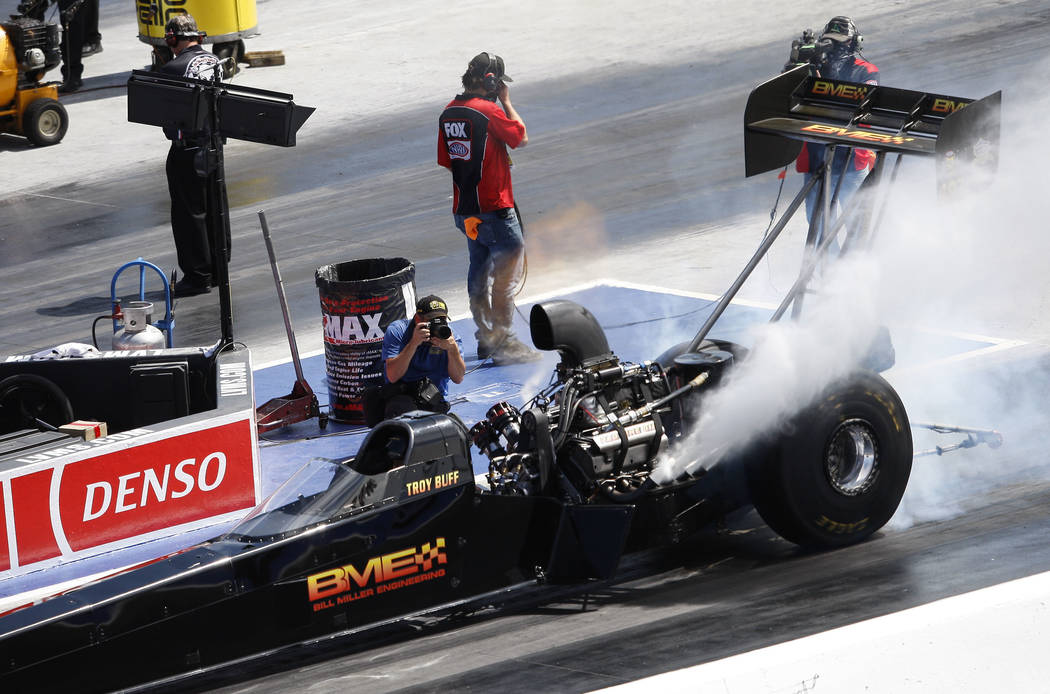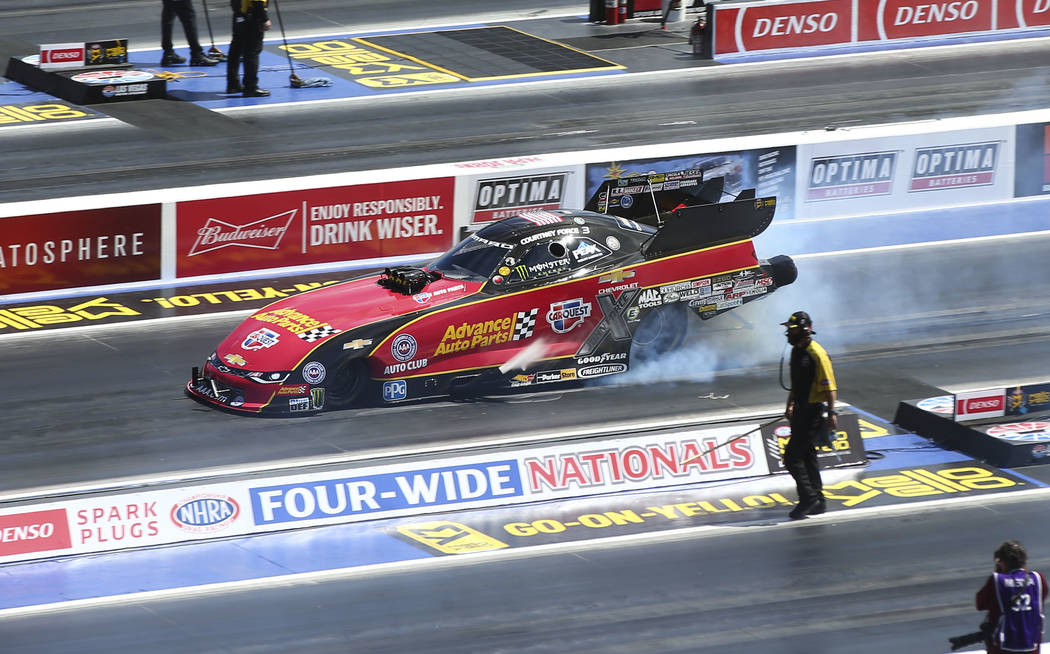 Four lanes.
No problems.
At least for Antron Brown.
The Pittsboro, Indiana, native finished first in Top Fuel qualifying Friday at the NHRA Four-Wide Nationals in front of a crowd that watched four-lane drag racing for the first time at The Strip at Las Vegas Motor Speedway.
The racetrack normally runs two lanes, but was resurfaced for its four-lane debut. The top drivers in Top Fuel, Pro Stock and Funny Car were delighted with its performance.
Their performances weren't bad, either.
"Tomorrow is going to be cooler," said Brown, who completed his top pass in 3.772 seconds with a top speed of 324.83 mph in his 2018 Toyota DSR dragster. "Our team in general is starting to get everything soaked in … I got all the cobwebs out, myself, and am more comfortable, for sure."
Brown, who won the NHRA Top Fuel division race each of the past two years in Las Vegas and four of the past six, finished his first pass Friday in a pedestrian 5.082 seconds.
He regrouped later in the afternoon and paced the 14-person pack after adjusting to the fresh pavement.
"We knew it was going to be a green track," Brown said. "We were weak the first run … We came back out that second round and got it close to being to a normal setup … It wasn't any trouble."
Greg Anderson finished first in Pro Stock qualifying, and Robert Hight captured the top spot in Funny Car. They were pleased with their outings and will headline a field of 16 qualifiers Saturday.
"I can not tell you how great of job they've done on this race surface," Anderson said after completing his pass in 6.669 seconds at 206.45 mph.
"This is the best job of a brand new racetrack that I've ever seen in my life. It's absolutely perfect out there. There's not a bump, not a ripple in it. It's got great traction, and it doesn't seem like one lane has any advantage over another."
Another round of qualifying is scheduled for Saturday to shrink the field for Sunday's final eliminations, giving the drivers another chance to adjust to the four-lane format.
And put on another show.
"This is pretty amazing," Hight said. "Everybody at Las Vegas Motor Speedway, they worked their tails off over the winter to get this project done … It's a great racetrack, and I just believe (Saturday) we're going to have a sellout here. It's going to be a lot of fun."
Contact reporter Sam Gordon at sgordon@reviewjournal.com. Follow @BySamGordon on Twitter.
NHRA Four-Wide Nationals
Saturday
— Pro stock qualifying: 12:10, 2:45 p.m.
— Nitro qualifying: 12:30, 3 p.m.
Sunday
— Final eliminations: noon
— Tickets: LVMS.com.
— TV: Fox Sports 1 (Sunday, 8:30 a.m., 3 p.m.)
Friday's top 3 qualifiers
Pro Stock
1. Greg Anderson (6.669 seconds)
2. Deric Kramer (6.681)
3. Bo Butner (6.702)
Funny Car
1. Robert Hight (3.963 seconds)
2. Tommy Johnson Jr. (3.983)
3. Ron Capps (3.992)
Top Fuel
1. Antron Brown (3.772 seconds)
2. Doug Kalitta (3.786)
3. Leah Pritchett (3.802)