NHRA Funny Car loss doesn't faze Beckman — PHOTOS
November 2, 2015 - 12:01 am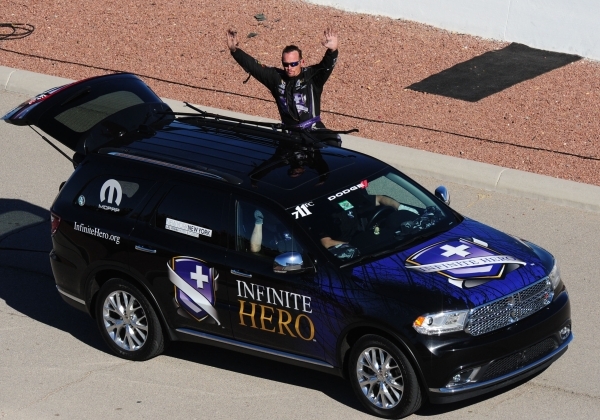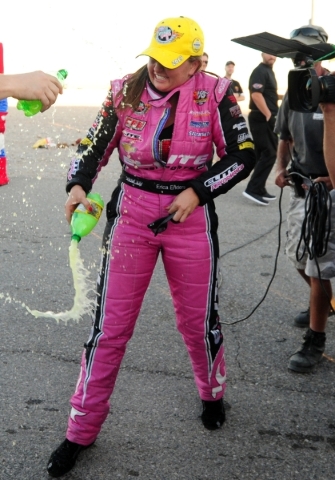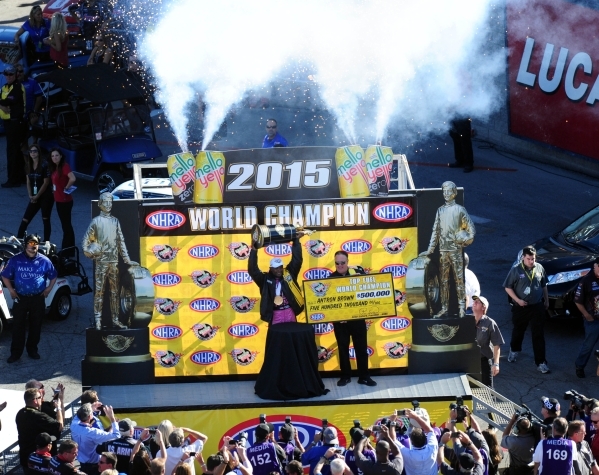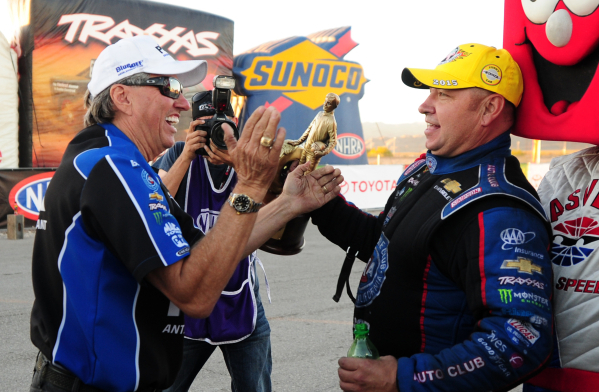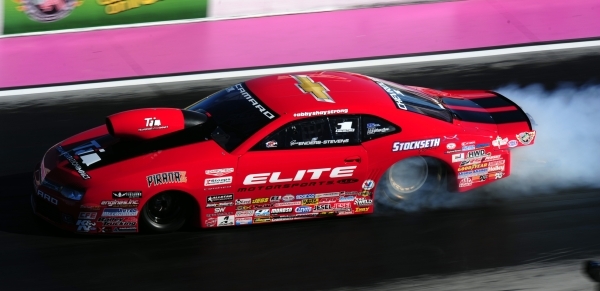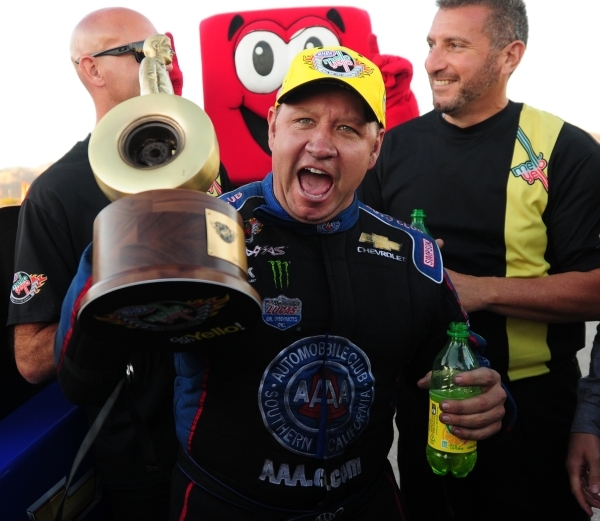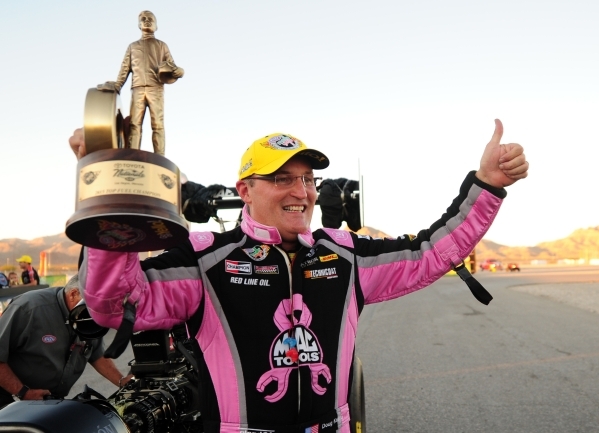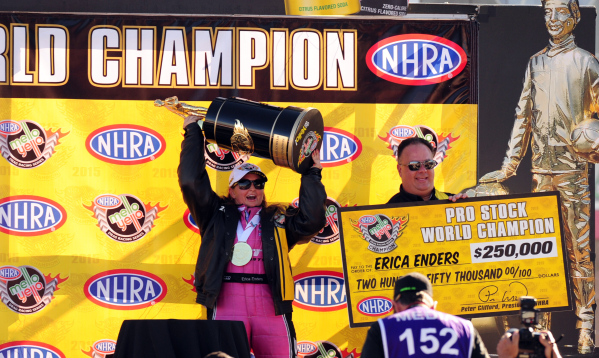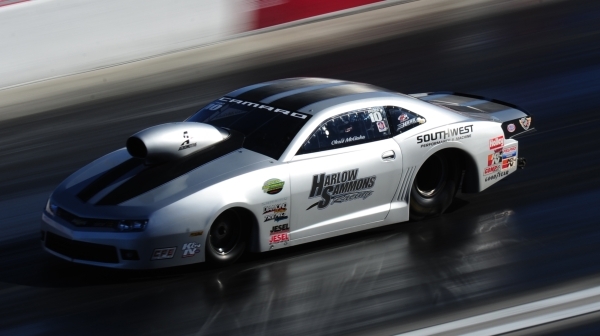 Unlike Antron Brown and Erica Enders, Jack Beckman didn't celebrate a championship Sunday at the NHRA Toyota Nationals at The Strip at Las Vegas Motor Speedway.
Beckman, aka "Fast Jack," suffered a wrenching loss in the Funny Car quarterfinals when he tied Don Schumacher Racing teammate Ron Capps at 3.988 seconds (318.47 mph) but had a slower reaction time to the starting light.
"It was a punch in the gut," Beckman said.
Despite the disappointing defeat, Beckman took solace that he still can catch Funny Car leader Del Worsham in the season finale Nov. 12-15 at Pomona, Calif., and that he raised more money for the Infinite Hero Foundation, which helps U.S. veterans fight the mental and physical issues facing them.
"It changes people's lives," said Beckman, a former Air Force sergeant.
Beckman, 49, has raised almost $150,000 this season for the IHF by selling signed challenge coins for $100 that he takes with him on each run down the drag strip.
"With Infinite Hero, I get to follow the money," he said. "I've gone to Dallas, where they've issued a $100,000 grant. I've gone to the brain treatment center in Newport Beach (Calif.) and watched how they've treated soldiers with (post-traumatic stress disorder) coming back (from combat), so I know that every one of those coins I've taken on the track helps change somebody's life."
Beckman has dealt with his fair share of adversity. He's a cancer survivor who was diagnosed with lymphoma in 2003 and underwent six months of chemotherapy treatment. His cancer has since been in remission, but Beckman said the disease still haunts him.
"It's a shadow that never stops following you," he said. "People that have never gone through it, I think they feel having cancer makes the world a rosier place and it changes your outlook on stuff. It makes it worse because you're never sure if it's coming back.
"There's never a cold or an ache or a pain that you just brush off."
That said, Beckman maintains a positive attitude about life and speaks weekly with people fighting cancer.
"Losing still sucks," Beckman said. "But losing a drag race is not the same as losing a cancer battle."
Beckman, who won the Funny Car world title in 2012, snapped a winless streak of 29 months and 55 races in March to ignite a career year. He's won a career-best seven titles and would already have clinched the championship if not for the NHRA resetting the points before its six-race Countdown to the Championship playoff.
As things stand, Beckman trails Worsham by 38 points and needs to win the season finale to have a shot at the title.
"It's not like that's a Hail Mary," he said. "This team's been doing that all year long."
Beckman's used to beating the odds.
NOTES — Brown won his second Top Fuel world title and first since 2012, when he became the first African-American to claim a major U.S. auto racing crown. Brown, a former college sprinter and Pro Stock Motorcycle racer, clinched the title when he beat Dave Connolly (3.786 seconds at 323.74 mph) in the quarterfinals. … Enders clinched her second straight Pro Stock world championship when her two rivals, Greg Anderson and Chris McGaha, lost in the quarterfinals. Enders won her ninth race of the year (6.595 seconds at 208.97 mph) over Bo Butner to set the record for most wins in a season by a female driver. She has won 22 straight rounds at LVMS, and her 21 career wins are second on the female career list behind Angelle Sampey. … Andrew Hines beat Jerry Savoie, who fouled, in the Pro Stock Motorcycle final round (6.920 at 193.05) to extend his lead to 46 points over the Louisiana alligator farmer. … Robert Hight won the Funny Car event title over Tommy Johnson Jr. (3.955 at 323.97), and Doug Kalitta beat Larry Dixon for the Top Fuel event title (4.239 at 207.59).
Contact reporter Todd Dewey at tdewey@reviewjournal.com or 702-383-0354. Follow him: @tdewey33