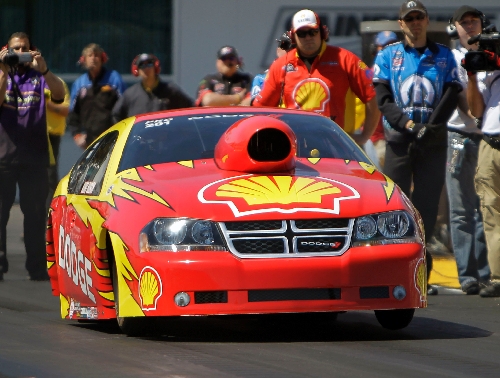 Work began early Wednesday because I couldn't miss a national teleconference with Kurt Busch at 8 a.m. and the opportunity to ask about his professional drag racing debut.
The audio gathering was courtesy of NASCAR. I was a bit uncomfortable bringing up drag racing on NASCAR's dime, but Sprint Cup stars can be hard to corral even if they're from Las Vegas.
My question was first and dealt with his impressive outing in the NHRA's ultimate "stock car" class last weekend at the NHRA Gatornationals in Gainesville, Fla.
My trepidation proved unwarranted as media interest in the NHRA lapped inquiries about the NASCAR season and Sunday's Cup race in Bristol, Tenn.
NHRA or drag racing questions: 11.
Stock car racing questions: Seven.
Busch's responses to questions related to drag racing were the longest, and nearly all on the call were NASCAR journalists.
Kurt Busch: 2004 Cup champion, tied for the series points lead, only driver with top-10 finishes in the first three races — and now unofficial drag racing spokesman. I hope the NHRA sends him a T-shirt.
Busch's performance at Gainesville was more than commendable. After stumbling Friday in two qualifying sessions, he rebounded with solid efforts Saturday and nearly upset Erica Enders — who was competing in her 90th event — in the first round of Sunday's eliminations. In one weekend, he showed how difficult it is to drive a 210 mph Pro Stocker and then how intense work made him competitive in his first side-by-side contest in the class.
"It was an incredible experience," Busch said. "The fraternity of drivers was encouraging us, offering advice, trying to help us.
"Even Jason Line, the guy that's won (both Pro Stock titles) so far this year, came up to me and said, 'Thank you for being part of our division and shedding light on the Pro Stock division.' "
Busch also said he was awestruck last week when he shared a dais with "Big Daddy" Don Garlits and John Force.
"I was just humbled to have the opportunity to share the stage with those legends," he said. "What they've done in the drag racing world will never be equaled. To be mixed in with them, to have that notoriety, it was an unbelievable experience."
Those feelings from one of NASCAR's biggest stars.
It was only fair that drag racing welcomed Busch with open arms last weekend because the week before, during Cup weekend at Las Vegas Motor Speedway, NASCAR warmly embraced Force and his race team.
Youngest daughter Courtney and son-in-law Robert Hight joined Force at various stops around the speedway. Drivers from Jimmie Johnson and Mark Martin to legends Darrell Waltrip and Harry Gant greeted Force like racing royalty.
Most special was Courtney seeing her dad celebrated as a star in another part of the motor sports universe.
Between Busch and Force, a record must have been set for number of national stories about drag racing in print and on TV that did not involve a dragstrip fatality.
The timing was perfect for us in Southern Nevada because the NHRA Full Throttle Drag Racing Series powers into town next week in preparation for the April 1-3 SummitRacing.com NHRA Nationals.
These past two weekends should make drag racing fans puff their chests with pride.
Jeff Wolf's motor sports column is published Friday in the Las Vegas Review-Journal. He can be reached at jwolf@reviewjournal.com or 702-383-0247. Visit lvrj.com/motorsports for more news and commentary. Follow Wolf on Twitter: @lvrjwolf.