Richie Crampton gets off the couch, back into NHRA winner's circle
Updated April 7, 2018 - 5:24 pm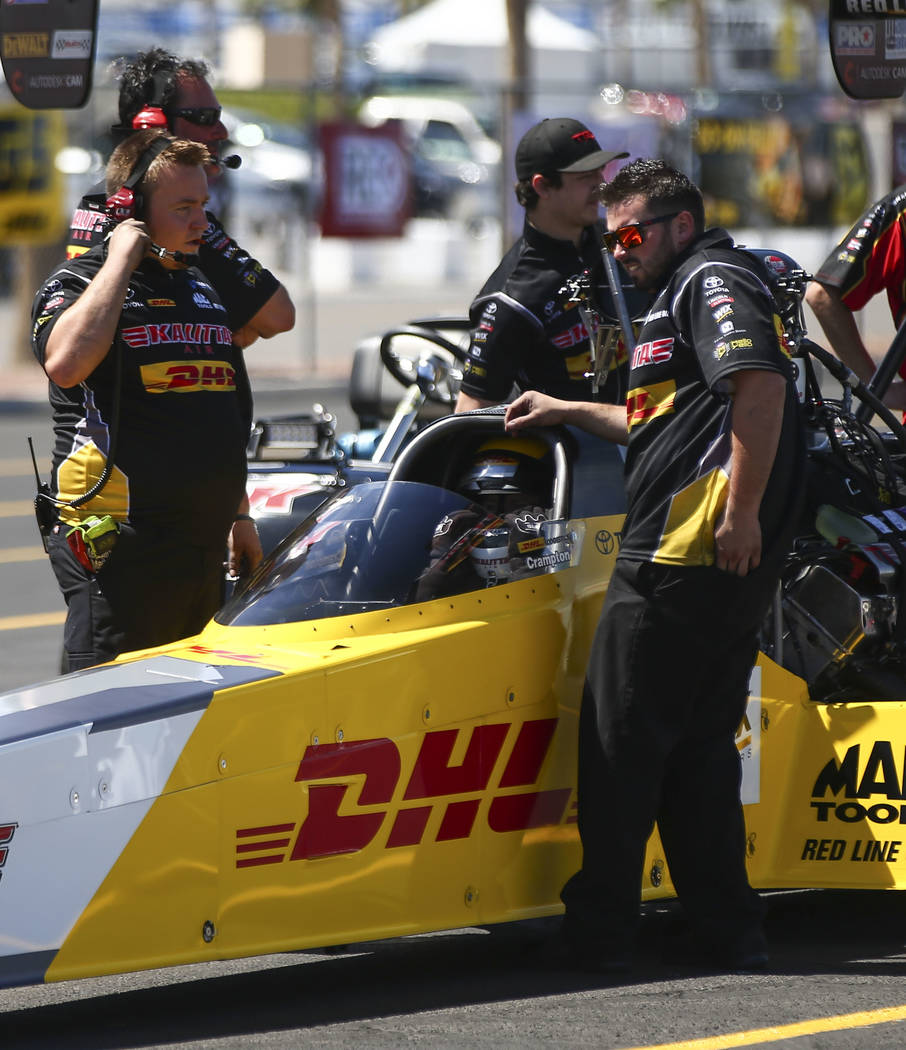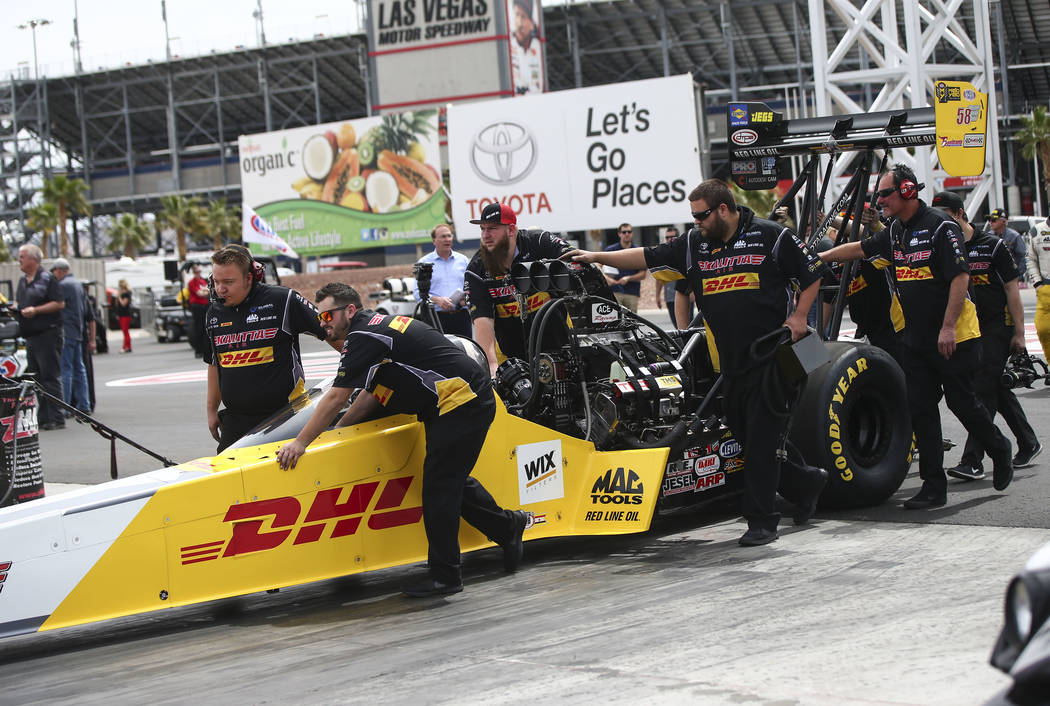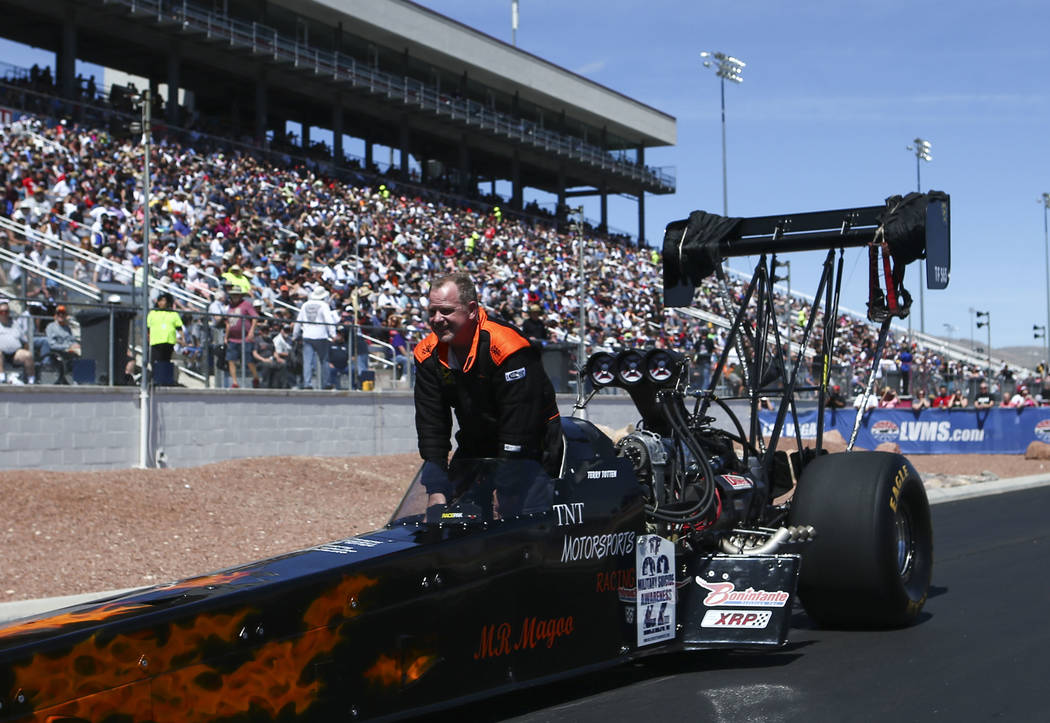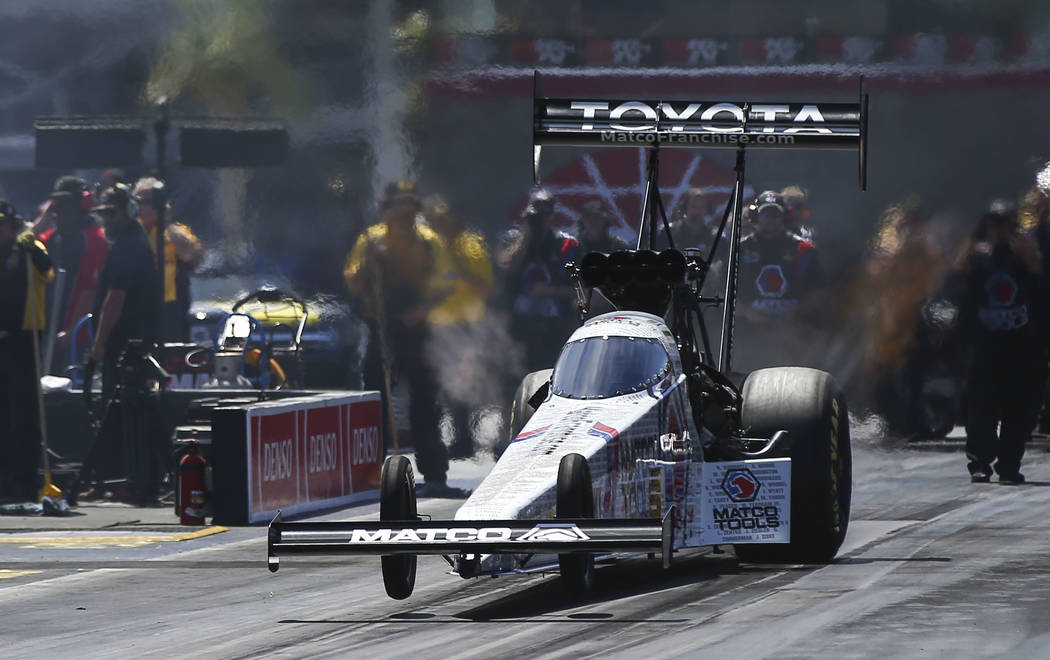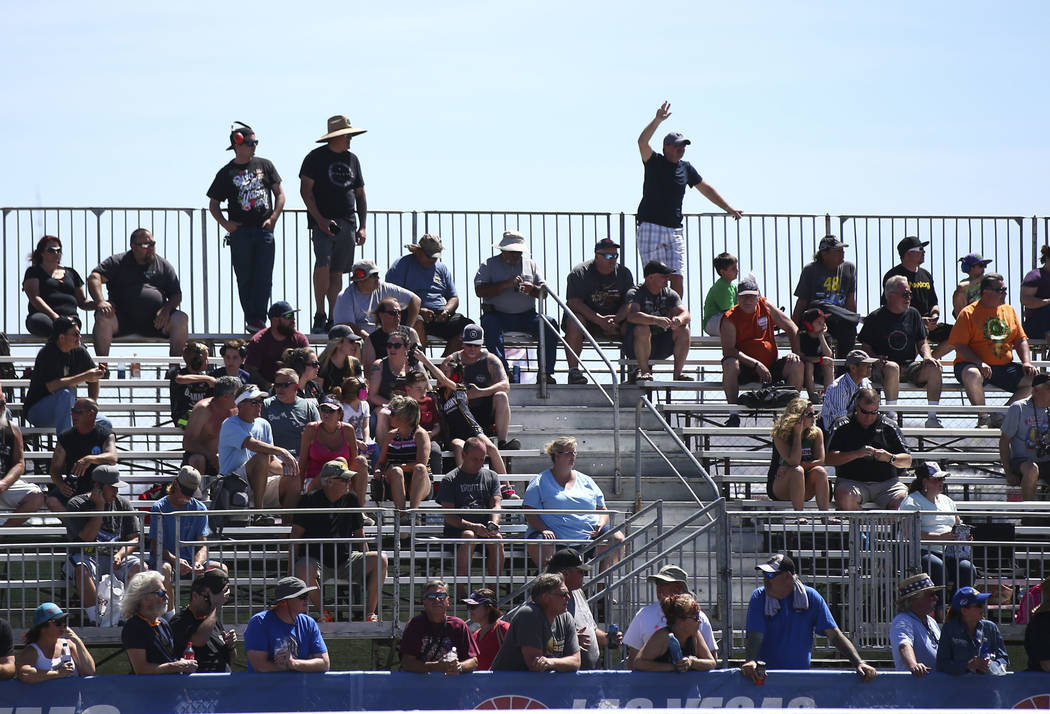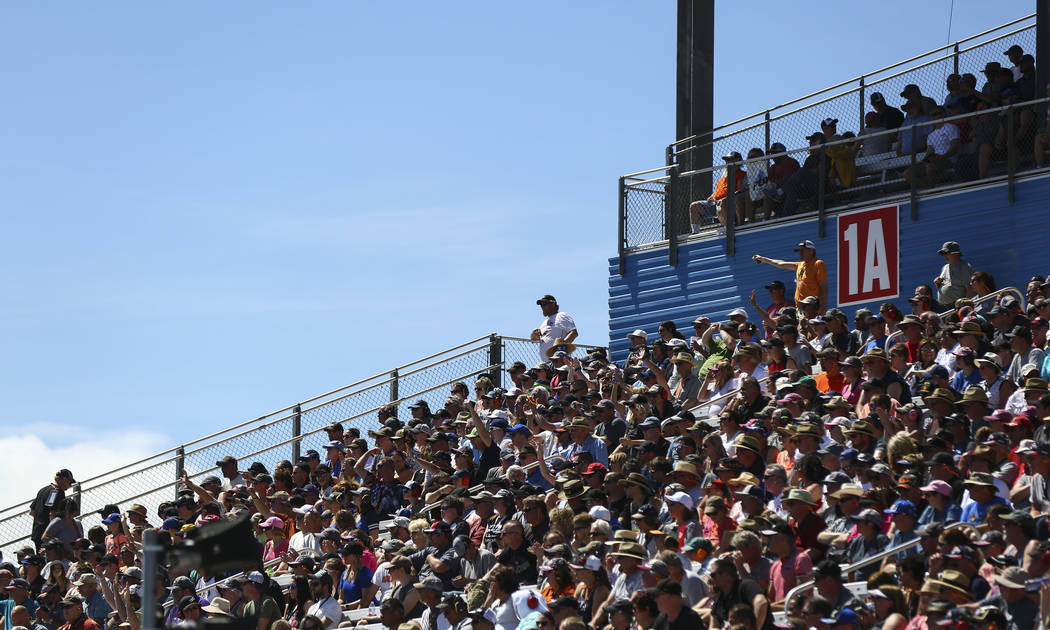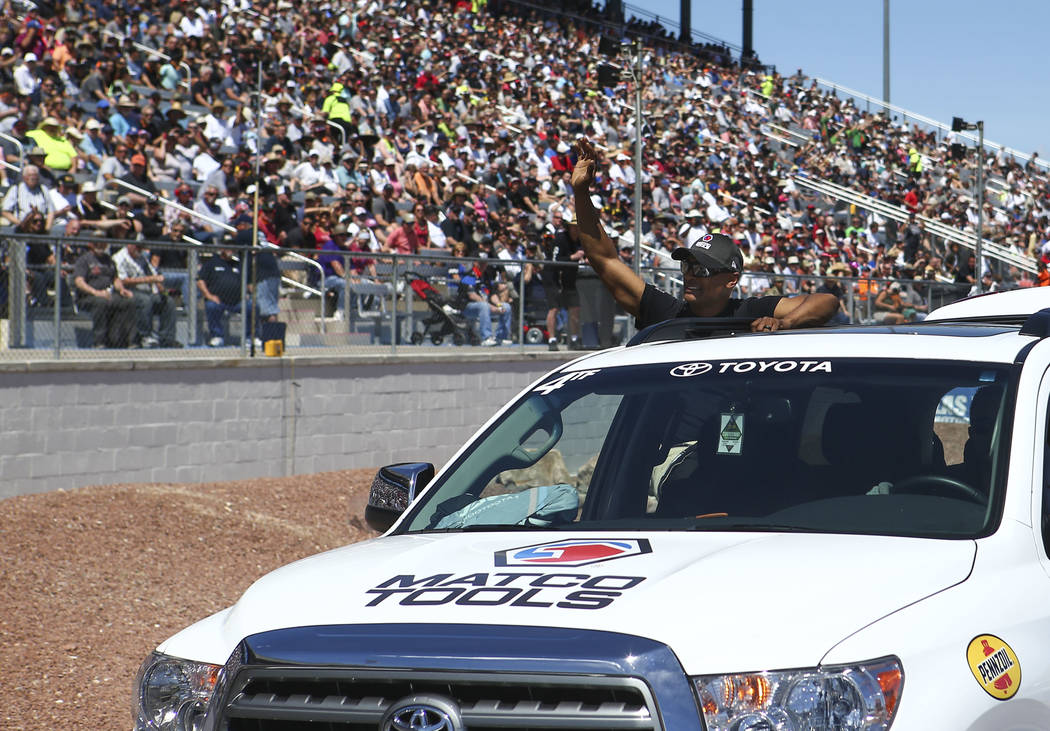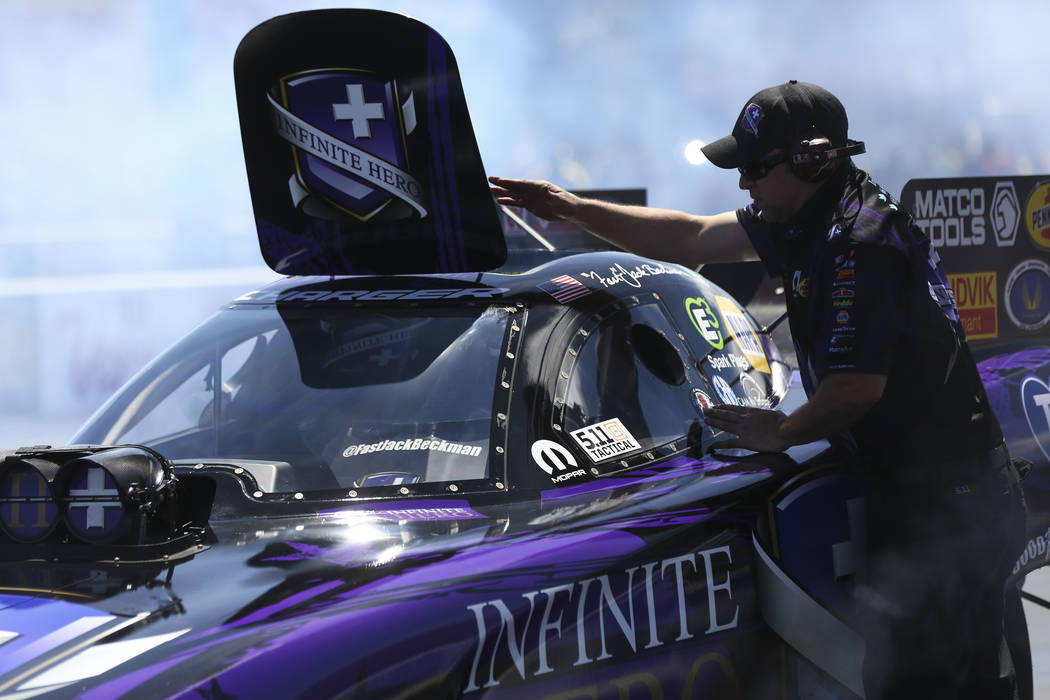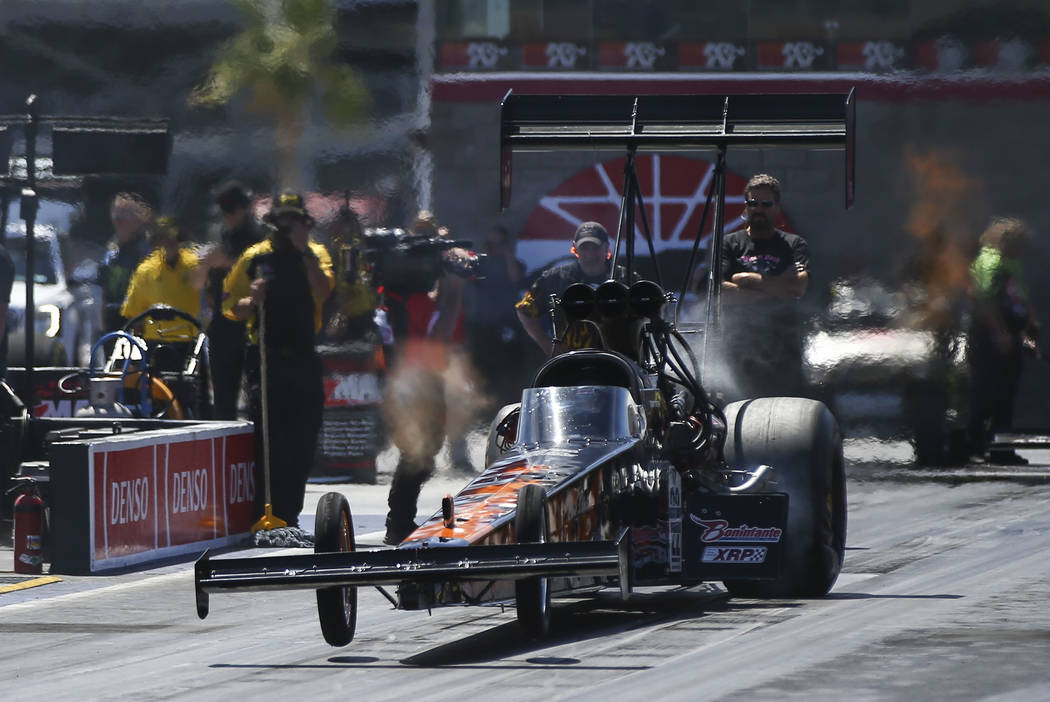 He had come a long way, crisscrossing oceans to make his name in the supercharged world of professional drag racing.
Richie Crampton started getting results almost from the moment he set foot on the track — he won the U.S. Nationals in Indianapolis, drag racing's Super Bowl.
He even had the personality it takes to go straight to the top.
But before you could say "G'day, mate," the affable Australian found himself watching other guys and gals making asphalt-blistering runs at Las Vegas Motor Speedway on TV.
"It was kind of unexpected, but at the same time it's also kind of expected in motorsport," Crampton said about being relegated to couch potato status after the 2016 Top Fuel season.
He was driving for well-heeled Morgan Lucas Racing and appeared destined for stardom when the team folded so Lucas could devote more time to his family's oil fabrication business.
"Nothing lasts forever," said Crampton, who won the 2015 spring race on LVMS' former two-lane setup. "I was in a very good position with a great team. But motorsport changes frequently, we all know that. It's just how you ride with it that determines if you're going to get back out here or not."
Crampton kept his foot in it, at least in a manner of speaking. By mid-2017, he was back as a part-time driver for Kalitta Motorsports, a team and name that are synonymous with the sport. He was signed full time for 2018, and it didn't take Crampton long to put his foot back into it in the literal sense.
He won the last time out, at the Gatornationals in Florida.
It was the eighth win for Crampton, who settled for the 11th-fastest qualifying time for Sunday's DENSO Spark Plugs NHRA Four-Wide Nationals. He won five times in 2015 and twice in 2016 before being banished to the sofa.
It was as if Mick Dundee had pulled out his giant machete, stuck it into Crampton's future and twisted real hard.
"It wasn't all that long ago that I was reminiscing about when I used to drive a Top Fuel car," said the 38-year-old who grew up in Adelaide, within earshot of the Australian Grand Prix circuit before it relocated to Melbourne.
"So to be back in a car for Connie, Kalitta Air, DHL, Toyota and everyone, I think I'm more realistic than anyone out here on just how hard it is to get a ride with a top-level team like this."
Crampton, who started his career racing Supercharged Outlaw cars in Australia, had all but resigned himself to watching drag racing on TV when he received the phone call from Kalitta.
"I'd been very fortunate, won some races. If I never got to come back out, that was OK," said the racer who recently became a father for the second time with the birth of son Reed.
"But deep down, man, I really wanted to be back out here."
NOTES — Papa John Schnatter defeated three-time NHRA Top Fuel champion Antron Brown in a $10,000 match race benefiting the Infinite Hero Foundation.
"These people are patriots, and we're glad to support 'em," said Schnatter, who was driving the old gold 1971 Chevy Camaro he owned as a young man.
Said Brown, who drove a Toyota Camry, after losing to the pizza magnate: "I tried to get me a slice, but he took it back."
Contact Ron Kantowski at rkantowski@reviewjournal.com or 702-383-0352. Follow @ronkantowski on Twitter.
NHRA Four-Wide Nationals
Sunday
Final eliminations: noon
Tickets: LVMS.com.
TV: Fox Sports 1 (3 p.m.)
Top qualifiers
Top Fuel
1. Tony Schumacher 3.765, 328.46
2. Antron Brown 3.772, 324.83 mph
3. Brittany Force 3.773, 322.58
4. Billy Torrence 3.776, 325.06
Funny Car
1. Courtney Force 3.927, 326.40
2. Tommy Johnson Jr. 3.932, 318.84
3. J.R. Todd, 3.952, 319.57
4. Ron Capps 3.953, 321.50
Pro Stock
1. Greg Anderson 6.669, 206.45*
2. Deric Cramer 6.681, 205.63
3. Bo Butner 6.702, 205.32
4. Chris McGaha 6.704, 205.72
* won $50,000 K&N Horsepower Challenge