Ron Capps closes in on elusive NHRA Funny Car title
October 29, 2016 - 11:36 pm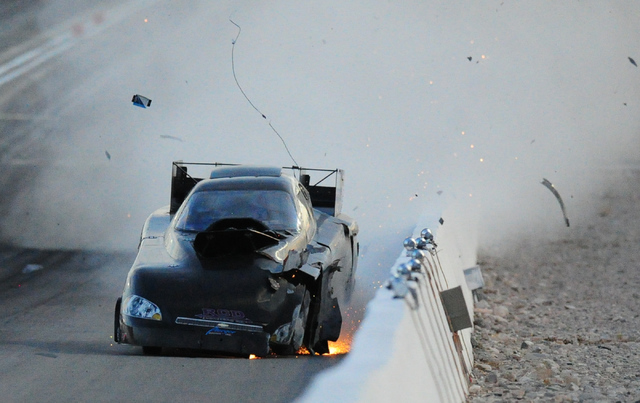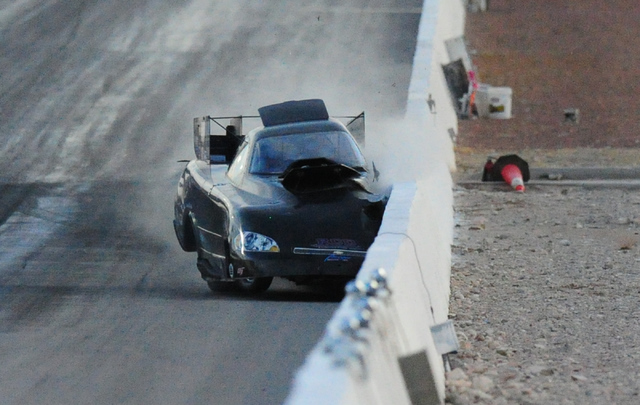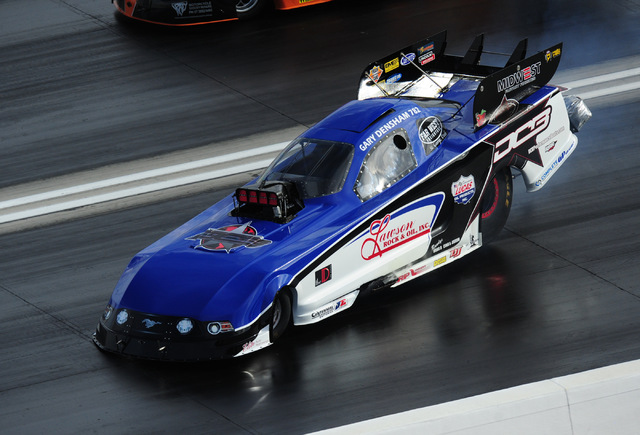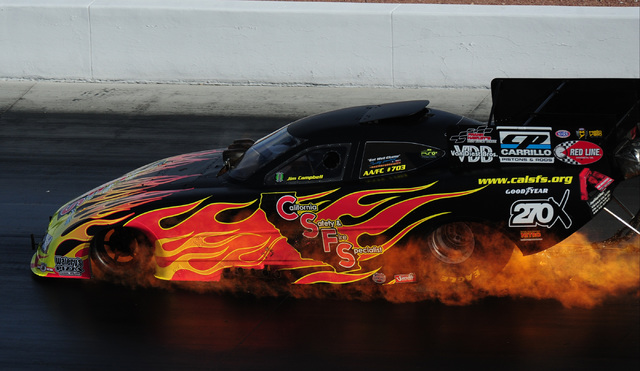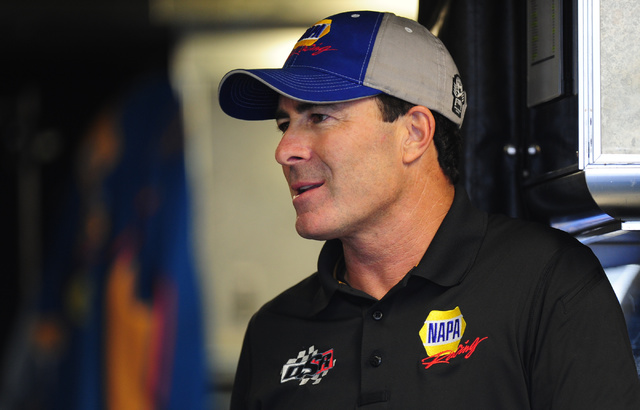 It is generally agreed that Ron Capps, the obliging NHRA driver from Southern California, is the fastest guy never to have won a Funny Car championship.
Heading into final eliminations Sunday at the Toyota Nationals at the Las Vegas Motor Speedway dragstrip, he is on the verge (again) of finally bringing it home. If Capps cops the crown, it would be a popular victory up and down Nitro Alley — one NHRA official said it would be like when Dale Earnhardt finally broke through at the Daytona 500.
But as recently as Labor Day weekend, Capps' head was buried in the sand.
And for one frightening moment, so were his title chances.
During qualifying at the U.S. Nationals in Indianapolis, the parachutes in Capps' Don Schumacher Racing mount failed to deploy. Car and driver went careening off the asphalt, coming to rest upside down and partly submerged in kitty litter, as the emergency sand dune at the end of the track is called.
Capps wasn't injured, but the wild ride was a reminder of how tenuous a championship lead can be. He came into Las Vegas with five wins in 22 races and a reasonably comfortable 64-point edge on closest competitor Tommy Johnson Jr., with only the Toyota Nationals and the U.S. Auto Club Finals at Pomona, California, remaining in the Countdown to the Championship.
But as a four-time bridesmaid, he has been in this position before, having lost the championship by two points once and six points another time. Plus, John Force still is hanging around — Force has won 16 Funny Car titles, and during Friday provisional qualifying, he blistered the (almost) quarter-mile with a track-record speed of 331.94 mph.
When Force is keeping the candles lit, he can mess up the points in a hurry. Ron Capps knows this.
"It's been a long time coming, but it's not over yet," said the svelte 51-year-old former wrestler and racquetball player who has amassed 50 Nitro class wins — 49 in Funny Car — and five at LVMS. "But I'm tired of talking about it."
Capps was smiling when he said that, because Capps always smiles. He will face Paul Lee in the round of 16 Sunday after posting the fourth-fastest qualifying time of 3.881 at 326.71. That was one potential misstep out of the way. In the spring race at LVMS, Capps failed to qualify for final eliminations, something that would be disastrous at this juncture.
He said the NAPA Auto Parts team, led by crew chief Rahn Tobler, has played it cautiously with setups during the first four races of the Countdown, none of which he won.
"We didn't want to give up anything by being too aggressive, but … appropriately, you get more aggressive when you need to, and don't when you don't need to. And he (Tobler) has been real good about that."
And so again, obliging Ron Capps finds himself on the verge of his first Funny Car title, though he's getting tired of talking about it.
In an obliging sort of way.
SATURDAY QUALIFYING
Clay Millican (track record 3.689 at 327.27), Jack Beckman (track record 3.871 at 327.43) and Greg Anderson (6.677 at 205.72) nailed down No. 1 seeds in Top Fuel, Funny Car and Pro Stock after another lightning-fast day of qualifying runs before a sellout crowd estimated at 30,000. The Funny Car field is the fastest in NHRA history.
CAPPS CRASH
Jon Capps, the brother of Funny Car championship leader Ron Capps and a Las Vegas resident, walked away from a hard crash during the fourth qualifying session. The front end of Capps' car got airborne before the car shot across the track and slammed the wall on the left side.
Contact Ron Kantowski at rkantowski@reviewjournal.com or 702-383-0352. Follow @ronkantowski on Twitter.
NHRA Toyota Nationals
Where: Las Vegas Motor Speedway dragstrip
When: Mello Yello Series final eliminations, 11 a.m. Sunday
TV: Fox Sports 1
Tickets: Starting at $63; LVMS.com; 702-644-4444